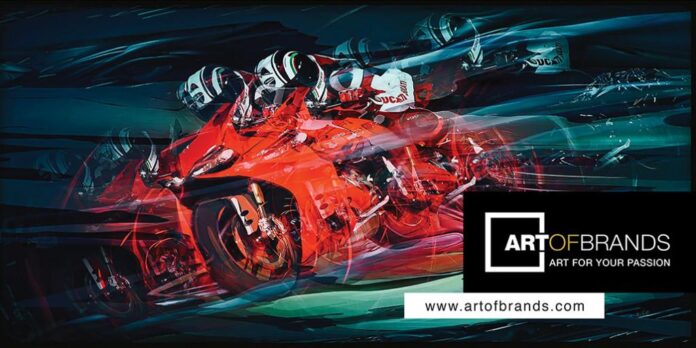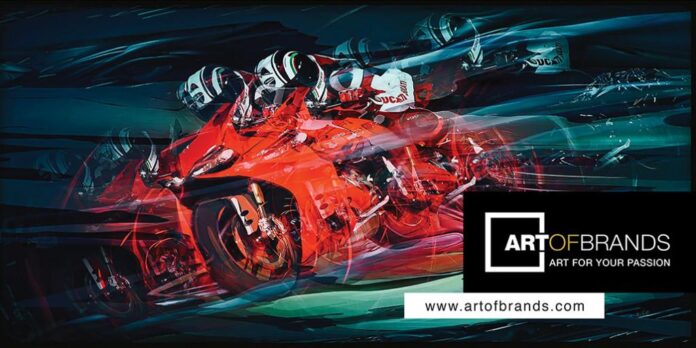 Ducati Motor Holding and ArtOfBrands, sole licensee for the exclusive and official Ducati artworks, are pleased to announce the signing of a new licensing agreement for Fine Art Prints. ArtOfBrands, founded in 2008, fast became a global benchmark in the market for high quality, affordable "Brand Art". "ArtOfBrands easily allows people to display their passion for Ducati and the Ducati Lifestyle as interior décor through affordable and spectacular artwork" said ArtOfBrands founder and CEO, Patrick Ashworth.
ArtOfBrands is also committed to discovering and supporting established or emerging artists from around the globe by organizing numerous invitational art competitions. Among the new artworks inspired by the Borgo Panigale-based motorcycle manufacturer, the ones selected are chosen for their ability to communicate the engineering genius, quality of design and passion for Ducati. These are then included in the ArtOfBrands catalogue. Thanks to the work of these artists, the Ducati Fine Art Prints collection grows constantly and stays up to date with prints relating to the new models, to the Italian manufacturer's successes on the racetrack and its history.
The recently created Ducati Art Club is a first of its kind (www.ducatiart.com) and as an exclusive portal, houses the colourful and varied art collection of the legendary Ducati brand. All new members automatically receive a 10% discount on all ArtOfBrands artwork and will receive a variety of offers and special deals. For those wishing to stay tuned to all the new artworks being featured, an instant notification service can be activated.
To mark the signing of the new agreement, ArtOfBrands is excited to introduce the first Ducati Reverse Blind Auction – a different way to bid for new Ducati artwork directly via the Artofbrands.com website. Whoever places the lowest bid wins the Ducati Reverse Blind Auction and receives the print free of charge to his or her home address. Visit www.artofbrands.com/wo-en/ducati/index/auction to view all the prints and check out the full auction details.
Ducati Motor Holding S.p.A. – A Sole Shareholder Company – A Company subject to the Management and Coordination activities of AUDI AG
Founded in 1926, Ducati has been producing sport-inspired motorcycles since 1946. Today, their motorcycles are characterized by performance engines with Desmodromic valve actuation, innovative design and avant-garde technology. Covering several market segments, Ducati's range of motorcycles is divided into model families which include: Diavel, Hypermotard, Monster, Multistrada, Streetfighter, and Superbike. In 2015 Ducati presents the Ducati Scrambler: not just a new motorcycle but rather a new brand, offering a whole new world made up of bikes, accessories and apparel that provide the last word in self-expression.
These authentic icons of "made in Italy", together with an extensive range of associated accessories and technical and lifestyle apparel, are distributed in 90 countries around the world, with concentration on the European, North American and Asia-Pacific markets. In addition to the Bologna factory located in the Borgo Panigale area, Ducati has a plant in Thailand, which opened in 2011 and assembles motorcycles for the Asian market, and, since 2012, another in Brazil that assembles motorcycles for South America. In 2014 Ducati delivered 45,100 motorcycles to customers, an all-time company record.
Ducati competes in both the World Superbike and MotoGP World Championships. In Superbike Ducati has won 17 Manufacturers' titles and 14 Riders' titles and in 2011 passed the historic milestone of 300 race victories. Ducati have participated in MotoGP since 2003, winning both the Manufacturers' and Riders' titles in 2007.
About ArtOfBrands
ArtOfBrands is an art venture that exclusively focuses on offering Brand Art – artworks that are inspired or linked to a "brand", or a "passion". Brand Art covers a broad spectrum of entities from consumer brands, automobiles, motorcycles to passions such as sports teams, celebrities, music and film. Your love reflected on your wall… Designers, artists and photographers from around the world make up the ArtOfBrands artist community. ArtOfBrands provides a simple solution to find artwork to suit every passion and provides customers with affordable, high quality work. Learn more and view the gallery at www.artofbrands.com.