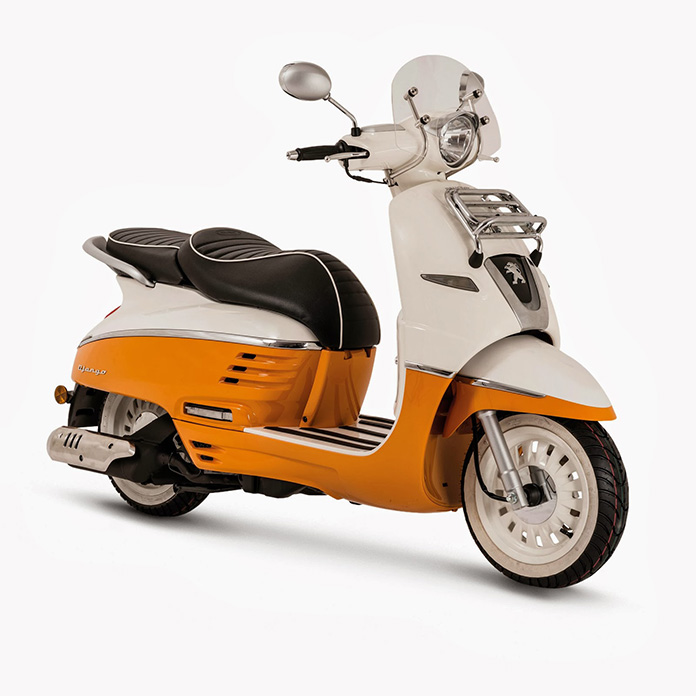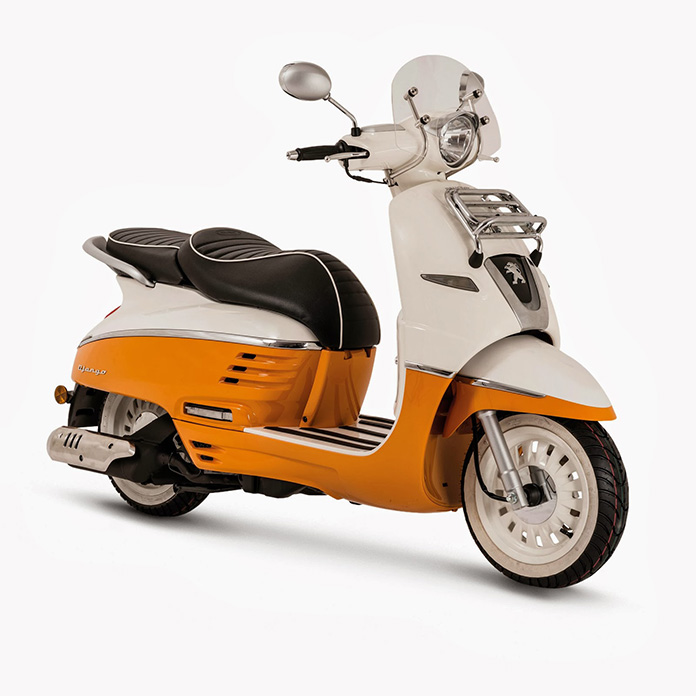 Peugeot will bring four models of its neo-retro Django scooter to the UK in 2014, all powered by a modern 125cc 4-stroke motor.  Inspired by Peugeot's S55 scooter of 1953, the Django has rounded rear wings punctuated by three air intakes and long flowing bodywork, reminiscent of the saloon cars of the Fifties. It is also packed with modern technology, such as 200mm diameter disc brakes front and rear, linked by Synchro Braking Control (SBC), which distributes braking effort simultaneously to both wheels. LED lighting is used for front and rear indicators and rear light, as well as running lights in the front grille.  Details of availability and prices will be published on www.peugeotscooters.co.uk in the near future.
Heritage; available in four classic colour options – Black, White and pastel shades of Green and Blue. With white wheels and round chrome mirrors too, this is the purist heritage choice. Click on image for print quality version
Sport; produced in two colours – Silver Satin and French blue – with grey wheel rims and sport number stickers. Sport dual seat has removable passenger seat shell and chrome hand-grip. Click on image for print quality version.
Evasion; in two-tone Pistachio, Dragon Red, Rocky Blue or Vitamin Orange, with white wheel rims and white-wall tyres. Painted rear-view mirrors have a chrome surround. Fly screen and chrome front luggage rack are standard equipment. Click on image for print quality version.
Allure – range-topping model, with two-tone bodywork in choice of Blackcurrant, Satin Silver, Icy White or Chocolate. Grey wheel rims, white-wall tyres and three-tone dual seat. Painted mirrors with chrome surround. Fly screen, colour-match top-case, passenger back-rest and chrome rear luggage rack as standard equipment