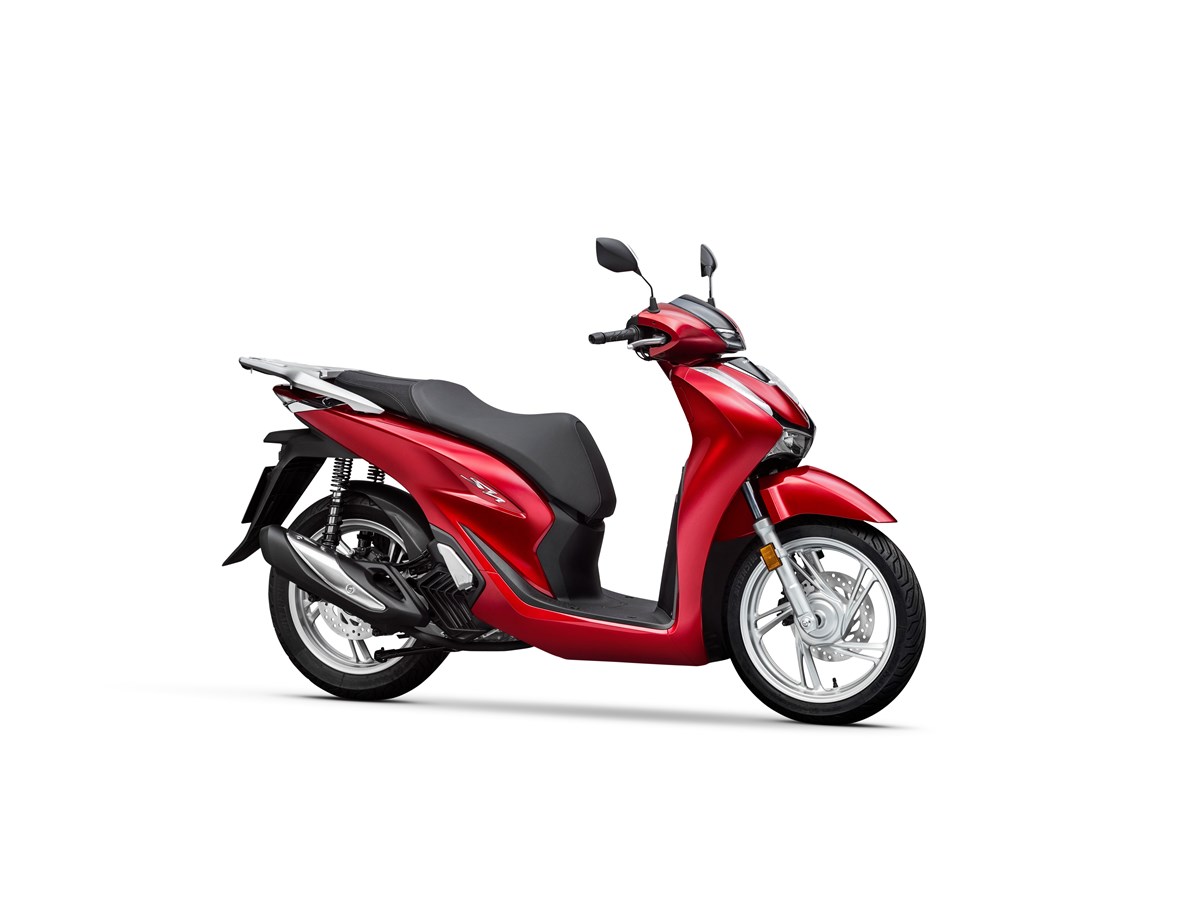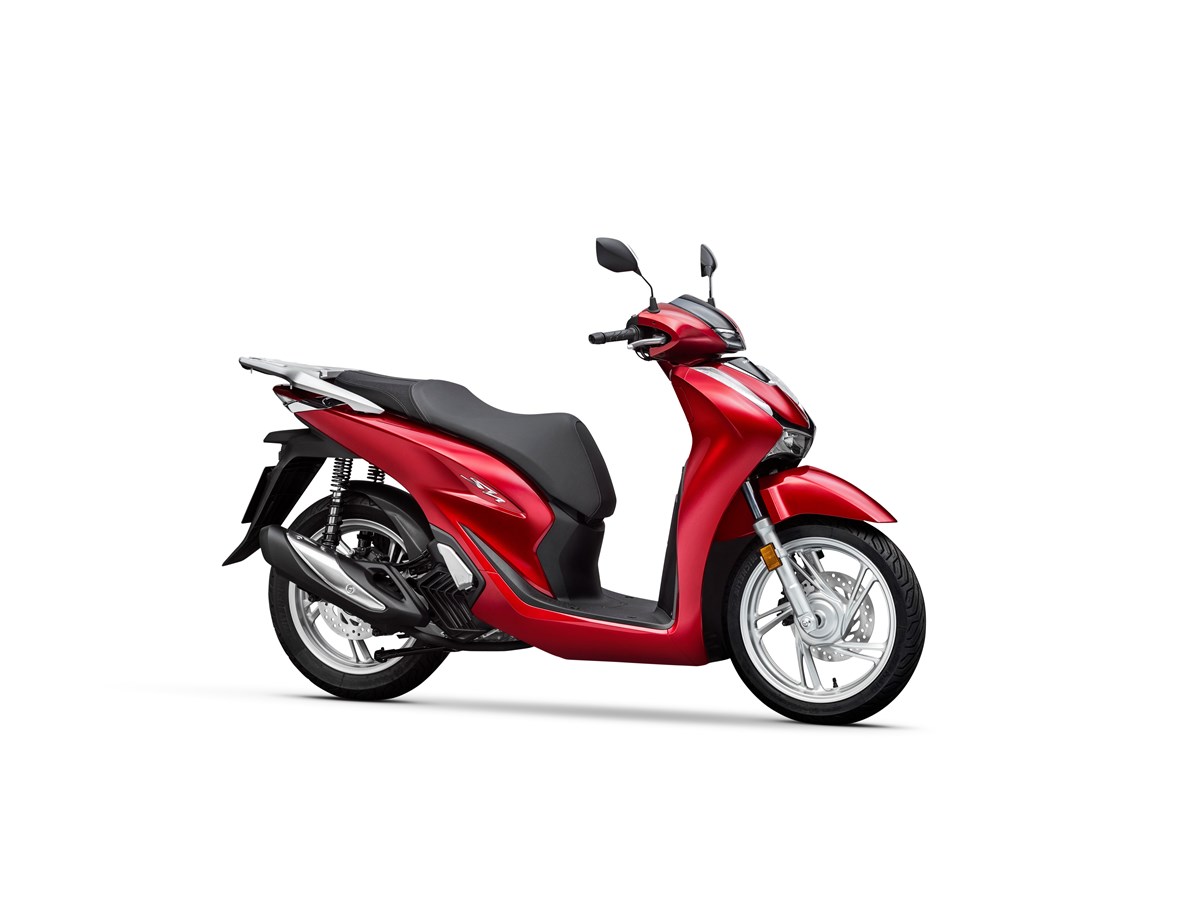 One of Europe's most popular scooters – and the market leader in 2018, with nearly 19,000 units sold – is practically a brand-new machine for 2020. Sleek, restyled bodywork and a redesigned frame bring over 50% more storage space; revised rear geometry makes for a more comfortable ride. The new four-valve engine accelerates faster, is quicker at the top-end and returns greater fuel efficiency. It's also EURO5 compliant and Honda Selectable Torque Control (HSTC) is now a standard fit.
1. Introduction
Part of the million-selling SH family whose founding member, the SH50, went on sale in 1984, the four-stroke Honda SH125 first hit the market in Europe in 2001. Ever since, it has quietly and consistently gone about its mission to provide stylish, fun and fuss-free transport – becoming one of the continent's favourites along the way.
That first machine laid down the blueprint for success: a frugal-natured but lively engine tied to nimble, sure-footed handling underpinned by the stability that large diameter 16-inch wheels deliver – all wrapped in elegant, premium styling.
Fuel injected with PGM-FI in 2005, over the last 14 years the SH125i has come to represent the ultimate in urban transport with the perfect balance of style, reliability, economy and downright usability.
And of course its story is one of constant, careful evolution reflecting the developing needs and expectations of owners, and Honda's desire to keep on giving them an even better version of their SH. In 2013 it gained Honda's eSP (enhanced Smart Power) low friction engine and Idling Stop, boosting both power delivery and fuel economy. And in 2017 the look was refreshed with more chiselled design lines, and LED front/rear lights and Honda Smart Key added.
Now, for 2020 the SH125i (manufactured at Honda's Atessa factory in Italy) is effectively a brand-new scooter. Standing squarely on the shoulders of its forbears the new SH125i is faster, even more stylish, comfortable, convenient to use and as cost effective as ever to own and run. It could never be anything else – it is an SH, after all.
2. Model Overview
Making the SH125i better is no easy goal – it's one of Europe's favourite scooters for a reason. But that was the job for Honda's development engineers so more power, torque and fuel-efficiency from a new EURO5-compliant four-valve 'eSP+' engine was a good place to start. The addition of HSTC would also be a bonus for any owner's peace of mind.
A redesigned frame frees up extra and ever-useful storage space (with the inclusion of a USB charger) and optimisation of the rear suspension geometry enhances comfort. And premium new bodywork and stylish front signature redefine yet reinforce the SH125i's presence; all lighting is LED supported by crisply updated LCD instrumentation.
Five configurations will be on offer:
Standard SH125i without accessories
SH125i with Smart top box
SH125i with Smart top box, knuckle guards and windscreen
SH125i with standard top box
SH125i with standard top box, knuckle guards and windscreen.
The 2020 SH125i will be available in the following colour options:
Pearl Nightstar Black
Pearl Cool White
Timeless Gray Metallic
Pearl Splendor Red
3. Key Features 
3.1 Styling & Equipment
Contemporary re-style of signature flat-floored SH125i design
28L total underseat storage capacity
USB charger
All lighting is LED with new LCD instrument display
Smooth and solid were the two words that led the design direction for the SH125i's sleek, unified new body style, with the tension between the two reinforcing the SH's premium presence. And its 'face' sets it apart – the headlight (almost an LED 'H', and now fairing-mounted) features a central main beam splitting dual dip beams, while position lights reside above on the handlebar nacelle.
It's still very much an SH, so the elegant looks are matched to effortless practicality. The overall compactness, flat floor and upright riding position (essential for ease-of-use and visibility in busy town traffic) are conspicuous hallmarks of the SH look. Less obvious is the extra 10L storage space under the pillion seat that supplements the 18L of existing capacity capable of holding a full-face helmet. A USB charging point is also included.
The flat seat provides plenty of support and room to move around and its carefully contoured shape, plus the slim floor width, makes reaching the ground easy. As many journeys around town involve a pillion there's plenty of room for two; retractable aluminium pillion footplates tuck away when not in use and provide a stable platform – especially under braking – when needed for the passenger.
The rear light is LED with a chrome surround, matching the front, and the new LCD dash presents all warning lights – including Smart Key, HSTC/ABS and Idling Stop operation – neatly around a central digital speedo/odometer display. All operations on the dash are carried out via A/B buttons on the left handlebar.
The SH125i's Smart Key resides in the rider's pocket and does away with the need to constantly insert and withdraw a key for ignition, fuel cap and seat. It has two switches: the smart function on/off and 'answer back', which flickers the indicators for identification from a distance.
With the Smart Key present, one push of the machine-mounted main switch powers it up and makes it possible to turn, giving the rider control of the ignition and steering lock, and, via two rocker switches, the fuel cap and seat. It also illuminates when pushed – or from the answer back function of the Smart Key – with a blue light.
3.2 Engine
New four-valve engine features more power, torque and fuel efficiency
Also with Honda Selectable Torque Control (HSTC)
EURO5 compliant, with Idling Stop and low-friction technologies
The SH125i's new 124.5cc liquid-cooled four-valve eSP+ ('enhanced Smart Power') engine serves up faster acceleration, higher top speed and is more economical than the two-valve design it replaces.
Peak power of 9.2kW arrives 250rpm lower at 8,250rpm (from 8.9kW @ 8,500rpm) with 11.4Nm torque delivered 500rpm lower at 6,500rpm (11.5Nm @ 7,000rpm). But the power and torque dyno curves graphically demonstrate how much stronger the new engine is, from 4,000rpm all the way up to 10,000rpm.
Fuel economy (without Idling Stop activated) goes from 43.3km/l to 44.6km/l (WMTC mode). And just as important to owners and for a machine that will spend most of its time in an urban environment, the SH125i's engine is EURO5 compliant; the allowable limits for exhaust tailpipe pollutants such as carbon monoxide, hydrocarbons and nitrous oxide specified by EURO5 are drastically reduced compared to those of EURO4.
An additional technology to boost rider confidence in wet conditions is Honda Selectable Torque Control (HSTC) that works in the background to deftly manage rear wheel traction. An indicator flashes on the dash when HSTC is actively reducing wheelspin and the system can also be turned off completely.
A larger 53.5mm bore and shorter 55.4mm stroke (from 52.4/57.9mm) make room for the four-valve combustion chamber; compression ratio rises from 11.0:1 to 11.5:1. The compact engine is a masterpiece of mass centralisation. The radiator, rather than being mounted at the front of the machine is built into the engine itself for a simple, light layout. Its highly efficient core allows for the use of an ultra-compact, light cooling fan.
Low-friction technologies are employed internally; the cylinder sleeve uses minute splines on its outer surface to keep oil consumption low and improve cooling and the cylinder is offset to keep frictional losses to a minimum. Rolling resistance within the transmission is kept in check by the use of three main bearings, all designed to deal with the loads they each individually receive.
A key fuel-saving technology incorporated into the SH125i is Idling Stop. It's operated via a switch on the right handlebar and, when enabled, automatically stops the engine running after three seconds at idle, and re-starts it instantly when the throttle grip is twisted.
It is seamless in use, thanks to a swing-back system that returns the crank to its position before air intake, and a decompression mechanism that negates cranking resistance due to compression. The ACG starter also generates electricity, doing away with a conventional system's motor and gears.
3.3 Chassis
New high-tensile tubular steel underbone frame frees up space
Optimised rear suspension geometry improves ride comfort
16-inch front and rear wheels deliver sure-footed confidence
Two key goals drove the SH125i's chassis redesign; extended storage space and improved comfort. The new high-tensile tubular steel underbone frame now sites the 7L fuel tank under the floor (it was below the pillion seat previously) beneath the rider's feet which frees up 10L additional space. Wheelbase is 13mm longer at 1,353mm with rake and trail set at 26°/85mm. Seat height remains 799mm and wet weight is 400g lighter at 133.9kg.
For ride comfort the engine hanger link angle and rear suspension angle have been optimised to reduce rotational load toward the engine link, making for more-supple bump-absorption and control.
Lightweight 16-inch aluminium die-cast wheels have always been key to the SH125i's sure-footed handling ability and stability on a variety of road surfaces and mount Michelin City Grip tubeless tyres sized 100/80-16 front and 120/80-16 rear.
The rear shocks feature 5-step preload adjustment with 83mm axle travel. The 33mm telescopic front forks, with 89mm of travel, ensure excellent road holding and are tuned to give a compliant, yet controlled ride. ABS is fitted as standard; both front and rear discs have a 240mm diameter; the front caliper is a three-piston design, the rear a single piston.
4 Accessories
Alongside the standard top box are the redesigned screen and knuckle guards for enhanced weather protection. The Smart top box – which operates together with the Smart Key – and opener kit can also be retro-fitted.
5. Technical Specifications
ENGINE
Type
Liquid-cooled, 4-stroke SOHC
Engine Displacement (cm³)
124.8 cc
No. of Valves per Cylinder
4
Bore ´ Stroke (mm)
53.5 x 55.5
Compression Ratio
11.5:1
Max. Power Output
9.2kW/8,250rpm
Max. Torque
11.4Nm/6,500rpm
Oil Capacity
1L
FUEL SYSTEM
Carburation
PGM-FI electronic fuel injection
Fuel Tank Capacity
7L
Fuel Consumption
44.6km/litre
ELECTRICAL SYSTEM
Starter
Electric
Battery Capacity
YTZ8V 7Ah MF
ACG Output
232w/5,000rpm
DRIVETRAIN
Clutch Type
Automatic; centrifugal
Transmission Type
CVT
Final Drive
V-Belt
FRAME
Type
Tubular Steel Underbone
CHASSIS
Dimensions (LxWxH)
2,085mm x 740mm x 1,129mm
Wheelbase
1,353mm
Caster Angle
26°
Trail
85mm
Seat Height
799mm
Ground Clearance
142mm
Kerb Weight
134kg
Turning radius
2m
SUSPENSION
Type Front
Telescopic 33mm
Type Rear
Dual-damper unit swing arm
WHEELS
Rim Size Front
16M/C x MT2.50
Rim Size Rear
16M/C x MT2.75
Tyres Front
100/80-16 inch
Tyres Rear
120/80-16 inch
BRAKES
ABS System Type
2 channel
INSTRUMENTS & ELECTRICS
Instruments
Honda Smart Key, USB charger
Headlight
LED
Taillight
LED
All specifications are provisional and subject to change without notice
** Please note that the figures provided are results obtained by Honda under standardised testing conditions prescribed by WMTC. Tests are conducted on a rolling road using a standard version of the vehicle with only one rider and no additional optional equipment. Actual fuel consumption may vary depending on how you ride, how you maintain your vehicle, weather, road conditions, tire pressure, installation of accessories, cargo, rider and passenger weight, and other factors.