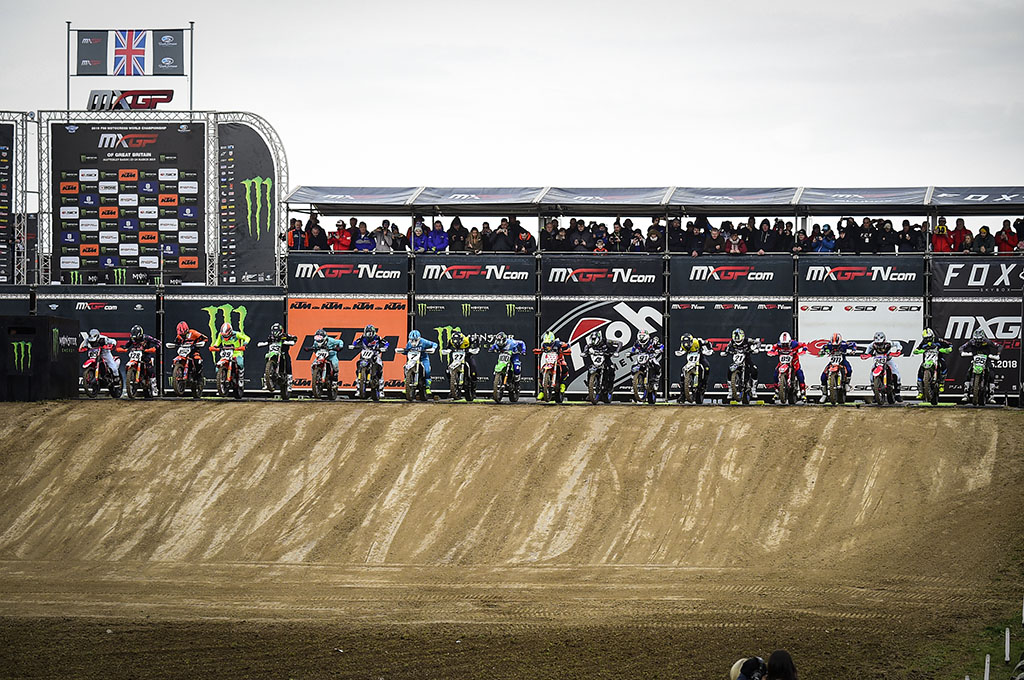 With the off-season over and the final preparations done, the time has come to begin another year of the FIM Motocross World Championship. We begin this season with the MXGP of Great Britain as the popular British circuit, Matterley Basin, hosts the opening round of the 2020 championship in Europe for the very first time since 2012.
The fast-flowing track based in the south of England has become a staple of the MXGP racing calendar, hosting more Grand Prix's than any other British venue in the last 30 years. The first FIM Motocross World Championship event was held at Matterley Basin in 2006, with the legendary Stefan Everts winning in the MX1 class, now known as MXGP, meanwhile David Philippaerts was victorious in MX2.
In the last decade, the hard-pack circuit has become a big favourite among riders and fans for its unrivalled panoramic views of the entire circuit and the awesome track design.
Over the past years the MXGP of Great Britain has hosted some epic races, including two 'Festival of Motocross' weekends, that saw a huge line-up of youth, women's and veteran classes. The circuit has also been home to two Monster Energy FIM Motocross of Nations events, including the most recent edition in 2017, that saw Team GB make a return to the Monster Energy FIM MXoN podium for the first time since 1997.
The European 125cc Championship and the Women's World Championship will also be joining the MXGP and MX2 riders at Matterley Basin. The EMX125 Presented by FMF Racing class line-up is impressive, with a total of 85 riders, entered for the event.
Looking for a good start this season will be Liam Everts, who after finishing 8th in the Championship in 2019 will be keen on improve upon his previous result and challenge for the title. Meanwhile, Marchetti Racing Team's Valerio Lata will be hoping for a strong debut in the 125cc series, following his move up from the junior 85cc class after being crowned the 2019 EMX85 Junior World Champion. Local riders, Eddie Jay Wade and Joel Rizzi will also line-up in the competitive youth class and will be fighting for top results in front of their home fans.
Meanwhile, in the Women's World Championship, Courtney Duncan will be hoping to defend her title from Larissa Papenmeier, Nancy Van de Ven and Amadine Verstappen. She will also have to look out for the returning 6-time WMX World Champion, Kiara Fontanesi, who will be looking to add another title to her name and make things interesting in the series.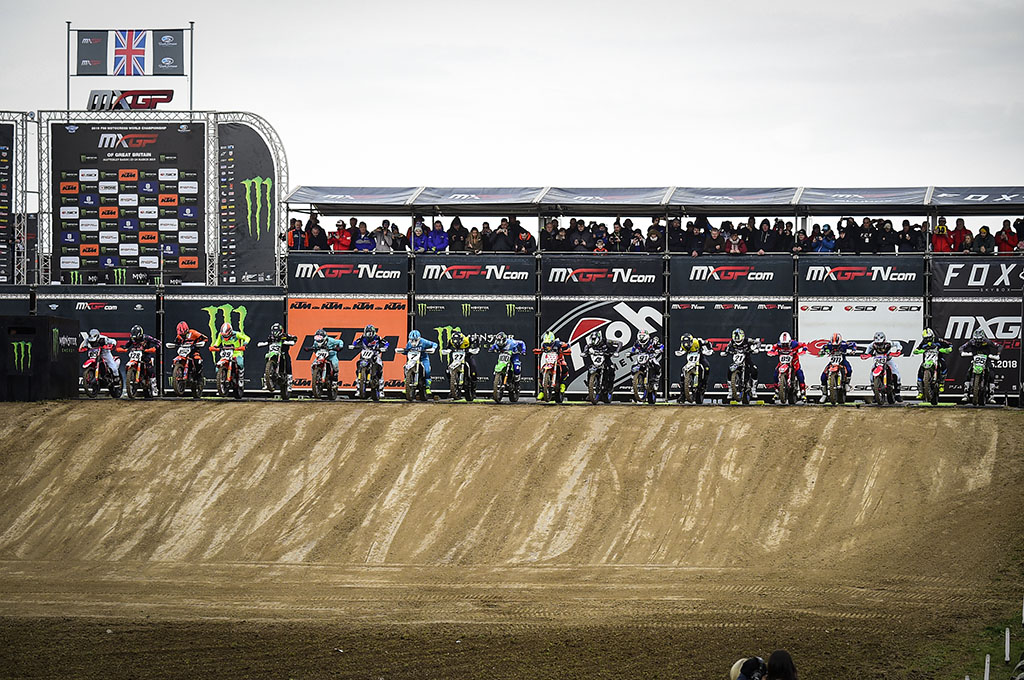 MXGP
In 2019, the MXGP of Great Britain presented some intense racing between Red Bull KTM Factory's Antonio Cairoli, Monster Energy Yamaha Factory's Gautier Paulin and Team HRC's Tim Gajser. Fans were treated to a front row seat to what was the beginning of the Gajser v Cairoli battle, that saw plenty of action out on track.
Gajser's huge crash in the opening race gave the 9-time World Champion the upper hand in terms of points, allowing him to clinch the overall that weekend and his 5th GP victory at Matterley Basin since 2011. Gajser finished second just a further two points back, with Paulin filling the third step of the podium.
There has been a total of 5 different MXGP (previously known as MX1) winners at the circuit, including the likes of Stefan Everts (2006), Antonio Cairoli (2011, 2012, 2014, 2015 and 2019), Clement Desalle (2013), Tim Gajser (2016) and Jeffrey Herlings (2018).
Coming into the weekend as the defending champion, Gajser, will be looking for a strong start to the season. With a programme that worked well for him last season, along with a solid winter prep, the Slovenian is a top favourite to be out front leading the rest of the field. And he's had practice winning at the circuit, with his first victory at Matterley Basin dating back to his youth days, when he raced in the EMX125 championship in 2012 which he won the very same year.
Antonio Cairoli will line-up at Matterley Basin with the possibility of a 10th world title on his mind as he makes his return following an unlucky season in 2019. Having taken the time to fully recover, we can expect to see the 9-time world champion back to winning ways, and maybe he will add another win at Matterley Basin to his scorecard.
Of course, Cairoli will not be the only one that will challenge Gajser for the overall British GP victory, as fellow Red Bull KTM Factory rider, Jeffrey Herlings, will also be making his big return to the FIM Motocross World Championship.
Herlings, often referred to as 'The Bullet', has had a tough few seasons that have been overshadowed by complicated injuries, but back on form for 2020, he is one rider we can rely on to be a serious contender when it comes to winning races. He has a won a total of 3 times in Great Britain, with two of those victories from his MX2 days in 2014 and 2016.
While Gajser, Cairoli and Herlings may be the top three most talked about riders as we head into round one, the truth is the MXGP class is fully stacked with talented riders who are all more than capable of challenging the three world champions.
Monster Energy Yamaha Factory's Jeremy Seewer, who ended the 2019 MXGP Championship in second with fellow team-mates Gautier Paulin and Arnaud Tonus are among the top riders who can shine in Great Britain. This year the entire Monster Energy Yamaha Squad look in a good shape to shine.
Also, Team HRC's newest recruit and MXGP rookie Mitch Evans, along with Rockstar Energy Husqvarna Factory Racing's, Arminas Jasikonis and Pauls Jonass, are riders that have impressed during the off-season, with the three of them more than capable of mixing it up with the MXGP veterans. Plus Jonass has won in Matterley Basin twice before, in 2013 when he was racing in the EMX125 class and in 2018 in MX2, the year he was crowned world champion.
Monster Energy Kawasaki's Clement Desalle and Romain Febvre will also be looking for a good start to the season, as both riders make their return from injuries. Febvre will begin his season as the newest addition to the Kawasaki squad and will also debut his brand-new race number, #3.
Desalle missed half of last season following a crash in Russia but has been working hard on his recovery and could be another rider that we will see at the top end of the field. Having previously won at Matterley Basin in 2013, the Belgian knows what it takes to win on the hard-pack circuit.
Standing Construct GasGas MXGP's, Glenn Coldenhoff and Ivo Monticelli are two riders who will stand behind the gate with their brand-new GasGas machines as the manufacturer makes its MXGP debut. Coldenhoff a past winner in Britain (2013 in MX2) and coming off the back of one of his most successful seasons where he secured 3 Grand Prix wins and of course the Chamberlain Trophy at the Monster Energy FIM Motocross of Nations in Assen, could also be a real threat for the podium chase.
British riders, Shaun Simpson and Adam Sterry will be more than ready for their home GP, and with their local fans on their side, it is possible that we could see the Brits mixing it up at the top end of the field.
It is difficult to pick one winner, as the line-up this season is highly competitive, with a large number of really good riders. And adding to that field is a new class of rookies. MX2 World Champion, Jorge Prado is one big names that we will see on the start-line in MXGP, along with other MXGP rookies, Calvin Vlaanderen andThomas Covington of Gebben Van Venrooy Racing and Henry Jacobi of SM Action MC Migliori.
2019 MXGP of Great Britain Top 3:
Antonio Cairoli
Tim Gajser
Gautier Paulin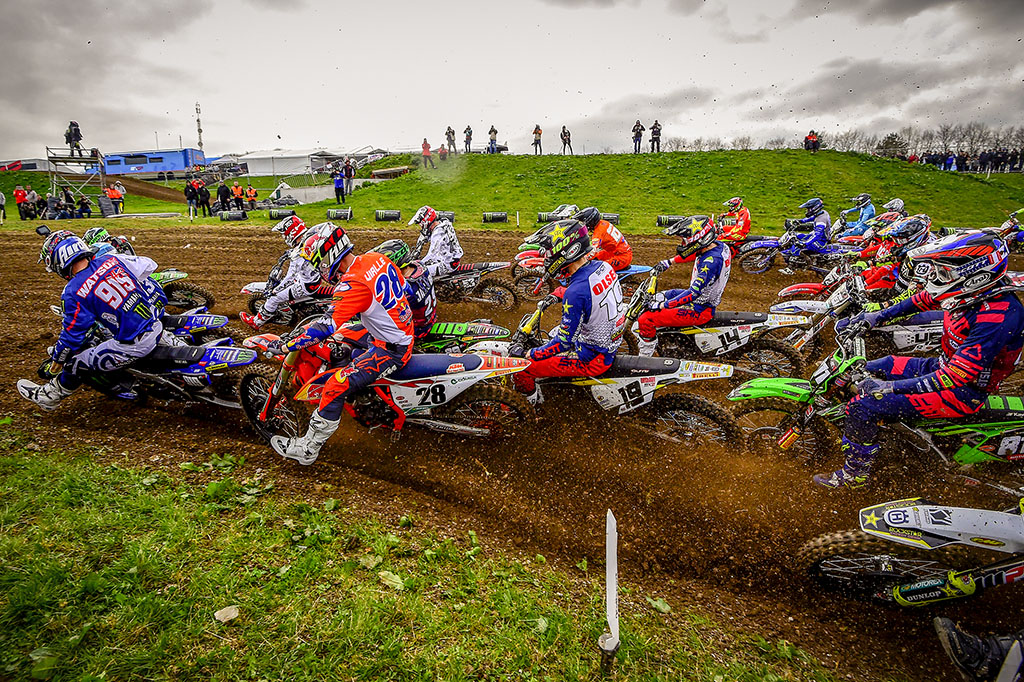 MX2
While things are sure to be exciting in MXGP, the MX2 class is guaranteed to showcase some action in Matterley Basin too. With the 2019 MX2 World Champion, Jorge Prado making the move to MXGP this leaves the door open for new talent to lead the way and one rider who we can expect to do so is Rockstar Energy Husqvarna Factory rider, Thomas Kjer Olsen.
Olsen has been one of the main protagonists of the MX2 title for the last few years and in 2019, he secured his first Grand Prix victory of the year in none other than Matterley Basin. He won both races and with that took the overall and the championship leaders red plate. Back for more in 2020, he will be determined to not let the title slip again.
Though the Dane is not the only fan favourite heading into round one, with Monster Energy Yamaha FactoryMX2 riders, Jago Geerts and Ben Watson looking to challenge for the title this season. We can expect to see Watson aim for the podium at the British Grand Prix, as he will be able to put on his best performance in front of his home crowd. Fellow Brit, Hitachi KTM fuelled by Milwaukee rider Conrad Mewse will also be looking to impress at his home round.
Red Bull KTM Factory riders, Tom Vialle and newest recruit Rene Hofer, are also strong contenders for the win. Vialle with his rookie season behind him, can be expected to be at the front once again. He placed third overall at the MXGP of Great Britain last year, despite being the new kid he quickly found his feet and was able to challenge for podiums on many occasions, and if his new team-mate follows in his footsteps, we could see another KTM dominated podium giving us flashbacks of when Prado and Jonass battled in the class.
New kids on the block, F&H Racing's Roan Van de Moosdijk and Mikkel Haarup will be making their season debut in MX2 and are also among the group of strong contenders for the podium in Matterley Basin. Last year Van de Moosdijk, was third on the podium in the EMX250 class and also finished the season as the 2019 Champion of the group.
The third F&H Racing rider Mathys Boisrame will line-up in Britain with the hope of improving upon his 9thplace finishing in the 2019 MX2 World Championship standings and will aim for a top result to his 2020 campaign.
During the MXGP of Great Britain Livia Lancelot will also unveil her brand-new Honda 114 Motorsports squad with MX2 riders, Nathan Crawford and Bailey Malkiewicz who will make their debut in the FIM Motocross World Championship as they line-up at Matterley Basin for the first race of the season.
Meanwhile, Jeremy Sydow and Simon Laegenfelder will debut for the new GasGas Factory Juniors and will be hoping to place their GasGas machines high in the charts.
2019 MXGP of Great Britain Top 3:
Thomas Kjer Olsen
Henry Jacobi
Tom Vialle