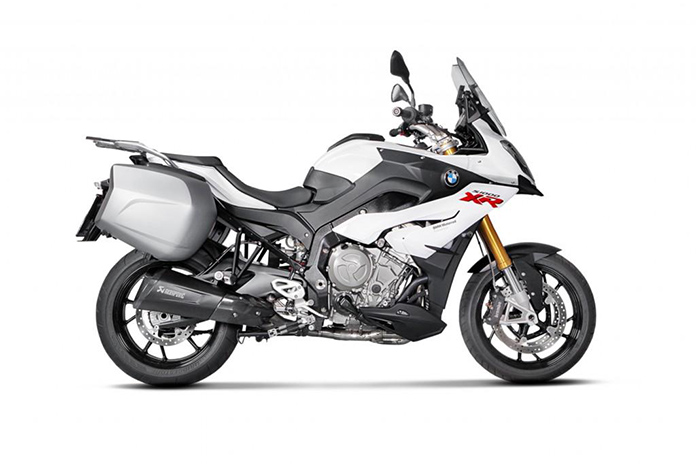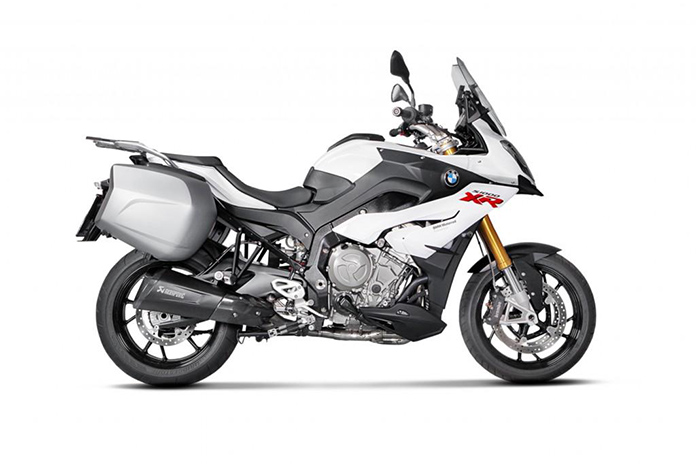 Akrapovič has launched the latest addition to its ever-expanding range of BMW exhaust systems with the release of the titanium Slip-On line for the class-dividing S 1000 XR.
The BMW S 1000 XR is a motorcycle that has the performance of a sports machine and the versatility of an adventure bike, and Akrapovič has created a newly designed exhaust muffler perfectly shaped to fit seamlessly with the bike's lines. As a motorcycle that crosses the borders between different categories, Akrapovič drew on its experience to create an exhaust that will boost the performance of the engine and add to the overall experience of a bike that is at home on every road.
The result is a beautifully crafted, eye-catching system with performance as good as its looks. The outer sleeve is made of black-coated high-grade titanium, which is complemented by a heat-resistant carbon-fibre heat-shield and end cap, all developed from Akrapovič's involvement with race-proven technology. Finished with an embossed side shape and an engraved Akrapovič logo, this is certainly an exhaust that will stand out.
The EC type-approved Slip-On Line exhaust system for the BMW S 1000 XR will alter the nature of the bike by adding more power, reducing weight, delivering improved throttle performance, and giving the machine the unmistakable Akrapovič sound. To further enhance the performance of the S 1000 XR, optional headers are available to take the exhaust tuning process to the next level. Constructed from the finest titanium or top-quality stainless steel, the headers offer an upgrade to a full system when used with the Akrapovič Slip-On exhaust. These beautifully styled and finished additions will increase power and torque levels right across the rev range, along with reducing weight by more than 7 kg (58 %) when the titanium headers and Slip-On Line are combined, improving handling and manoeuvrability, plus taking that Akrapovič sound to even greater levels.
Supplied with a comprehensive mounting manual, the Slip-On Line exhaust and optional headers are easy to install. It is just a simple plug-and-play operation with no remapping or other parts required, all designed to make an easy but impressive performance upgrade.
The new BMW S 1000 XR combines different motorcycling worlds to create something completely new, and now those levels can be further improved with an Akrapovič Slip-On Line exhaust and optional headers to make the bike stand out from the crowd with more power, beautiful design, and the unique Akrapovič sound