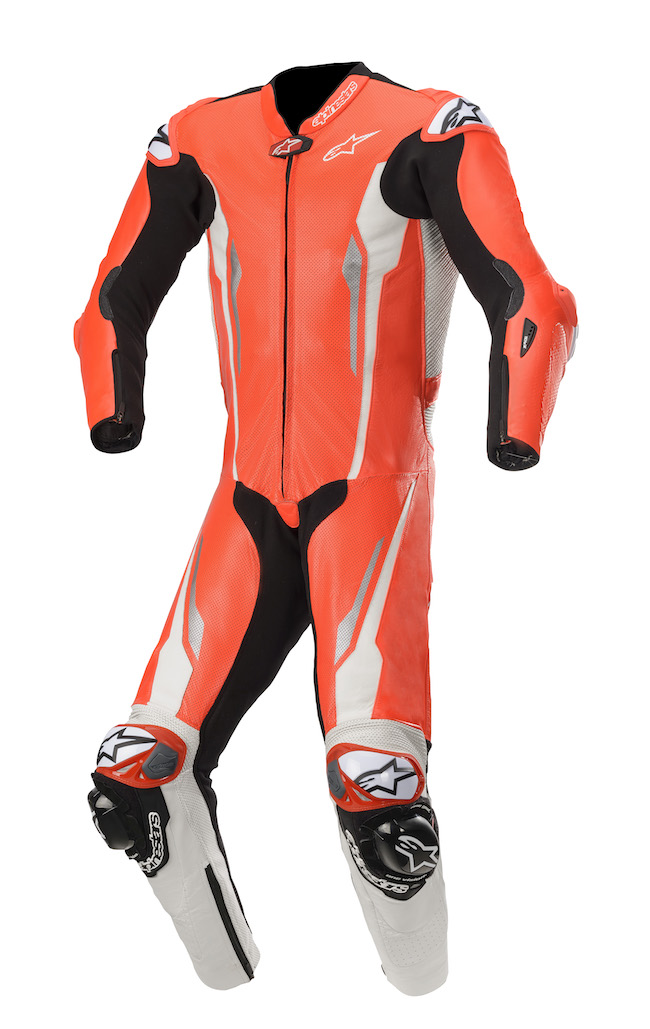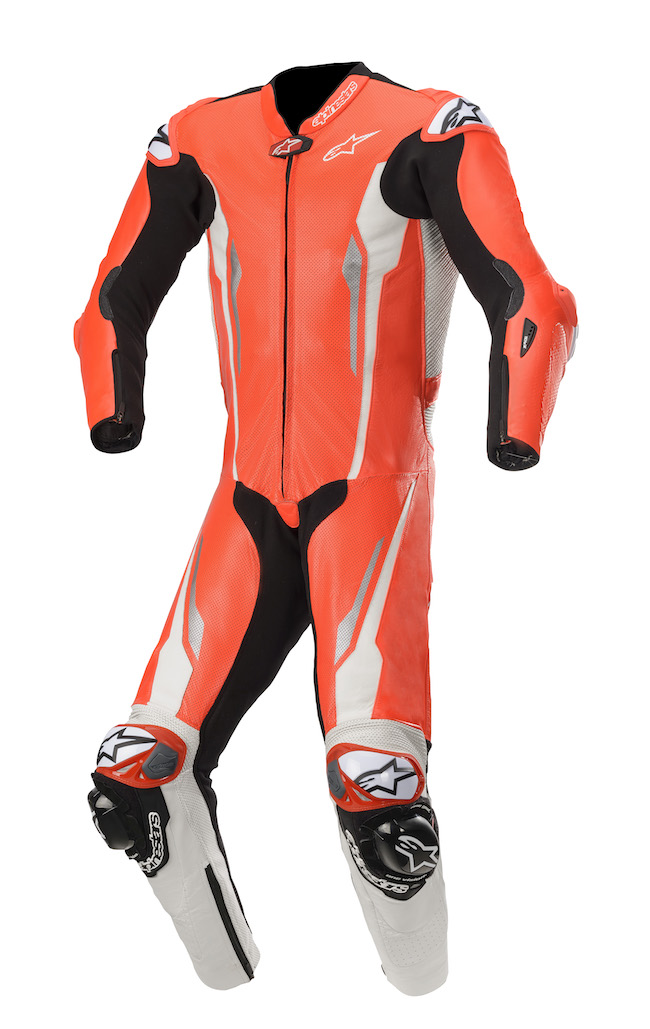 Product Name – RACING ABSOLUTE leather suit TECH-AIR® Airbag Compatible (suggested retail price – € 2,799.95 Euro / £ 2,499.95 Sterling)  + TECH-AIR® RACE airbag (suggested retail price  – € 1,199.95 Euro / £ 999.99 Sterling)
Sizes: 44-58
Category – Racing/Performance riding
Description – The Racing Absolute Leather Suit uses lessons learnt from the MotoGP World Championship and input from Alpinestars athletes to create a state-of-the-art racing suit which sets new benchmarks for protective technology available to riders. An example of this is the brand-new innovative aramid bonded leather that is found in the areas of the suit prone to high abrasion; the shoulders, knees, elbows, forearm, seat, and the sides of the back all have this added layer of protection along with dual-leather layers. This aramidic bonding is proven to significantly increase tear and abrasion resistance while also protecting the rider from heat transfer, particularly in the case of a long slide on the Tarmac. Body mapped to give a full-on racing fit, the Racing Absolute is made from premium grade 1.1mm kangaroo leather for high levels of abrasion resistance, lightness, flexibility and breathability.
The result of over a decade of development in MotoGP and following on from Alpinestars' first-generation racing airbag system and the launch of the ground-breaking Tech-Air® Street, this latest version of Alpinestars Tech-Air® technology brings full upper body protection to serious track day and performance riders. Available separately and compatible with a range of Alpinestars leather suits and jackets, the Tech-Air® Race is completely self-contained, meaning there are no bike-to-rider set-up configurations required, which ensures the ultimate in convenience, freedom and versatility. When fully inflated, the system's airbag offers critical protection to the back, kidneys, chest and shoulders. Plus, with a simple upgrade the versatile system firmware, the Race system can be configured to run the Tech-Air® Street setting for non-race use in road and off-road situations.
• High level race suit incorporating MotoGP-derived technologies.
• Designed with body mapped race fit and pre-curved sleeves for optimum riding performance.
• Premium full kangaroo leather construction for lightness, flexibility and optimum levels of protection.
• Highly durable, flexible kangaroo leather features anatomical panels for high levels of movement and a superior fit.
• Strategically positioned accordion stretch panel inserts have been designed to accommodate Alpinestars airbag system, allowing expansion when the airbag inflates but also offering a high level of anatomical performance and a superior fit when riding without the system fitted.
• Tech-Air® compatible; Tech-Air® is the world's first completely electronic, self-contained, full independent upper body motorcycle airbag system with no bike-to-rider set-up configurations required.
• An LED display on the sleeve indicates the airbag's operational status, while an internal housing located in the CE-certified back protector accommodates the system vest's ECU.
• Patented leather bonded aramid grid reinforcements on the arm, back, seat, thigh and elbow areas to reduce heat transfer and prevent the skin from burning when sliding. This also gives more strength to the leather against tear and abrasion.
• New aramid reinforced stretch fabric panels on crotch, back of the leg and underarms to guarantee excellent levels of lightness, flexibility and breathability.
• Large perforated kangaroo leather panels are strategically placed to offer excellent levels of cooling airflow and comfort.
• Alpinestars CE-approved, race-derived protectors on the elbow, shoulder, knee and tibia.
• Alpinestars new exclusive GP Dynamic Friction Shield (DFS) on knee and further DFS protection on the elbow and shoulder.
• Innovative new RR elbow slider is anatomically contoured and features a removable screw-mounted insert slider.
• Chest pad compartment (designed to take the CE-certified Nucleon chest pads).
• Comes fitted with the CE-certified Nucleon hip protector.
• Ergonomically designed AR (Abrasion Resistant) Shield reinforcement with aramid fiber and polyamide construction in the limb flexion zones to protect the exposed seams against abrasion.
• Removable inner stretch mesh liner with multi-panel construction and 3D back panel.
• Soft 3D textured fabric comfort collar construction.
• New GP aerodynamic back hump improves stability and airflow at speed. Ventilated and designed to incorporate a hydration pack, it comes complete with an opening which can accommodate a hydration hose.
• Internal waterproof wallet pocket for peace-of-mind storage.
• Printed logos reduce weight and improve the flexibility of the leather, thus enhancing comfort and performance.
• Fully CE-certified riding garment to CE – Category II prEN17092 draft standards – AAA class.