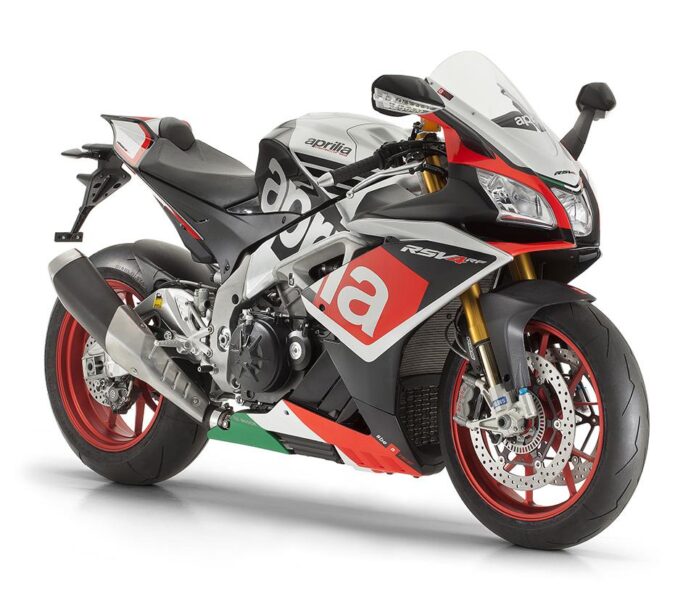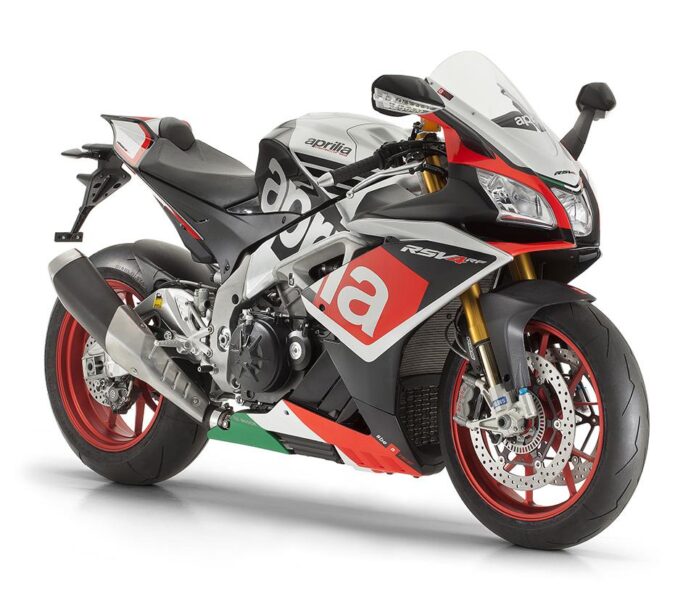 Aprilia, multi race and Championship winner and current World Superbike Champions today confirms its 2015 line-up and prices.
Heading the list is the new-for-2015 Aprilia RSV4 RF, the latest and greatest incarnation of the ultimate, multi award and race winning V4 superbike. With a dry weight pared down to 180Kg, forged wheels, top quality Ohlins suspension, Aprilia APRC electronics and the lessons learnt through track success resulting in the jewel-like V4 engine now producing 201hp, this is a superbike with a pedigree. Finished in exclusive "Superpole" colours and at an on the road price of £18,134, the RSV4 RF will be available from March.
The 2015 Aprilia Tuono, King of the Supernakeds, features a new 1100cc, 175hp, V4 engine and Aprilia APRC electronics and is available in two versions: The Tuono V4 1100 Factory, with Ohlins suspension and forged wheels in "Superpole" colours is priced at £14,634 on the road, while the Tuono V4 1100 RR will be available in Portimao Grey or Donington Blue at £13,134 on the road.
Completing the roll call of new Aprilia bikes is the 2015 Caponord Rally. Complementing the Caponord Travel Pack, the new Rally retains the proven 1200cc V-twin engine and ground-breaking suspension and electronics of its cousin, but features spoked wheels (19" front), crash protection, LED auxiliary lights and hard panniers among its standard specification. Available in Dune Yellow, Army Green or Safari Grey, the Caponord Rally will be available next month at £14,134 on the road.
Motorcycles
| | | | | |
| --- | --- | --- | --- | --- |
| Model | Price excluding OTR fees | 1st Registration Fee | Road Tax | Retail PriceOn the Road |
| RSV4 RF | £17,999.00 | £   55.00 | £   80.00 | £18,134.00 |
| Tuono V4 1100 Factory | £14,499.00 | £   55.00 | £   80.00 | £14,634.00 |
| Tuono V4 1100 RR | £12,999.00 | £   55.00 | £   80.00 | £13,134.00 |
| Caponord 1200 Rally | £13,999.00 | £   55.00 | £   80.00 | £14,134.00 |
| Caponord 1200 Travel Pack | £12,999.00 | £   55.00 | £   80.00 | £13,134.00 |
| Dorsoduro 750 ABS | £   7,999.00 | £   55.00 | £   80.00 | £   8,134.00 |
| Shiver 750 ABS | £   6,999.00 | £   55.00 | £   80.00 | £   7,134.00 |
| RS4 125 | £   4,499.00 | £   55.00 | £   17.00 | £   4,571.00 |
| RS4 50 | £   3,299.00 | £   55.00 | £   17.00 | £   3,371.00 |
| SX 50 | £   3,249.00 | £   55.00 | £   17.00 | £     3321.00 |
Scooters
| | | | | |
| --- | --- | --- | --- | --- |
| Model | Price excluding OTR fees | 1st Registration Fee | Road Tax | Retail PriceOn the Road |
| SR MT 125 | £   2,249.00 | £   55.00 | £   17.00 | £   2,321.00 |
| SR MT 50 | £   1,899.00 | £   55.00 | £   17.00 | £   1,971.00 |
| SR 50 R | £   2,099.00 | £   55.00 | £   17.00 | £   2,171.00 |