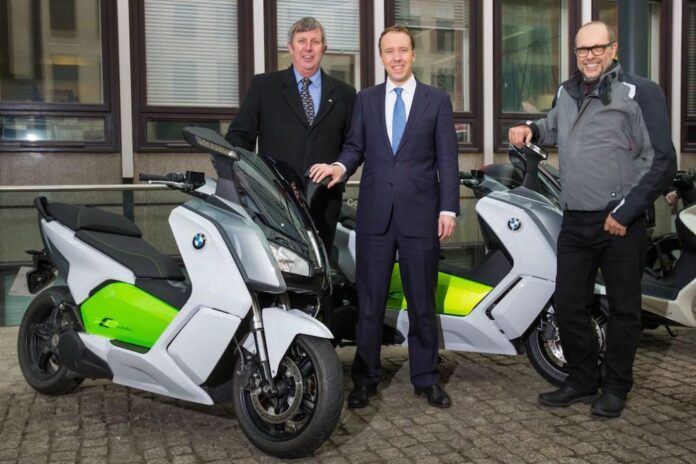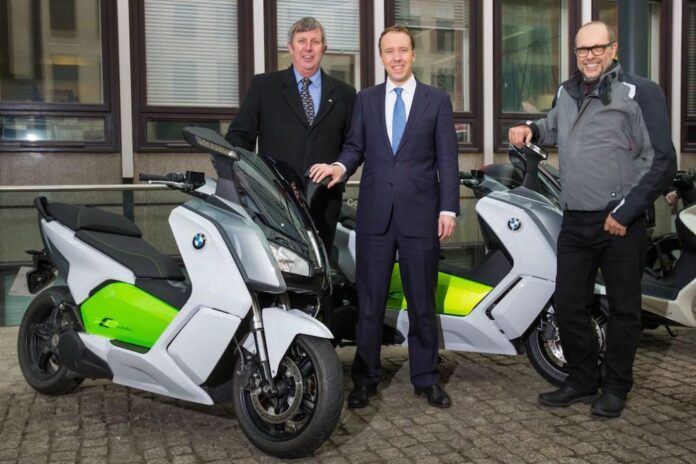 Government announces grant saving up to £1,500 for electric motorcycles.
Business Minister Matthew Hancock announced the subsidy which will apply to BMW Motorrad's electric maxi-scooter.
​
New purchasers of the BMW C evolution maxi-scooter will be among the first riders able to take advantage of a grant for electric motorcycles just announced by the UK Government.
The grant offers up to £1,500 off the purchase price of a new electric motorcycle and allows motorcyclists to reduce both their running costs and environmental impact.
Up to £7.5m will be set aside to boost the uptake for electric two wheelers, with significant benefits both for the environment and reducing personal travel costs.
Phil Horton, General Manager for BMW Motorrad UK, said: "This is hugely important step forward in the government's policy for electric vehicles. BMW Group is at the forefront of electric vehicle development with the i3 and i8 cars – and the C evolution is the first two wheeled electric vehicle to bear the Motorrad brand. With the grant from the Government factored in, the C evolution becomes an even more appealing option for urban commuters and riders."
Business Minister Matthew Hancock said: "Low emission vehicles are the future and show that we can meet our climate change commitments without giving up our cars or motorbikes. Electric motorcycles and scooters have got fantastic potential and can be a real force for good.
"This investment shows we are serious about increasing the uptake of cleaner vehicles in the UK and offer a fantastic place for firms to locate their R&D and manufacturing facilities. Supporting new technologies is a key part of our long-term economic plan."
Customers purchasing a new electric motorcycle meeting the subsidy's requirements – which includes the BMW C evolution – will have the purchase price reduced.