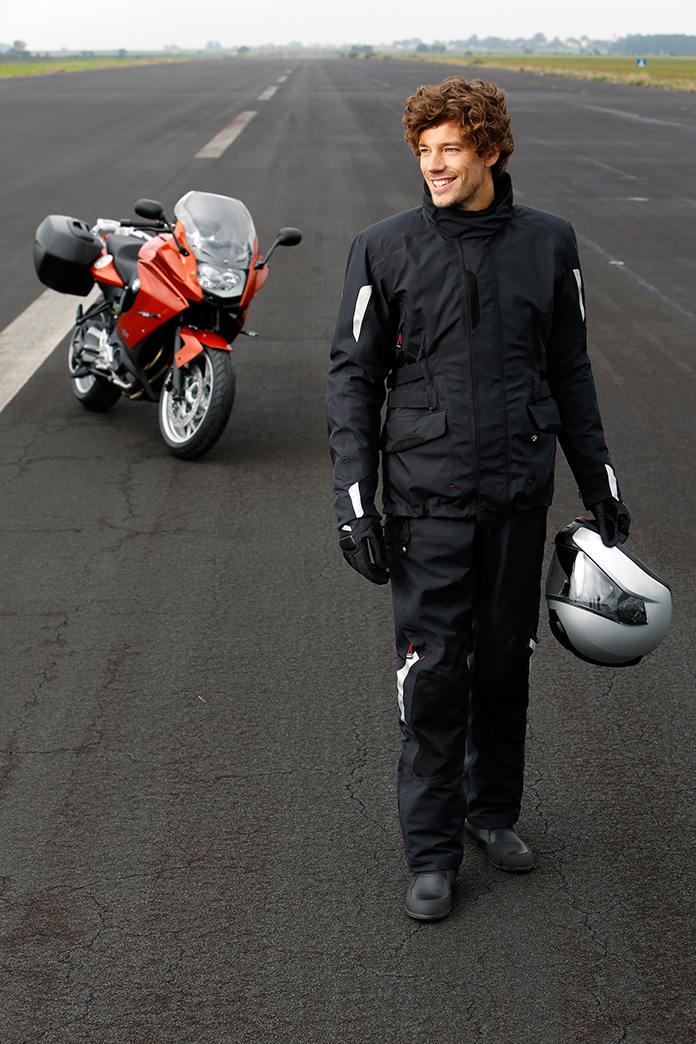 Brand new range of kit and clothing available to view and order at BMW Motorrad UK Dealerships.
The 2014 range of BMW Motorrad Rider Equipment is now available to view and order at BMW Motorrad Dealerships. The full collection of Rider Equipment can be ordered in any Dealership, while the limited-edition Style Collections fashion ranges are available on a first-come basis. The two 2014 brochures are available to collect in person, or view online at www.bmw-motorrad.co.uk/equipment.
highlights of the 2014 ranges listed below
The new Race helmet (£420-455) was developed with assistance from riders in the International German Motorcycle (IDM) Championship and offers a lightweight, well-ventilated helmet for road and track riding.
The Streetguard suit (£1065-1080) is an all-season premium touring suit which offers customisation to make it perfect in summer and winter. The AirFlow suit (£655), meanwhile, is ultra-lightweight and boasts excellent ventilation. The Sport leather suit (£1175) also comes with numerous new features and is designed for riders who are looking for comfort alongside sporty looks and safety.
The new rugged Gravel boots (£255) are a replacement for the popular Santiago enduro-styled boot. The new water- and dirt-resistant AirFlow boot cover (£52) turns the AirFlow lightweight boot (£150) into an all-weather option.
For the Two in One gloves (£140), weather and temperature changes are no longer an issue thanks to a revolutionary dual-chamber lining system that allows these sporty gloves to simply adapt to the prevailing conditions and switch to being waterproof in seconds. The AirFlow summer gloves (£70) offer excellent ventilation and comfort, while remaining extremely light.

Coming in bright, instantly visible fluorescent colours, the AirShell (£350) and NeonShell (£350) jackets ensure extremely good visibility for riders. The popular Boulder jacket (£340) has been updated with a new look, while the BlackLeather jacket (£450) comes in a casual used look and is made of rugged water buffalo hide, combining retro style with modern protection.
The appeal of the FivePocket trousers (£175) lies in their laidback design, but without any compromise on the safety front. They may resemble a casual pair of jeans but are in fact fully-fledged motorcycle trousers. The functional Summer trousers (£175) in casual cargo look are ideal for summer rides with the zip off lower legs making the transition from bike trousers to casual shorts effortless.
The BMW Motorrad Rider Equipment range also features a comprehensive range of functional items. The PCM Ride jacket (£145) featuring high-tech Phase Change material regulates body temperature whether the conditions are too hot or too cold. The new HeatUp vest (£160) takes cold weather comfort to the next level with a 12v heating system that works with BMW Motorrad motorcycles.
Fans of the BMW Motorrad brand are followers of fashion. Two new-for-2014 limited edition BMW Motorrad Style Collections offer high-quality clothing and cool accessories in the 'logo' and 'vintage' themes. The BMW Motorrad Logo collection is targeted at all those wishing to display their passion for BMW motorcycles through smart shirts, cool jackets and even items of luggage. BMW Motorrad Vintage collection presents a laidback feel and rugged garage look. From T-shirts to sunglasses all the way to tool rolls, sheer cool and style is the name of the game.
Customers can view and order items from the range of BMW Rider Equipment via their local BMW Motorrad Dealerships. For more information, or to find a local Dealership, visit www.bmw-motorrad.co.uk or call 0800 777 155.