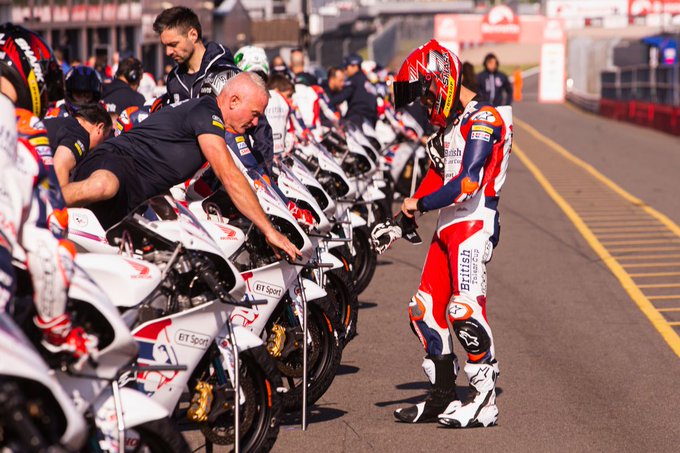 The BTC gear up for another trip to Donington – this time alongside WorldSBK.
After two rounds alongside the British Superbike Championship, the British Talent Cup join the billing at a different event this weekend as they compete alongside WorldSBK, although the stage remains a similar one: Donington Park. This time though it's the Grand Prix layout and it's familiar ground for many, so the competition is sure to be close.
One thing this layout doesn't include is the now-ominous final chicane that saw a number of incidents in Round 2 – including the one that shook the standings. Former Championship leader Cameron Horsman was one of those who came a cropper and through no fault of his own, with key rival Scott Ogden then sweeping through to the win. So as we head back to Donington, it's now Ogden in the lead by a handsome 20-point margin and Horsman back on the chase. The two men have shared the wins so far this season. Will that remain the same in Round 3?
Fenton Seabright is the only man in the Cup this year who had rostrum form at Donington last year – in the season opener, he went from pitlane to podium in a stunning ride to third. Can he repeat that? He's now third overall in 2019 although he's 22 points off Horsman, so now would be a good time to start hitting the front.
Irishman Rhys Irwin is the next man in the standings and has shown top consistency, but he's yet to get a podium. That's a logical next step he'll be fighting for, but the guys who've already been on the box like Jack Hart, Scott Swann and Brian Hart will be determined to make sure it's them instead. And what of Jack Nixon, close to the podium but searching for more consistency, and Charlie Farrer, who shone last time out? Time will tell.
There are two BTC races alongside WorldSBK and it's sure to be another down-to-the-wire thriller of a weekend. Tune in on Saturday 6th July at 16:00 local time (GMT +1) for Race 1, before Race 2 at 16:15 on Sunday.