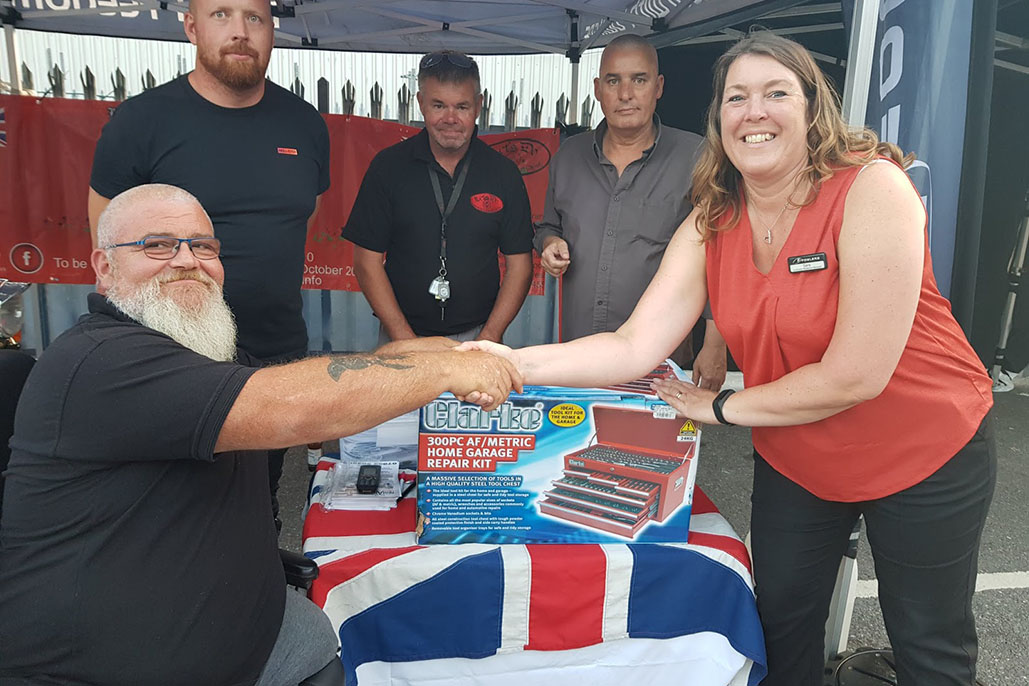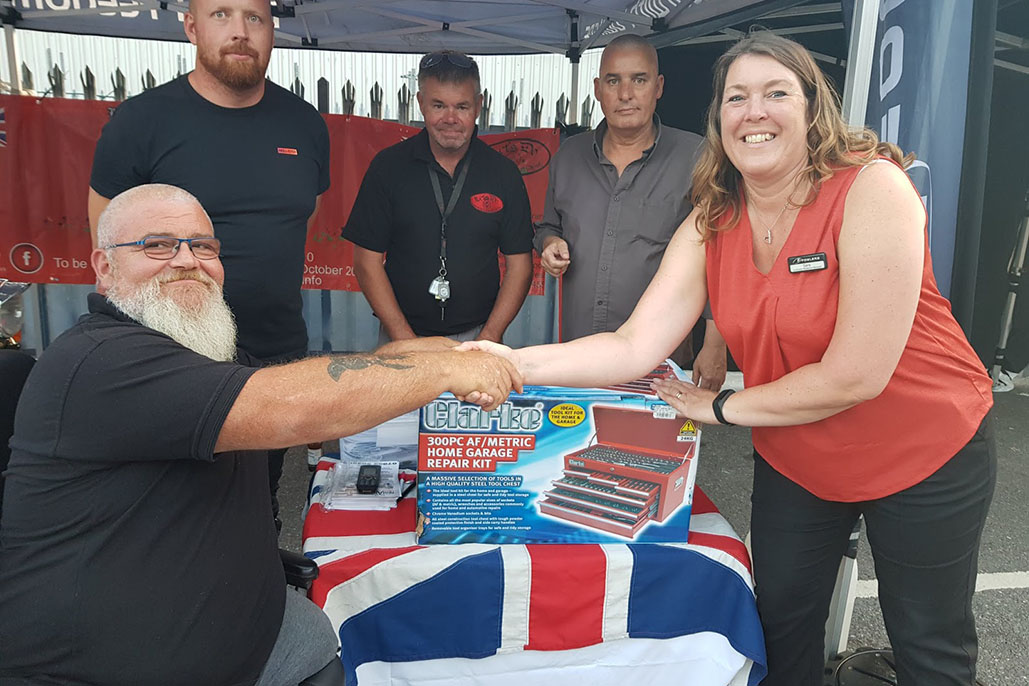 A disabled veteran who restores motorcycles for charity is back in business, thanks to a local motorcycle dealer replacing his stolen tools for free.
Former Royal Navy Submariner Mark Hancock, who lost both his legs through illness, restores motorcycles free of charge for the Let's Do veteran support charity, as part of his rehabilitation. The future of Mark's therapeutic hobby looked uncertain, after all his tools were stolen during a break-in at his property in July this year – that is until Bristol motorcycle dealer Fowlers stepped in and replaced his tools for free.
Fowlers' Director Stephanie Fowler explains how they became involved:
"A friend of Mark's contacted us through our Facebook page, asking if we were prepared to donate any spare tools to replace those taken from Mark. He wrote very passionately about Mark's kindness and generosity, and we knew immediately that we needed to do something to help him get back to his valuable work as quickly as possible. Because all the tools in our workshop are specific requirements of the manufacturers, Chris Wellington, our Service Manager simply suggested, 'Let's buy him a whole new toolkit', so we did!"
Mark was presented with the 300-piece tool chest by Sara Gubb, Fowlers' Customer Relationship Manager, at Bristol Bike Night's monthly meeting on Friday 2nd August.
"I had about £1,900 worth of tools stolen, including power tools and a bike belonging to a girl I'd built in remembrance of her brother who'd passed away" said Mark. "I had taken 2 years to build it and was about 2 weeks from completion. These tools mean everything to me, it tells me that there are still good people out there. It's not just about what I'm building bikes for, it's about what it's doing for me".
Bristol Bike Nights welcome riders of all kinds of motorcycles, giving them the chance to meet old friends and make new ones, compare 'steeds', and eat their fill, as well as being a friendly and sociable way to start the weekend. The final meet of the 2019 season will be held on Friday 6th September at Fowlers Motorcycles. Entry is free and all are very welcome. Fowlers Loyalty Cardholders are also eligible for free coffee in the Loyalty Lounge. Fowlers is conveniently located at 2-12 Bath Road, Bristol BS4 3DR, on the A38 inner ring road and within a 5-minute walk of Temple Meads mainline railway station. Find out more by calling 0117 977 0466 or visiting www.fowlers.co.uk
Note: Let's Do is a veteran run charity which has helped former military and home service people overcome disabilities since 2014, through outdoor activities and events. Find out more about their work at: www.letsdoevents.info