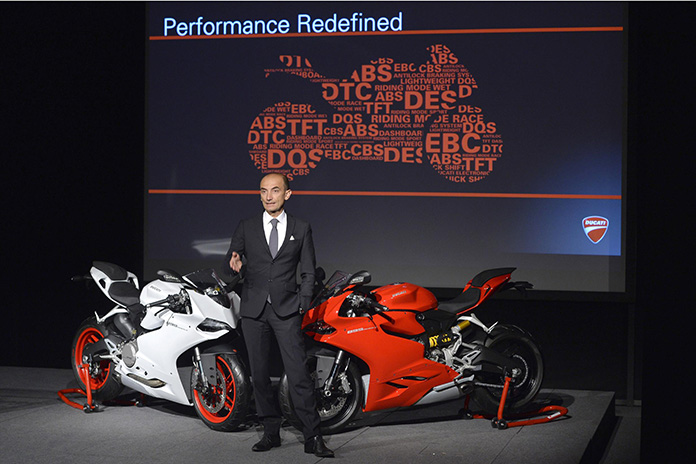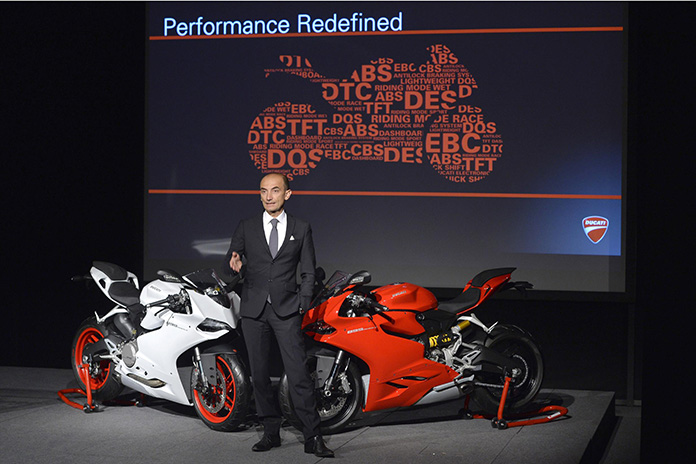 Following its surprise preview at the VW Group Night in Frankfurt, Germany on Monday, the Ducati 899 Panigale was officially presented to the press today during a media event at the Ducati factory in Bologna, Italy.
Ducati Motor Holding's recently appointed CEO, Claudio Domenicali, explained the new 899 Panigale model in detail and, one year on from the Audi Group acquisition, provided the first official overview of the progress achieved by the company despite a challenging and delicate European motorcycle market.
"My professional career began here at Ducati 22 years ago and finding myself at the helm of the company today makes me immensely proud, but also aware of the huge responsibility that comes with this position," said Claudio Domenicali on meeting the press. "Audi is a stakeholder who wishes to be involved in the technical development of the company and to focus its efforts on product development. Now, a year after the acquisition, it is time to take stock of the initial results and look to the future with a positive and proactive attitude.
"Ducati achieved record sales in 2011 and again in 2012 when over 44,000 motorcycles were delivered to customers. Despite the current market dip, Ducati have almost equalled those sales for the first six months of 2013 and, with the introduction of new models in the second half of the year, we are expecting positive results.
"The new Hyperstrada became available in showrooms from early June while the 899 Panigale will become available this October. In addition to this, positive sales trends are being recorded in emerging markets, such as 66% growth in Thailand, a country where we were not even present three years ago and where we expect to deliver approximately 2,500 motorcycles this year. In Brazil, where we only started to sell motorcycles this year, we are now averaging 100 deliveries to customers per month and in China sales are up 75% on 2012. With 90% of our production now being exported, the US has firmly taken over from Italy as our top market, leading us to believe that our growth trend will continue throughout 2014, repeating the highly positive bottom line figures that we achieved in the past few years.
"As for racing, we certainly cannot claim to be happy with the current results, but our goal is to bridge the gap that currently separates us from the leaders. We are already working on the new Desmosedici for 2014, when we want to be in a position to fight for podium finishes."
Referring to the brand new model released this week, Claudio Domenicali said: "The 899 Panigale is a prime example of the technological excellence that has traditionally characterised our motorcycles. It is the reward of what we call 'performance redefined', a modern, innovative sports motorcycle which uses ground-breaking technology to ingeniously adjust to everyday use. User-friendly, safety-enhanced, and great fun at the same time. A motorcycle as thrilling as only a true Ducati can be. This important concept will carry on into our future production and also our range expansion plans, focusing on the concept of performance that we intend to extend upwards to create even more sophisticated, race-derived models, and downwards to cater for the market of 'easier' and more accessible models."
The 899 Panigale will make its first public appearance at the San Marino Republic round of the MotoGP championship this weekend, when the brand new model will be unveiled just before MotoGP race on Sunday 15 September.
Representing the first  preview of the Italian manufacturer's exciting 2014 model range, the highly anticipated Ducati 899 Panigale marks the beginning of a new era for Ducati Superbikes. The stunning model, intended to provide a new way to access the exclusive world of Ducati Superbikes, is described as a "Supermid" version of the award-winning 1199 Panigale, designed to provide the thrill of the new generation flagship model with the refined character of an everyday streetbike.
Its brand new Superquadro engine features a revised bore and stroke for a broad power delivery, producing 148hp (109kW) with a torque of 73lb-ft (10.1kgm). The super-smooth power unit continues to be a fully stressed member of the innovative Panigale monocoque construction, achieving both an outstanding power-to-weight ratio and ride-enhancing agility with a dry weight of 169kg (372.5lb). An 1199 silhouette underlines the family DNA, while the Ducati Quick Shift (DQS) and the fully integrated Riding Mode technologies of Ride-by-Wire, triple stage ABS, Ducati Traction Control (DTC) and Engine Brake Control (EBC) continue the benchmark ingenuity introduced with the new generation Superbike.
Ducati now offers all-round performance for connoisseurs with an authentic and stylish way to enter the world of high performance. The 899 Panigale will be available from late October onwards in traditional Ducati red with black wheels or a stunning arctic white silk with red wheels.
Ducati Motor Holding S.p.A – An Audi Group Company
Founded in 1926, Ducati has been producing sport-inspired motorcycles since 1946. Their motorcycles are characterised by "Desmodromic" performance engines, innovative design and avant-garde technology. Covering several market segments, Ducati's range of motorcycles are divided into model families which include: Diavel, Hypermotard, Monster, Multistrada, Streetfighter and Superbike.
These authentic icons of "made in Italy" are sold in over 80 countries around the world, with concentration on the European, North-American and Asia Pacific markets. Ducati competes in both the World Superbike Championship and, with an official team, the World MotoGP Championship. In Superbike Ducati has won 17 Manufacturers' titles and 14 Riders' titles and in 2011 passed the historic milestone of 300 race victories. Ducati have participated in MotoGP since 2003, and took both the Manufacturers' and Riders' titles in 2007.