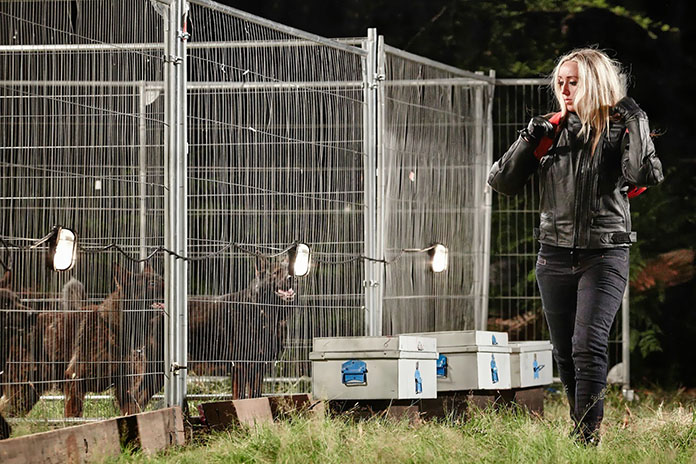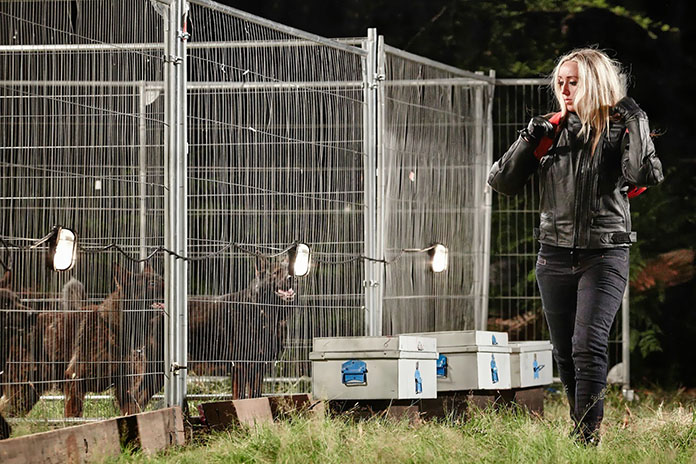 Designed for motorcyclists and tested on the tarmac, Draggin Jeans have been chosen to protect contestants from a pack of hounds on a new TV game show!
Premiered on ITV2, Release The Hounds sees three unsuspecting contestants enter a forest at dusk, in a quest to unlock chests full of prize money. In order to locate the keys and win, they must cross a field of crucified scarecrows, descend beneath the floorboards in a deserted cabin and read bedtime stories in the nursery from hell. Their ultimate challenge is to out-run a pack of hounds. If they manage to escape, the money belongs to them.
The producers chose Draggin for the contestants to wear because they needed jeans that were protective but looked like everyday clothing.  While the fit, cut and styling of Draggin looks like regular fashion jeans, their unique Kevlar/Dyneema lining offers class-leading abrasion resistance.
Draggin Jeans' patented positioning system covers each of the primary contact points [backside, hips and knees] with an abrasion-resistant lining that is secured with heavy-duty stitching.  Soft, breathable, flexible and non-allergenic, the Draggin Jeans lining is knitted from a combination of Kevlar® and Dyneema®, the World's Strongest Fibre™ – the same material fitted to their C-Evo jeans, which were the first ever denim jeans to pass the European standard for professional motorcycle clothing (EN13595).  Exclusively distributed in the UK by The Key Collection, for information call 0117 971 9200 or visit www.thekeycollection.co.uk.