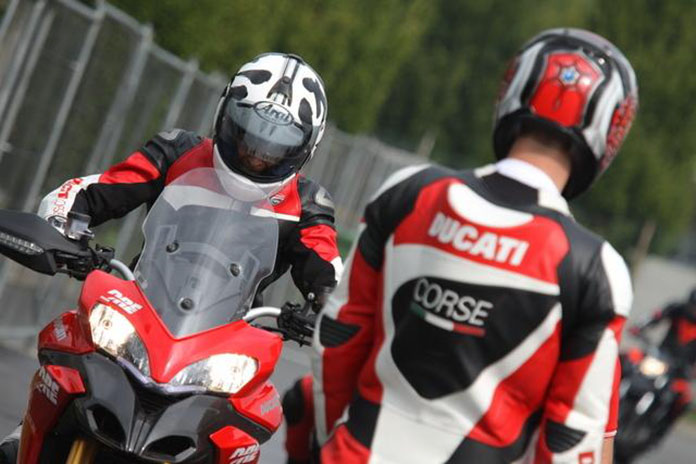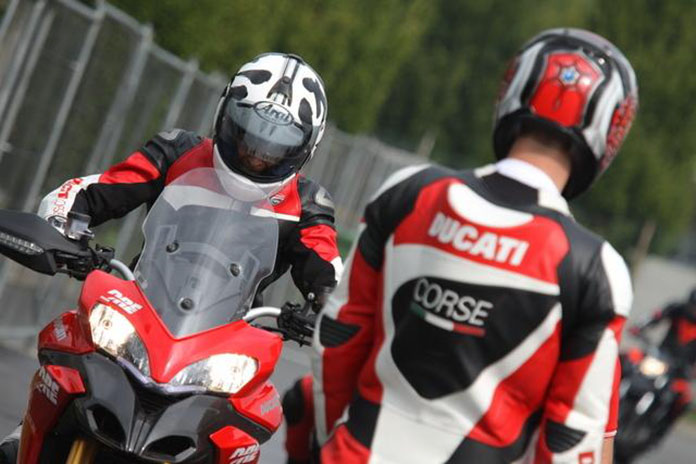 The Ducati Riding Experience is set to continue in 2014, with the 11th edition of the Italian manufacturer's highly successful riding school opening its enrolment online at Ducati.com on 16 December 2013.
Participants can look forward to using some of Ducati's latest models, including the brand new, 148hp 899 Panigale Superbike for Racing 1 & 2 courses or the new Monster 1200 for the Intermediate course, Ducati's latest generation Monster awarded "Most Beautiful Motorcycle of the Show" when unveiled at the EICMA show in Milan in November.
As usual, DRE has been carefully structured to cover all riding levels of motorcycle experience, from absolute beginners taking their very first steps on two-wheels in the Basic course, to the Master Racing and Troy Bayliss Academy courses for regular track-day experts wishing to further perfect their talent.
For DRE 2014, the Racing 1 and Master Racing courses take on a new format intended to provide participants with enhanced instruction for fast and safe riding with a dedicated classroom session prior to the track experience. To achieve this new format, the courses will spread over two days, during which Racing 1 participants will start the first afternoon with a briefing and theoretical exercises designed to lay a firm foundation of knowledge before practical tuition on the track. For the more advanced Master Racing course, participants will have a highly informative classroom session with Ducati's official test-rider, Alessandro Valia, and Chief Instructor, Dario Marchetti, before taking to the track aboard Ducati's impressive 1199 Panigale S Superbikes.
Participants of the highly prestigious Troy Bayliss Academy courses will be instructed in groups of five by none other than the triple World Superbike Champion himself. Academy students will ride the Ducati 1199 Panigale S further equipped with a Termignoni exhaust system.
Racing 2 courses, which remain unchanged, are intended for riders who already have track experience and wish to develop it further. In addition to many other details, they will work on areas such as increasing corner turn-in and mid-corner speeds and on how fully capitalising on every last hp of acceleration can achieve a smoother, more fluid and confidence-inspiring riding style.
Enrolment for Racing 1 and 2 courses is limited to 50 students, divided into efficient learning groups of just five, whereas the Master Racing course is open to just 12 participants, divided into groups of three. While all groups are guided by an expert instructor, all track-riding participants must be holders of Class A driving licenses without engine size limitation.
For non-track riders, DRE 2014 also offers a fully comprehensive range of courses from Basic to Intermediate. While learners in the Basic course will use the Ducati Monster 796, participants of the Intermediate course can improve their existing road skills to enhance their overall safety using Ducati's own versatile Multistrada 1200 S, Hypermotard and Hyperstrada models and, new for 2014, the Monster 1200 with excellent user-friendliness and the enhanced ergonomics of an innovative adjustable seat height.
Within the cost of the courses, all DRE participants will be provided with a motorcycle and instructor as well as a welcome kit and lunch, while those who need to rent riding gear can do so during the online enrolment.
The team of highly qualified instructors is coordinated by DRE Technical Director and Chief Instructor, Dario Marchetti, and Alessandro Valia (Factory Test Rider and Chief Instructor of the Master Racing course). In addition to many more successful and celebrated riders, the list of DRE instructors include top names such as Troy Bayliss (2001, 2006 & 2008 World Superbike Champion and MotoGP race winner), Paolo Casoli (1997 World Supersport Champion), Manuel Poggiali (2001 125cc World Champion & 2003 250cc World Champion), Andrew Pitt (2001 & 2008 World Supersport Champion & World Superbike & MotoGP competitor) and Niccolò Canepa (2007 Superstock FIM Cup Champion & World Superbike & MotoGP competitor).
With DRE, Ducati will continue its close collaboration with FMI, ensuring constant improvement of teaching protocols and standards of excellence on all courses. Additional support will also be provided by official Ducati supplier Bosch, further establishing the successful technical partnership between Ducati and this premier German brand.
Ducati Riding Experience 2014 calendar
28-29 Apr        Adria               Racing 1 course
29 Apr             Adria               Intermediate course
29-30 Apr        Adria               Racing 1 course
30 Apr             Adria               Base & Intermediate courses
13-14 May      Mugello           Master Racing course
14 May           Mugello           Intermediate, Racing 2 & Troy Bayliss Academy courses
14-15 May      Mugello           Master Racing course
15 May           Mugello           Base, Intermediate, Racing 2 & Troy Bayliss Academy courses
09 Sep           Mugello           Intermediate & Racing 2 courses
09-10 Sep       Mugello           Master Racing course
10 Sep           Mugello           Base, Intermediate & Racing 2 courses
With more dates expected to be added, visit Ducati.com to remain updated on DRE 2014.
Ducati Riding Experience 2014 motorcycles
Base course: Monster 796
Intermediate course:
Monster 1200
Multistrada 1200 S
Hypermotard
Hyperstrada
Racing 1 & 2 course: 899 Panigale
Master Racing & Academy courses: 1199 Panigale S