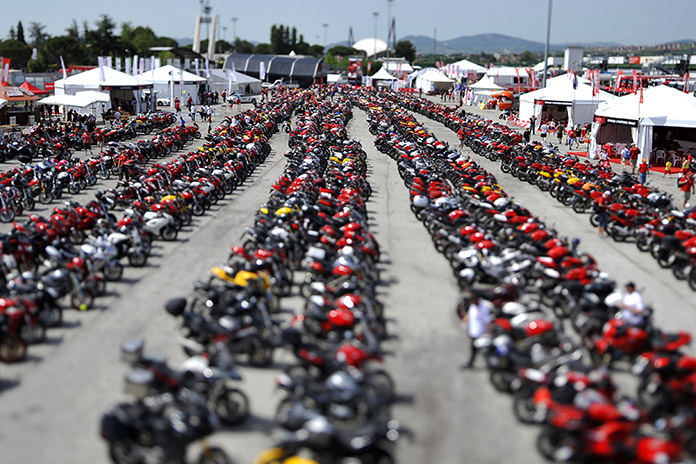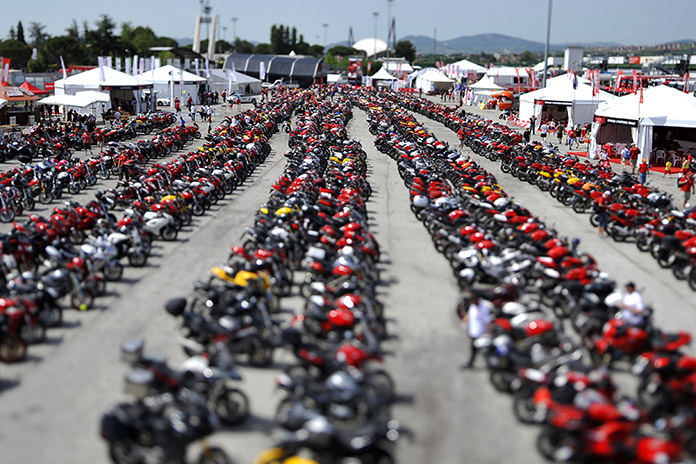 World Ducati Week 2014, hosted at the Misano World Circuit "Marco Simoncelli" 18-20 July, has attracted major supporting partners, including TUDOR, Termignoni and TIM to help create an event that looks set to attract a record attendance. These top supporting brands are to be joined also by additional Official Partners, adding even more character, entertainment and visibility to the now famous WDW event for thousands of Ducati fans and enthusiasts.
TUDOR, the Swiss manufacturer of sports watches, which has enjoyed a long partnership with Ducati as the Italian motorcycle manufacturer's "Official Timing Partner", now continues its traditional role as "Main Partner" and "Timing Partner" for the eagerly awaited WDW Drag Races, scheduled for Friday and Saturday 18-19 July. The races, which will see the official Ducati riders in competition on Diavel Carbon machines, is a shoot-out held along the Misano start/finish straight.
TUDOR-branded, and hosting a display of TUDOR watches including the latest Fastrider Black Shield model, the Diavel Drag Race area will also showcase the Diavel models as well as the special Diavel TUDOR. A photo point will also be set up inside the TUDOR area for those who wish to capture the moment astride the stunning Diavel Carbon.
Termignoni, who have been associated with Ducati for more than 20 years, now reaffirms its historic partnership with an active participation in WDW2014, showcasing its product range, as well as delivering seminars by Termignoni engineers within the Ducati University. WDW2014 visitors will also be able to purchase Termignoni systems for their Ducatis, fitted by the company's technical assistance service. Winning the hearts of Ducatisti around the world with their Italian systems hand-made in Predosa in Alessandria, Italy, Termignoni creates accessory exhausts with unique sound, enhancing the performance of the Bologna-built motorcycles both for road and race use.
Strategic partner, TIM, is already an official Ducati sponsor in both the MotoGP and World Superbike championships and will be supporting the WDW2014 event by implementing its innovative technology over the 4G LTE network to cope with the massive volume of telecom media generated at the event. Providing telecommunications to over half the Italian population, the company will also support the event with extensive live coverage on its social media with the hashtag #TIMDucati as well as coverage on the Dinamica Channel 249 (DTT) and 809 (Sky). TIM users in Italy also have the opportunity to win special two-seater taxi rides around the Misano circuit.
Ducati's Main Partners will be joined by Official Partners who have confirmed their support for the event's eighth edition. They include the sole supplier of tyres to Ducati, Pirelli, that will attend with its World Superbike hospitality as well as Race and Product engineers. The Italian tyre manufacturer will offer its tyre change service to all WDW-goers in addition to the possibility of registering for its Tyre Academy, a one hour course held at 10:00 on Friday, 18 July intended to provide information on how to correctly use the entire road and track product range. Special labels with the WDW2014 logo will also be available to personalise tyres at the event as well live tyre tattooing sessions. Pirelli will launch a Facebook initiative asking motorcyclists which themes they would like to see tattooed on tyres during WDW2014, enabling participants to take home one of these works of art on rubber.
In addition to being a main supplier of engine management and safety systems for a number of Ducati models, Bosch will also attend WDW2014 to deliver theoretical lessons on the latest safety technologies and practical sessions including ABS tests braking in dry, wet, and slippery conditions. The company intends to increase awareness among the WDW2014 participants and underline the importance of safe riding and effective risk reduction with Bosch ABS.
Shell, which has recently renewed its technical partnership with Ducati until 2016, pursues its commitment to racing by making its technical excellence available to everyone in the form of its range of premium Shell Advance lubricants.
Canon will also partner Ducati with the "Monster Wall" competition, open to all Monsteristi until 30 June in the "Monster Tales" section of the website: Monstertales.ducati.com. The idea behind this artistic challenge is to create a giant wall of the most popular contributions sent in to celebrate the arrival of the brand new Ducati Monster 821, the winner receiving a Canon EOS700D. During WDW2014, Canon will be shooting around the entire venue, gifting souvenir photos of the great event and will provide a Canon Academy photographic course.
Other major industry players that have confirmed their support as Technical Partners include: Arai, Brembo, Cartorama, Dainese, Element Case, Garmin, Gates, Givi and Samauto.
With early ticket sales suggesting a record-breaking attendance for WDW2014, organisers are working hard to ensure maximum entertainment for thousands of Ducati enthusiasts. All ticket purchase details, plus the constantly updated event programme, and much more is available online at the wdw.ducati.com website.
With the eighth edition of WDW, Ducati has further strengthened its links with partners, institutions and local authorities with a constructive collaboration between the Municipalities of Misano, Cattolica, Riccione and the Republic of San Marino. This partnership enables the famous Italian motorcycle manufacturer to achieve an absolutely unique event that succeeds in capturing the essence of "Made in Italy".
While WDW2014 officially opens at 09:00 on Friday, 18 July at the World Misano Circuit "Marco Simoncelli, the party on the Riviera will actually be kick-started into life the evening before. With the support of the Municipalities of Misano, Cattolica, Riccione, Thursday, 17 July will become the "Notte Rossa", where bars, restaurants and local pubs situated along the local coastline will welcome Ducatisti with a series of spontaneous events and special offers. With this community connection, WDW2014 will welcome the massive invasion of "Ducatisti" from all corners of the world, innovatively providing "Notte Rossa" details, times and locations via a dedicated mobile app.
The Misano World Circuit "Marco Simoncelli", which has been hosting WDW since the very first edition, provides an ideal location for such a unique and engaging event. The event can be followed via the dedicated Facebook page: www.facebook.com/worldducatiweek or by using the #worldducatiweek hashtag via @ducatimotor on Twitter or Instagram. All updates concerning the huge Ducati gathering can be found on the wdw.ducati.com website.