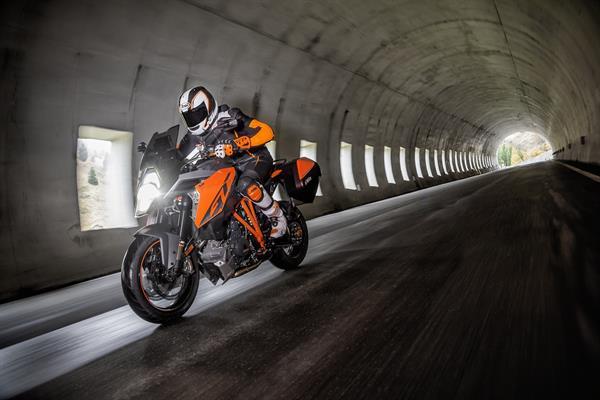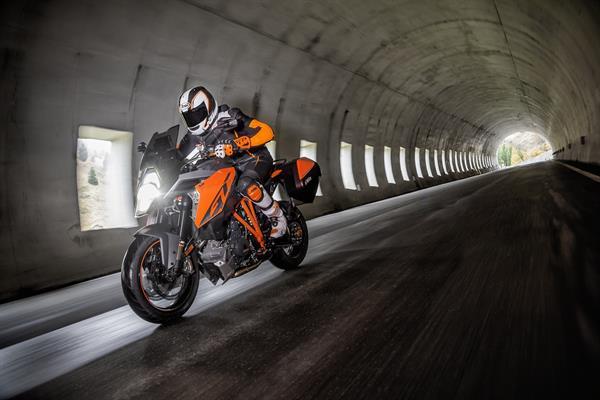 KTM STREETS AHEAD FOR 2016
New 1290 Super Duke GT, 690 Dukes and 1290 Super Duke R Special Edition lead host of updated models
At the EICMA Show in Milan on Tuesday November 17, KTM pulled the covers off its 2016 range of Street motorcycles for the first time.
Four new models were introduced in the shape of the 1290 SUPER DUKE GT, 690 DUKE, 690 DUKE R and 1290 SUPER DUKE R Special Edition while a host of other bikes in the range have been treated to subtle revisions to keep them at the top of their respective class.
Full technical information can be obtained in the press kit available directly from Simon Belton at KTM UK. Prices will be announced at Motorcycle Live, held at the Birmingham NEC from November 28 to December 6 which will also be the first opportunity in the UK to see the entire 2016 KTM Street range. Visit www.motorcyclelive.co.uk for more information.
KTM 1290 SUPER DUKE GT:
With the 1290 SUPER DUKE GT, KTM forcefully extends its Street range at the upper end. The star of model year 2016 is a perfectly equipped, light- weight and agile marathon sprinter with plenty of power as well as a vast package of the latest riding assistance systems. Besides the Motorcycle Stability Control (MSC) including traction control and the C-ABS – both lean angle sensitive – it includes the KTM Ride Mode technology as well as a quickshifter. KTM shores up the long distance capabilities of the 1290 SUPER DUKE GT with a comprehensive touring package: a 23 litre tank, a lengthened rear subframe with integral mounts for the optional panniers, heated grips, cruise control, comfortable seats, the wind and weather protection of an adjustable windshield, LED cornering lights and LED daytime running lights. With a more than comprehensive equipment package like that, as well as its 173 hp LC8 engine and semi-active suspension, the 1290 SUPER DUKE GT masters the whole range from comfortable long distance motorway travelling to breathtaking alpine or track day use.
KTM 690 DUKE
More than two decades after the very first DUKE, KTM launches a new generation of the perennial hit, proving in an impressive manner that the single cylinder engine is all but obsolete even in a Street bike, not least by complying with Euro 4 emission control standards. The brand new engine puts out a full 73 hp of maximum power. Despite this, it offers plenty of smoothness and refinement thanks to multiple balancers, as well as an even wider powerband than its predecessors. The modified steering geometry brings even more stability and precision to the pre-eminently agile chassis of the 690 DUKE. And there is lots of other perks as well, like the on-board computer, a large, multifunctional TFT colour display and ABS as a standard. In addition, the potent single can be adjusted with an optional Track pack which includes a Sport and Rain Ride mode, Traction Control (TC), Motor Slip Regulation (MSR) and a Supermoto mode. The 690 DUKE is more alive, more appealing and more modern than ever.
KTM 690 DUKE R
The new 690 DUKE is also available as an 'R' version for model year 2016, distinguished by a full 75 hp of durable maximum power. Among others, the extra horsepower is a result of the 690 DUKE R's high quality Akrapovič silencer. In addition, there is a Brembo Monoblock braking caliper and a fully adjustable WP suspension that also allows even greater lean angles than the 690 DUKE. The 690 DUKE R comes equipped with lean angle sensitive ABS, Motorcycle Traction Control (MTC), Motor Slip regulation (MSR) and the Supermoto mode. Of course the 'R' also benefits from everything that is new about the 690 DUKE, like the KTM Ride Mode technology, the new TFT display and the updated steering geometry. Great-looking parts like the cutting edge LED indicators and racy pillion seat cover round off the 'R' package. Insiders recognise the 690 DUKE R at the first glance by its wheels and frame in the typical KTM Orange.
KTM 1290 SUPER DUKE R SPECIAL EDITION:
KTM proves year after year there is never a standstill in Mattighofen. That even goes for a milestone machine like the 1290 SUPER DUKE R, even though it only enters its third year in 2016. For all those who long for even less weight, even more sound and even more individuality, the new model year brings the SPECIAL EDITION. This upgrade treats The Beast to a whole host of top quality KTM PowerParts: an Akrapovič titanium silencer reduces the weight while adding extra sound. Wave brake discs offer even better feedback and expanded braking stability in extreme duty. Stiffer triple clamps optimise steering precision under ferocious braking. Levers adjustable in multiple ways and a different seat serve to optimise ergonomics specifically for track use. A unique paint design and classy accessories made of orange anodised aluminium or carbon fibre make for exclusive finishing touches.
For more information on the 2016 motorcycle range, PowerParts & PowerWear, please visit www.ktm.com