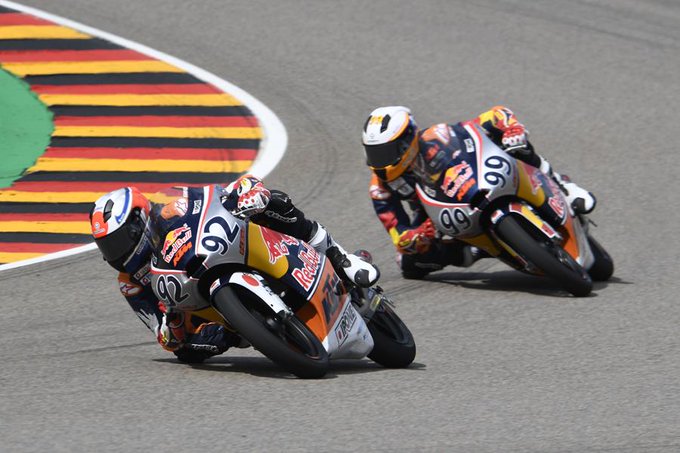 A sensational last lap saw Yuki Kunii steal the win from Carlos Tatay and Max Cook wrench third from the chasing pack of KTM RC 250 Rs. It was one of the great Red Bull MotoGP Rookies Cup finishes which made up for Saturday's shortened event.
With three laps to go, Tatay, the 16-year-old Spaniard, had a handy advantage over Japanese 16-year-old Kunii. But that gap had been eaten away as they dropped down the waterfall for the final time. Kunii made a great move up the inside on the brakes into the fast left hander and then defended through the tighter last corner and to the line.
"I am so happy with that," smiled Kunii. "When Carlos got past me I made a mistake, I got in the wrong gear and he got away. Then I pushed to catch him and in the end I managed it. Coming down the hill to the last two corners I don't think he realised how close I was and it was quite easy to go inside."
"Then I moved across to stop him passing into the last corner and I made it. It feels so great and I am very happy to win again. My wrist was just starting to really hurt at the end but I concentrated and pushed it out of my mind"
Tatay looks after his points lead
Tatay revealed that he knew exactly what was happening on that last lap. "Yes I could see on the big TV screens that Kunii was coming. When he came past I thought about having a go at the last corner but then thought again, not a good idea."
"He rode very well today, I have managed to beat him a couple of times and today he beat me, that's OK, I will try and do better at the Red Bull Ring. It was a great race though, I really pushed hard from the start so that it did not go like yesterday. I knew from my practice times that if I did the rhythm that I wanted to then I could get away and that is what we did."
Acosta leads the chase
Those two had got clear of the chasing pack but there was plenty of passing within the pursuing group that was headed for a number of laps by Saturday's winner Pedro Acosta, the 15-year-old Spaniard. "It was a hard race," stated Acosta. "I'm happy about the race but not the result. I had to work hard to get to the front of the group and I was going as fast as I could, no chance to catch the leaders," he accepted after finishing fourth.
In the middle of that 10 rider pack all the way was Cook, the 16-year-old Briton. The group tangled in an incredible last lap, at times four abreast, and Cook flashed across the line fourth just a fraction behind Billy van Eerde. Initially Eerde, the 17-year-old Australian, was ushered into parc fermé in third place.
Rules are rules
A review of that final lap by Race Direction showed that van Eerde had gained an advantage by going off track as they charged down the waterfall and he was dropped three places to sixth.
"That's really tough on Billy, he's a great friend of mine," stated Cook. "This podium is what I have wanted though ever since I got into Rookies Cup. I took a big step forward in Assen and another one here. I was in the pack working out where I had an advantage and on that last lap I used it and overtook at every possible place. It's incredible, I'm so happy, I want to do it again and I want to win one."
Van Eerde was naturally upset. "I think I deserved third, I had no idea that the kerb was ending as we came down the waterfall, I didn't see it, I was just battling the other guys. That's tough."
Jason Dupasquier, the 17-year-old Swiss, took a good fifth. "Well that's sort of OK but I give myself so much work to do. I think I make the worst starts of anyone in Rookies Cup. If I can qualify well and make a good start I think I can at least get on the podium. At least I know the problem and that is what I am going to be working on before the next race."