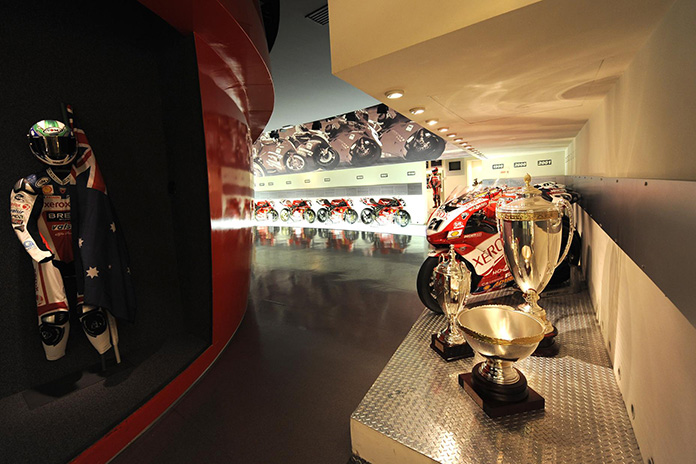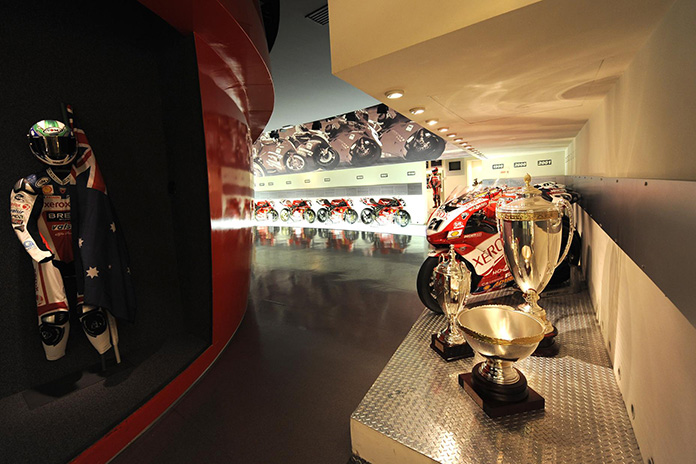 The Ducati Museum, which already attracts an incredible 40,000 passionate fans and visitors from around the world every year, is set to attract hundreds of thousands more as the famous Italian motorcycle manufacturer opens its doors to a virtual tour with Google Maps.
Google technology now offers an alternative high resolution virtual tour of the museum, passing along the famous Via Cavalieri Ducati street outside and entering the Ducati factory. A simple search on maps.google.com enables users to explore the Ducati Museum rooms and view the motorcycles on display, from the 1946 Cucciolo to the most recent Desmosedici GP and World Superbikes built by the iconic brand in Bologna. The virtual tour even enables users a tour of the Ducati Museum shop, providing a realistic visit experience from anywhere in the world and at any time of the day.
The Ducati Museum, which covers an area of 850 square metres, offers an impressive way to discover the origins of the company as well as admire the magnificent display of over 40 motorcycles that have been fundamentally important to the racing heritage of Ducati, as well as writing the history books of motorcycling. The exhibition surrounds a giant red helmet with motorcycles displayed on an illuminated track and seven additional thematic rooms, each creating an emotional experience with associated historic videos and mementoes.
Officially recognised in 2012 by the Ministry for Cultural Heritage and Regional Activities as a site of significant cultural value, the Ducati Museum has been extensively documented by world media and highly recommended by many international tourist guides.
In addition to the new Google Maps virtual tour, the Ducati Museum will become especially busy in 2014 as Ducatisti from all over the world descend on the factory in Borgo Panigale, Bologna during World Ducati Week 2014. The massive international rally held every two years for Ducati owners and fans will take place 18-20 July at the Misano World Circuit in Italy and offer participants the chance of a real 'visit' to the Ducati Museum, now expertly mapped and previewed by Google maps.
For information on how to visit the Ducati Museum in person, go to the History pages of the Company section on Ducati.com. To make a virtual tour, simply search on Google Maps or enter directly at Goo.gl/maps/jAHeL.