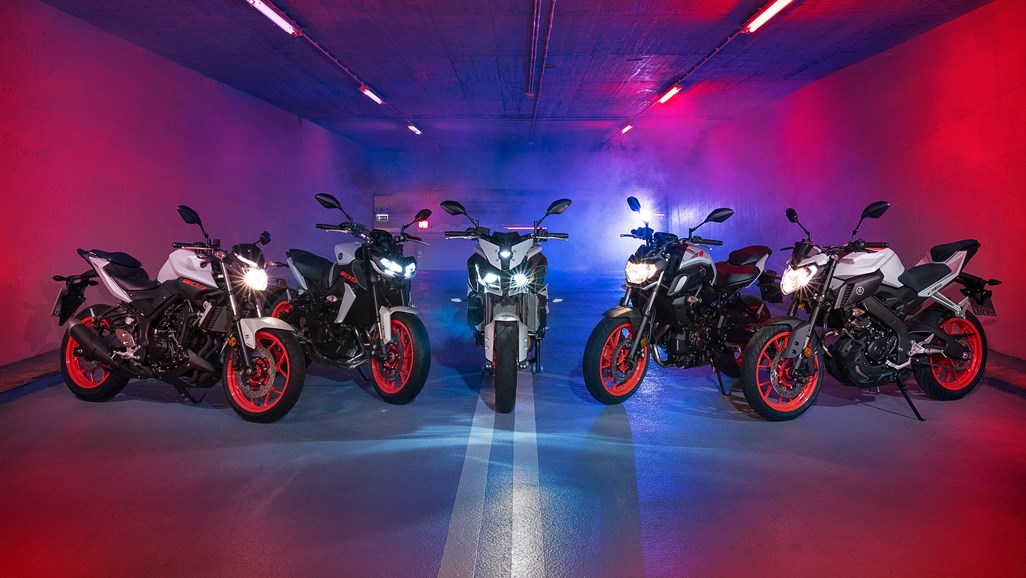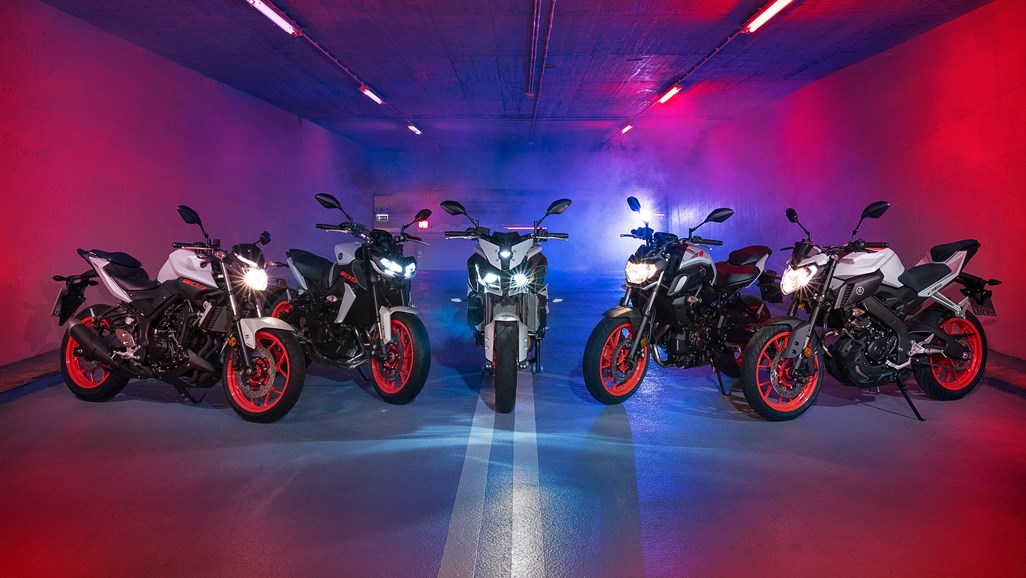 Can you resist the Dark Side of Japan?
It was just 5 years ago when Yamaha unveiled the original ground breaking MT-09 to the motorcycling world. With its high torque crossplane engine, naked body and agile handling, this bike introduced the European market to the Dark Side of Japan – a bold new design philosophy that drew its inspiration from the underground custom scene in Japan.
This innovative new Hyper Naked segment proved to be an instant success with riders who were looking to discover the essential spirit and fundamental enjoyment associated with two wheels. With their clear focus on linear torque, easy agility and high power to weight, Yamaha's Hyper Naked motorcycles have brought a whole new look, energy and attitude to the streets of Europe.
Since the arrival of the first MT-09 the Hyper Naked range has grown rapidly to include a total of seven models from the flagship MT-10 SP through to the MT-125 – and each one of them has proved to be an outstanding success in its own category. In just 5 years, MT sales in Europe have exceeded 175,000 units, making this the most successful and popular range of Yamaha motorcycles – with the MT-09 and MT-07 consistently amongst the top selling models in their respective sales leagues.
New Ice Fluo colour option for 2019
Yamaha totally revolutionized the look of the Hyper Naked scene with the introduction of the radical Night Fluo colours. Bold and original, this audacious colour scheme reinforced the dynamic character of the MT range – and perfectly complemented the daring and outgoing personalities of many Hyper Naked riders.
For 2019 Yamaha takes the MT's aggressive and streetwise image to the next level with an evolution of the Fluo concept. The forceful and uncompromising new Ice Fluo colour not only underlines the assertive character of Yamaha's Hyper Naked bikes – it also creates an instantly recognisable look that strengthens the strong family feeling amongst MT owners. Consisting of a super cool new ice-grey body colour contrasted by fluorescent red wheels and a black engine, frame, forks and headlamp – with tuning fork logos on the tank or air ducts – the new Ice Fluo colour option is exclusive to the Yamaha MT range.
The new Ice Fluo colour option will be offered on each MT Hyper Naked model (except SP versions that feature exclusive colours), while the Yamaha Blue and Tech Black colour options will continue.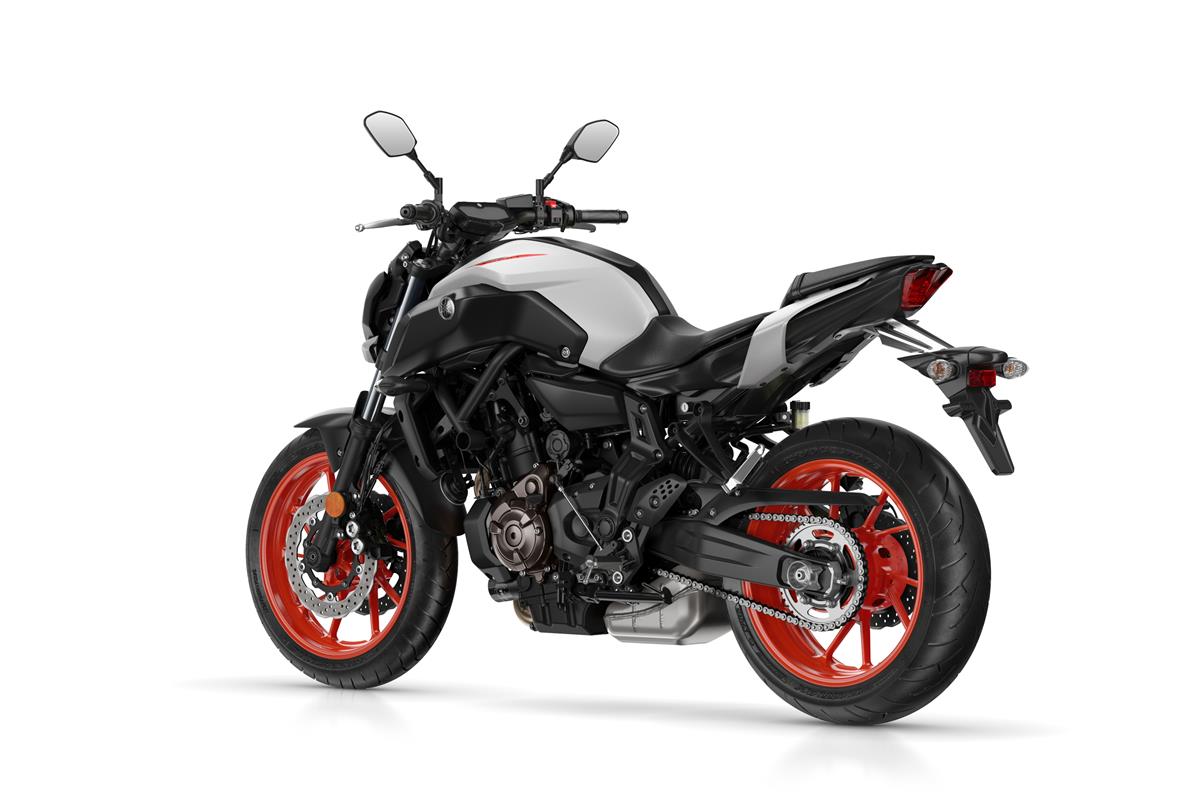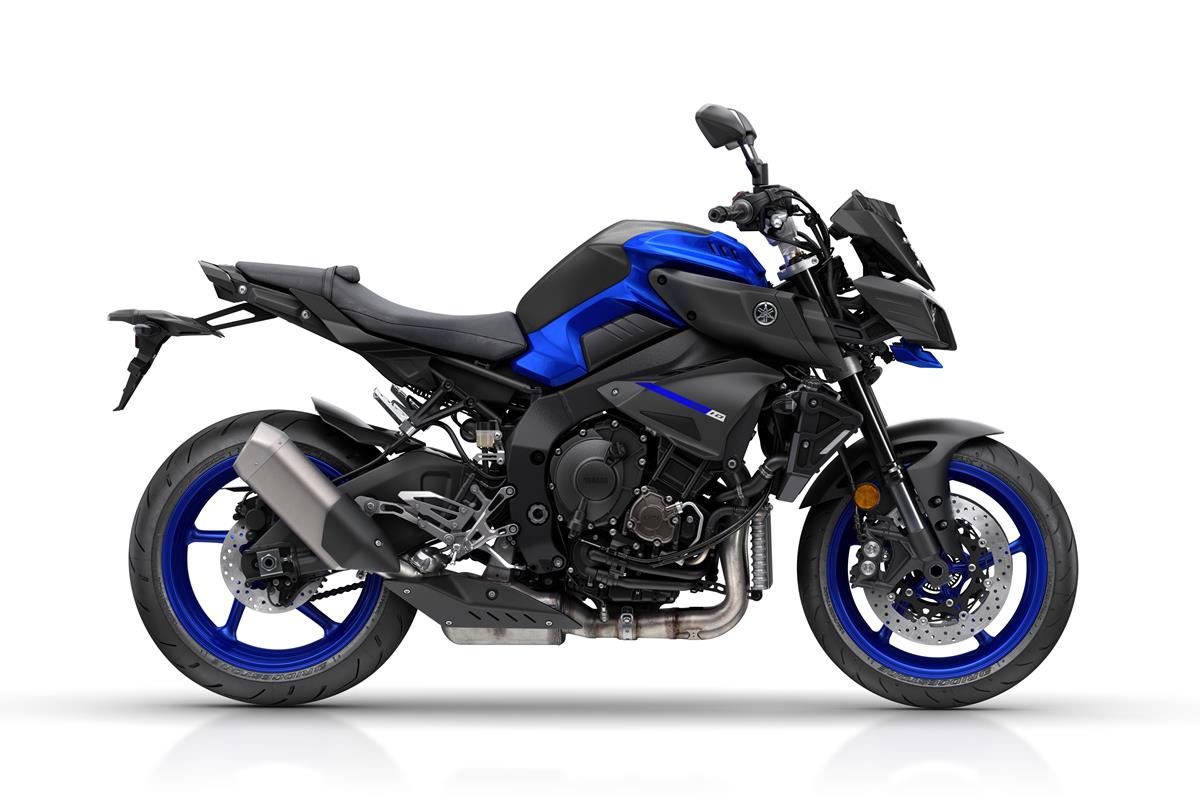 Availability
MT-125: October 2018
MT-10 and MT-07: November 2018
MT-09 and MT-03: December 2018
Yamaha Hyper Naked model overview
MT-10SP
Special version of the MT-10
Öhlins electronic Racing Suspension
Exclusive full colour TFT instruments
Racing colours
The ultimate Hyper Naked
MT-10 / Tourer Edition
998cc YZF-R1 derived engine
Crossplane engine with uneven firing sequence
Lightweight YZF-R1 based chassis
Linear torque with outstanding agility
Sophisticated electronic control technology
MT-09SP
Premium specification
Exclusive race-inspired colours
Öhlins rear shock and gold coloured adjustable forks
Quick Shift System and A&S clutch
Sophisticated electronic control technology
MT-09
The bike that changed everything
Best-selling model
Radical naked style with thrilling performance
Aggressive LED twin-eye headlights
High torque with sports agility
MT-07
Yamaha's best-selling motorcycle
Thrilling performance with outstanding economy
Optimum riding enjoyment
Affordable and accessible – available in full power and 35kW
Light, compact and controllable
MT-03
Versatile, light, compact and comfortable
Ideal for new and returning riders
Low seat height for easy access
Upright riding position
MT style with great all round performance
MT-125
Full-sized naked chassis
Aggressive streetfighter style
Supersport engine and chassis technology
High specification brakes, suspension and wheels
Ultimate 125 with serious attitude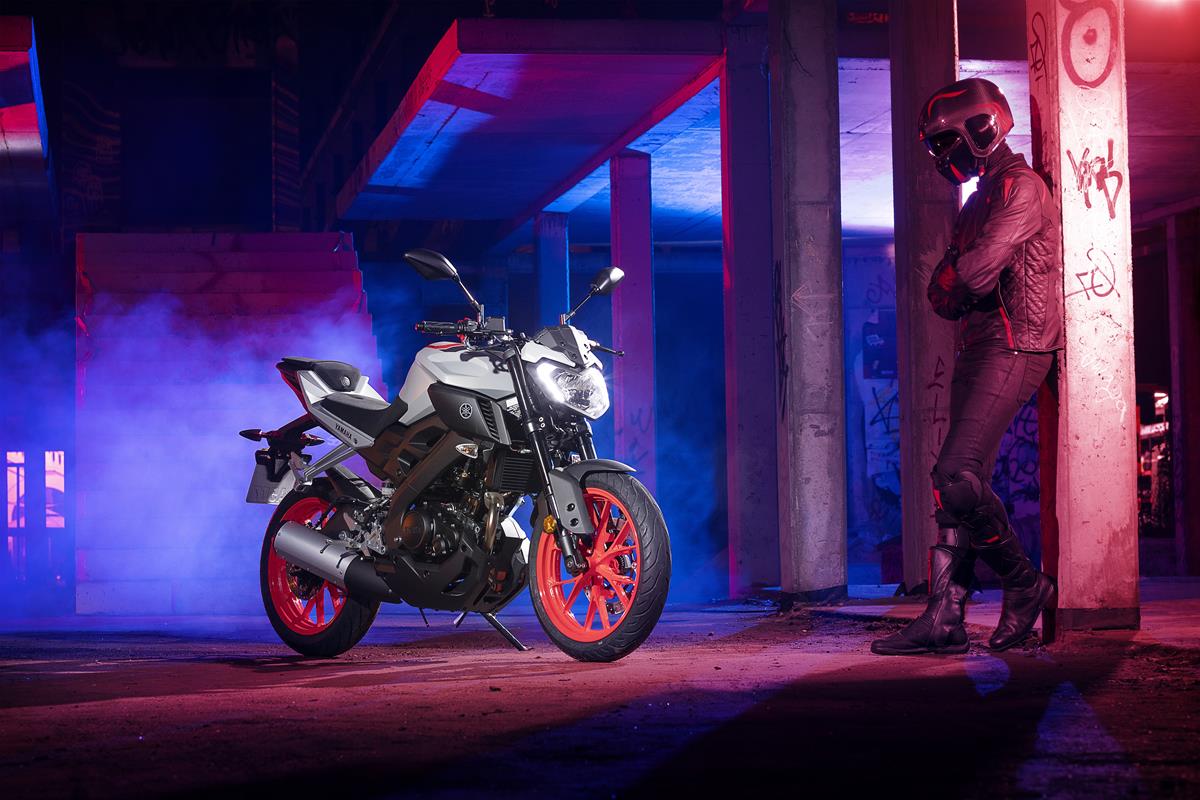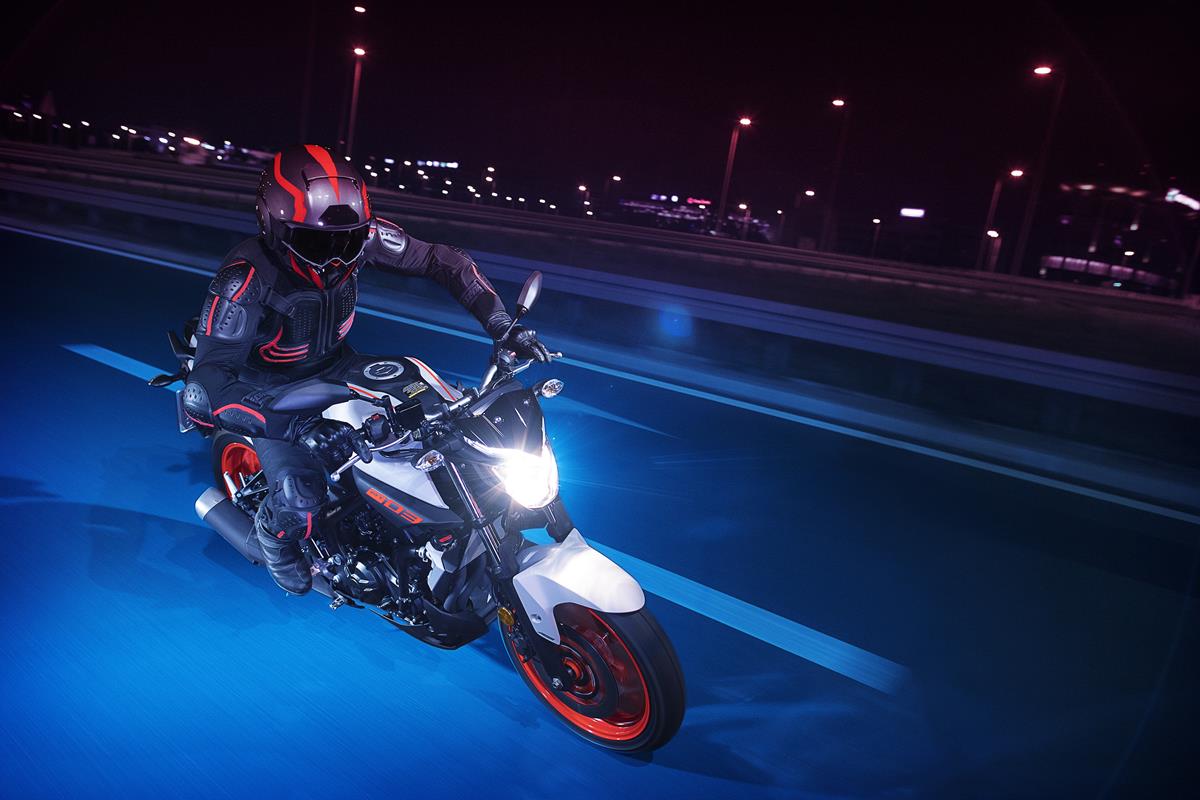 Yamaha Genuine Options: Make it all yours
With your Yamaha Hyper Naked you'll join the most dynamic crew in the bike world – because every Yamaha MT gives you the chance to be part of an exciting biking community where you make the rules. By fitting a range of Yamaha Genuine Options to your bike you can also build your very own MT with a look, feel and specification that matches your unique character.
For each motorcycle in the range the Genuine Options line can cover three broad groups. Functional parts such as screens and luggage are designed to make your ride as comfortable as possible – while crankcase protectors, radiator covers and axle protectors keep your MT in great condition.
The wide selection of styling parts include billet covers, mesh grills and high mount licence plate holders – and if you're looking for more performance, check out the line-up of exhausts, slip on mufflers, billet adjusters and much more.
Build your dream collection with the free MyGarage app
The MyGarage app is the best way to build your dream collection of Yamaha motorcycles – and it's totally free! Download the app and you're ready to start creating your very own personalized Yamaha.
With MyGarage you can add or remove a wide range of Genuine Options accessories and view the bike from any angle. Once you've created your dream bikes you can save them and share with friends – and when you've made the final decision on which version is right for you, simply send it to your Yamaha dealer who will turn it into reality.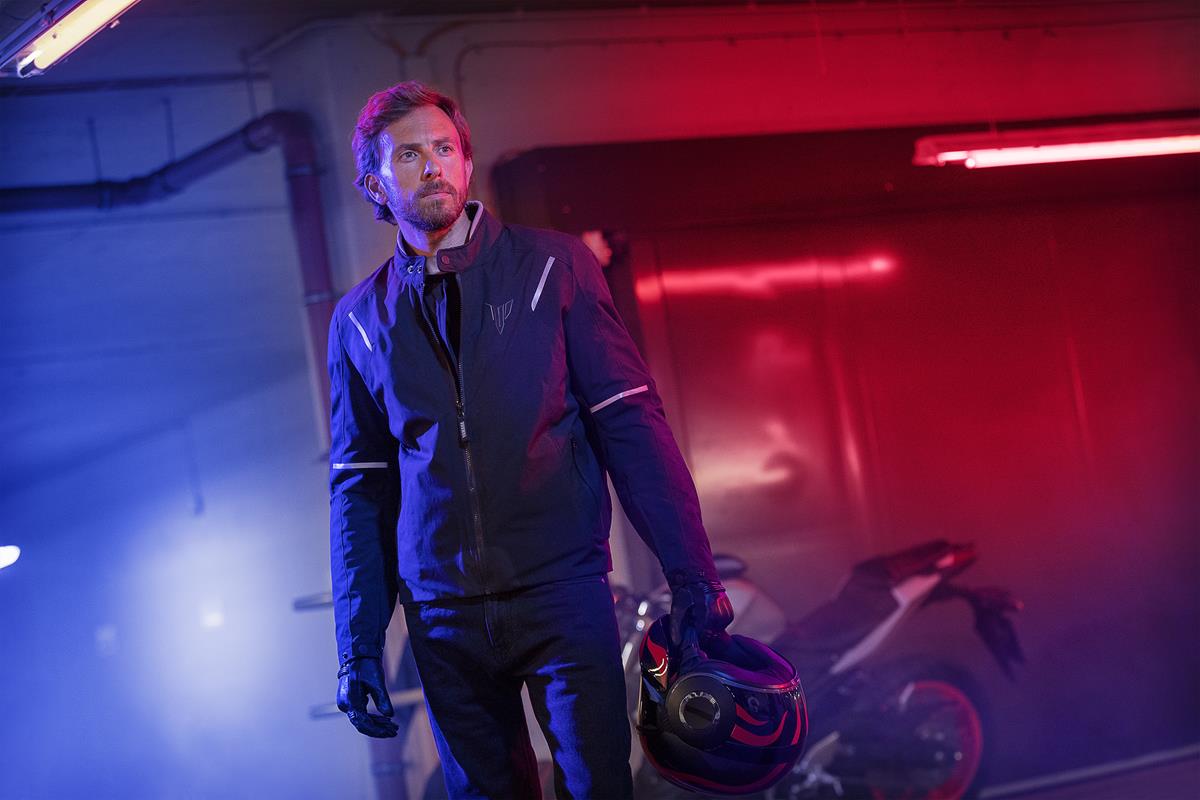 Yamaha MT Apparel
The Yamaha MT Collection range of technical riding gear and casual leisure wear enables you to show your allegiance to the Dark Side and be a part of the growing MT community – whether you're a rider, passenger or fan.
The riding gear line includes black/grey and also black/orange textile jacket options for male and female customers, and there is also a black/grey leather jacket for males. In the lifestyle casual collection there's a range of T-shirts and hoodies for men and women, as well as a choice of caps.
Sharing the same DNA as the Hyper Naked bikes, the 2019 apparel line combines raw and focused style with fashionable looks and the latest technology.
Availability MT Apparel:December 2018