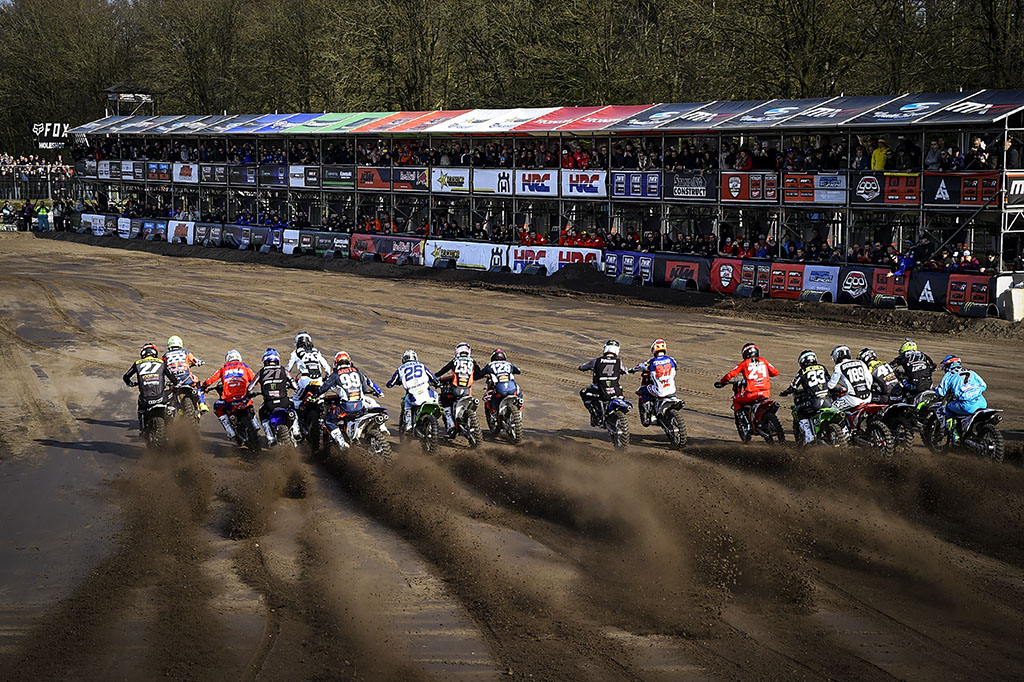 The next stop on the FIM Motocross World Championship schedule is the MXGP of the Netherlands, held at the historic Valkenswaard circuit. The Dutch circuit is considered a crown jewel in MXGP's history dating back to 1974 when the sandy track first made its motocross world championship debut.
Back in 1974, it was Sylvian Geboers who topped the 250cc class of the Dutch Grand Prix, but when it comes to the most wins at the venue, it's Red Bull KTM Factory's Jeffrey Herlings who stands first with 8 GP victories (7 MX2, 1 MXGP) followed by fellow Red Bull KTM Factory rider Antonio Cairoli who has 7 GP victories at Valkenswaard to his name, including his first GP win there in 2007, the only one he won in MX2 class here.
Since 1992, the sandy venue has been present on the MXGP calendar, almost every year, only to miss out in 2005 and 2006, making it one of the most historic venues of the motocross world championships glistening story.
The MXGP of the Netherlands can be considered a 'home' Gran Prix for many of the top riders, as the majority of the live in either Belgium or Holland, with the countries known to be as the centre of motocross in Europe and it is fair to say that most riders have spun plenty of laps around the Dutch sand-track.
This weekend the MXGP and MX2 riders will once again will be joined by the Women's World Championship which saw the 2019 WMX Champion DRT's Courtney Duncan winning the first round, as well as the EMX250 division, who will begin their 2020 campaign this weekend with big names lining up such as Husqvarna Junior Racing Maddii and 2019 125cc Champion Mattia Guadagnini as well as 2019 EMX125 Presented by FMF Racing red plate holder KTM Liamski's Liam Everts among many others.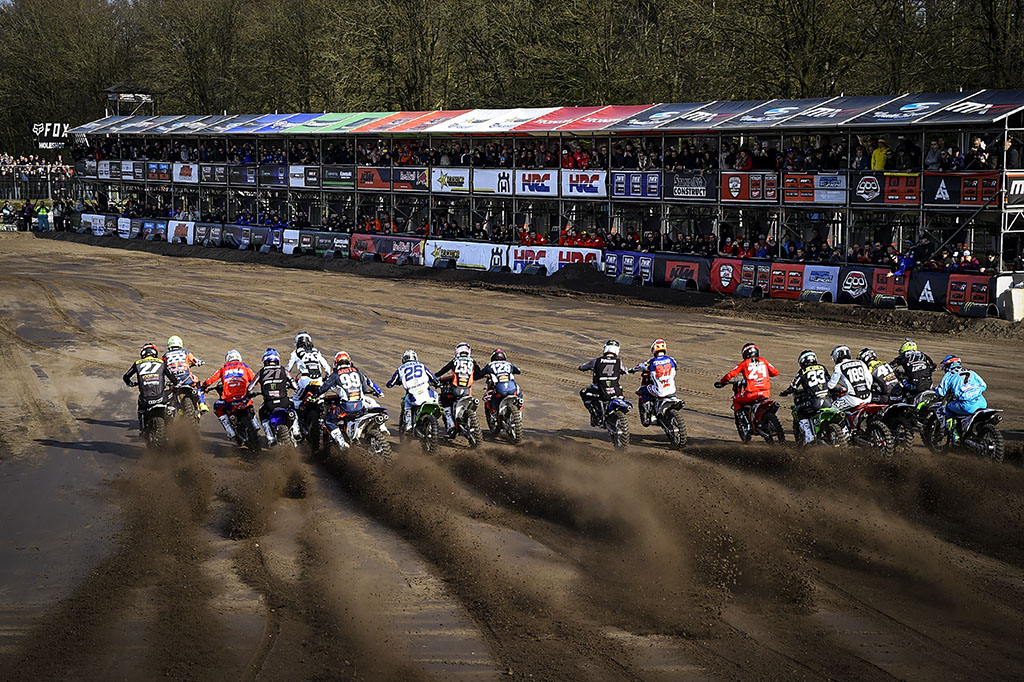 MXGP
This weekend the MXGP of the Netherlands is set to provide much different challenges than that of Matterley Basin and one rider who can we expect at the forefront of it all is Red Bull KTM Factory's Jeffrey Herlings. Not only is this his home GP, he also boasts an impressive 8 wins at the venue, not to mention that he is considered to be one of the fastest riders in the world and especially when it comes to riding in the sand. In addition, his overall victory last weekend at Matterley Basin, is just a sneak peek of what we can expect of the Dutch rider as he returns to winning ways.
Of course, as usual we can expect to see him challenged by Red Bull KTM Factory's Antonio Cairoli, who has also won at the circuit on many occasions. While he may not be feeling 100% just yet, he was however able to pull off a podium at the British GP, so what's to stop him going after the win in Valkenswaard?
Team HRC's Tim Gajser will be looking to carry on with the momentum from Great Britain, where he finished second on the podium. Also let's not forget that Gajser was the overall MXGP winner at the 2019 Monster Energy FIM Motocross of Nations held in the deep-sand of the Assen circuit, as well as also winning the MXGP of Belgium in Lommel, a track that is considered to be one of the toughest tracks in the world. So, it's fair to say that the Slovenian can ride in the sand and would be a strong contender for race wins, should he stay out of trouble.
His team-mate Mitch Evans is also arriving in Holland with a fresh dose of confidence. He finished 5th overall in GB among some established names and his strong form during the off-season races, in the sand, have also shown that the Australian could once again be locked in battle at the top end of the field.
Standing Construct GasGas MXGP rider Glenn Coldenhoff is another rider who can surprise us, as he heads into his home GP knowing that the fans will turn-up by the masses to support the Dutch riders. With his epic double race win in the Open class in Assen for the Monster Energy FIM Motocross of Nations, you can expect to see Coldenhoff flying round the twisty sand track of Valkenswaard.
Rockstar Energy Husqvarna Factory rider Arminas Jasikonis finished 5th overall last year in Valkenswaard with two 4th place finishes. He was also the second fastest rider in the Time Practice session, behind Cairoli, so speed around the sandy circuit will not be a problem for the tall Lithuanian while his teammate Pauls Jonass will arrive in Valkenswaard full of expectations after a British GP that did not go as he expected with a 12th place in race 1 and a DNF in race 2.
Also showing some speed last season was Team Honda SR Motoblouz Jeremy Van Horebeek who not only placed third in Time Practice, showing that he has the speed, but he also tied on points with Tim Gajser and Arminas Jasikonis for the third step on the podium, finishing 4th overall on 36 points.
Meanwhile Monster Energy Kawasaki MXGP rider Clement Desalle and Monster Energy Yamaha Factory MXGP rider Gautier Paulin are a pair that we could see on the podium. Last year Desalle finished second overall in MXGP following a 2-5 result and this year will be no different as the Belgian rider makes his comeback after a tough injury while his team-mate Romain Febvre missed the MXGP of Great Britain due to a former injury which caused him pain but might be back onboard in Valkesnwaard.
Monster Energy Yamaha Factory MXGP rider Jeremy Seewer had a good ride in GB last weekend, with a FOX Holeshot and a second place finish in the opening race, so if he carries this momentum into this weekend, we could see the Swiss make his first MXGP podium of 2020.
Shaun Simpson of SS24 KTM MXGP is also another rider that could impress this weekend. Known to be strong rider in the sand, Simpson finished 9th overall last year, with a 9th in race one and an 8th in race two and could be expected to repeat these results again this year.
While MXGP rookie, Jorge Prado of Red Bull KTM Factory could also play a part in this weekend's races. He won the Dutch MXGP last season while in MX2 and although he is still on the mend from his recent injury, there's still a possibility that we could see the young Spaniard push for top positions to salvage some important championship points.
SM Action M.C Migliori – J1 Racing pilot Henry Jacobi put on an impressive performance in Great Britain for his MXGP rookie debut, as he claimed a FOX Holeshot in the second MXGP race, as well as a 9th overall during the weekend, going to show that he is strong enough to run with the leaders.
MXGP Championship Top 10: 1. Jeffrey Herlings (NED, KTM), 47 points; 2. Tim Gajser (SLO, HON), 38 p.; 3. Antonio Cairoli (ITA, KTM), 38 p.; 4. Jeremy Seewer (SUI, YAM), 35 p.; 5. Mitchell Evans (AUS, HON), 34 p.; 6. Gautier Paulin (FRA, YAM), 32 p.; 7. Clement Desalle (BEL, KAW), 32 p.; 8. Glenn Coldenhoff (NED, GAS), 30 p.; 9. Henry Jacobi (GER, YAM), 23 p.; 10. Jorge Prado (ESP, KTM), 21 p.
MXGP of The Netherlands MXGP Top 3:
1. Antonio Cairoli
2. Clement Desalle
3. Tim Gajser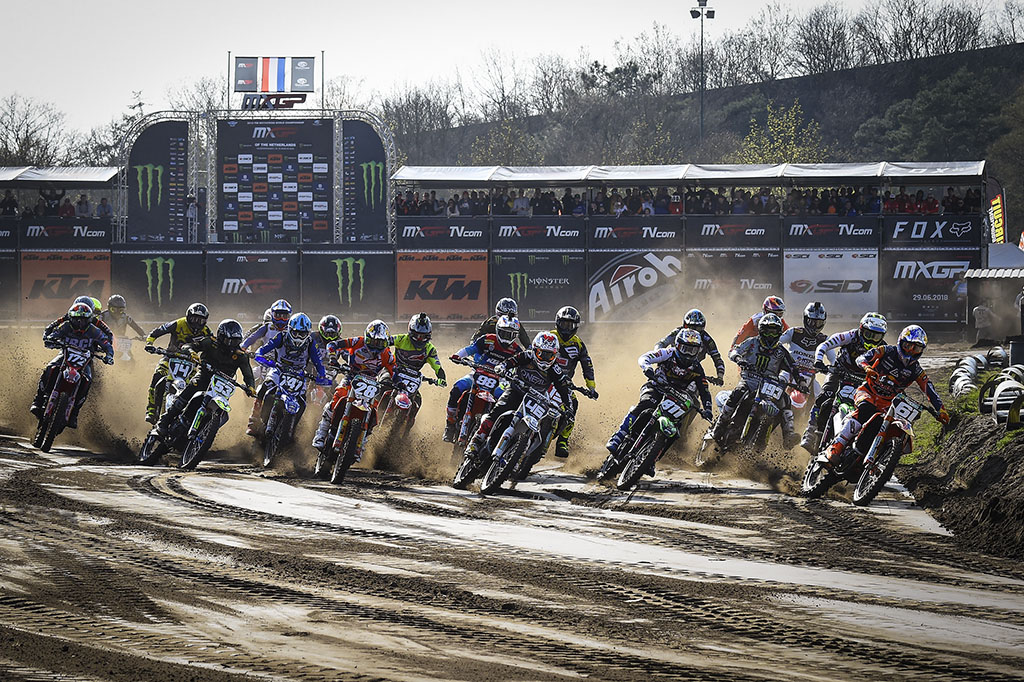 MX2
Monster Energy Yamaha Factory MX2 rider Jago Geerts heads into the Dutch Grand Prix with confidence as the championship leader. Last year the Belgian rider finished 3rd overall and has always been impressive in the sand – prime example: the MXGP of Belgium, where he rode from dead last to within the top 3, so even if his starts don't go to plan this weekend, we can still expect him to make his way through the field and challenge for race wins.
His team-mate Ben Watson didn't have the best home GP last weekend and will, without a doubt, arrive in Valkenswaard with a fresh mind and a clean slate, ready to go again. In 2019, he placed 6th overall at the MXGP of the Netherlands, just 4 points shy of the podium. He is another rider who is capable in the sand and could be one of the riders mixing it up in the top end of the pack.
MX2 title favourite, Thomas Kjer Olsen of Rockstar Energy Husqvarna Factory MX2 didn't have the best start to the season in Great Britain, as he struggled with a combination of his hand injury and bad luck. But coming into this weekend knowing that this is a track he has been successful at in the past, could be the confidence boost that he needs. He finished second overall in 2019, behind Prado who has now moved up into the MXGP class, meaning that the door is open for Olsen to claim that victory.
Fellow Rockstar Energy Husqvarna Factory's Jed Beaton has a chance at a podium in Valkenswaard, as he was very close to doing so in Great Britain. He finished 4th at Matterley Basin, just 3 points shy of the podium and this weekend will without a doubt be pushing to get closer to his first MX2 podium of 2020.
Two riders that we can expect to in the lead at some point during the weekend are Red Bull KTM Factory's Tom Vialle and Rene Hofer. Both riders were flying out of the starts all weekend with both Vialle and Hofer getting a taste of what it means to lead an MX2 race. Vialle being a little bit more experienced than Hofer, may find it easier around the Dutch circuit, but either way, these two young riders are definitely strong contenders for the podium.
Let's not forget F&H Kawasaki Racing's Mikke Haarup, Roan Van De Moosdijk and Mathys Boisrame who were all impressive in GB. There is no arguing that F&H Racing are doing something right, as they are among the top teams in MX2. Haarup secured his career first MX2 podium as he finished third overall last weekend in Matterley Basin and is more than capable of repeating it again. Also, we could see Van De Moosdijk make a podium appearance during his home GP knowing his sand skills.
It is worth mentioning that Alberto Forato of Team Maddii Racing Husqvarna finished 6th overall last weekend in Great Britain and 7th overall last season in Valkenswaard, so it is safe to say that he will once again battle within the top 10. Hitachi KTM fuelled by Milwaukee rider Conrad Mewse is also another rider who fought at the forefront last weekend and could easily do the same again in Valkenswaard.
MX2 Championship Classification Top 10: 1. Jago Geerts (BEL, YAM), 43 points; 2. Tom Vialle (FRA, KTM), 40 p.; 3. Mikkel Haarup (DEN, KAW), 40 p.; 4. Jed Beaton (AUS, HUS), 37 p.; 5. Rene Hofer (AUT, KTM), 35 p.; 6. Alberto Forato (ITA, HUS), 28 p.; 7. Thomas Kjer Olsen (DEN, HUS), 26 p.; 8. Roan Van De Moosdijk (NED, KAW), 22 p.; 9. Conrad Mewse (GBR, KTM), 22 p.; 10. Mathys Boisrame (FRA, KAW), 21 p.
2019 MXGP of The Netherlands MX2 Top 3:
1. Jorge Prado
2. Thomas Kjer Olsen
3. Jago Geerts