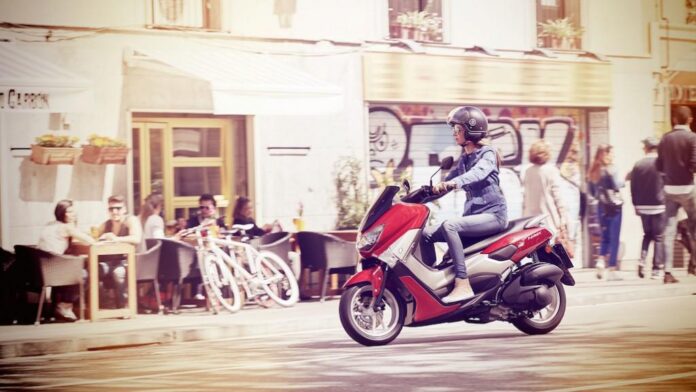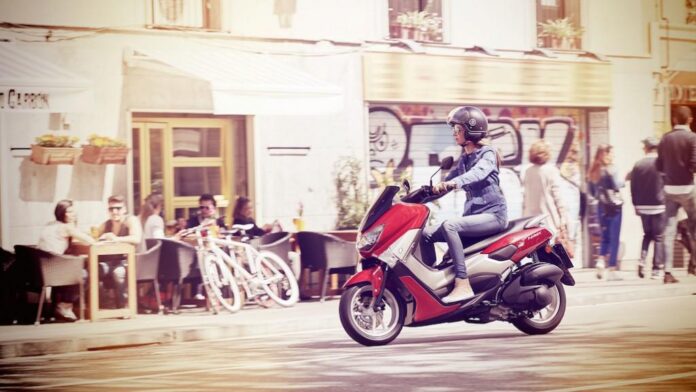 Yamaha in Europe: The leading name in scooters
Within the vibrant and competitive European marketplace, Yamaha is widely recognized as being the leading quality scooter brand. The company's 2015 line-up features one of the most diverse and inspirational ranges of class- leading models from Sport to Urban scooters through to New Mobility and 50cc, offering the best choice for any customer needs.
Yamaha's enviable reputation as a manufacturer of sporty and stylish scooters has been further reinforced in recent years with the arrival of several TMAX and X-MAX models, as well as the launch of the innovative new 3- wheel Tricity.
The ongoing drive to offer all scooter customers an even wider choice of models in every segment continues, and for June 2015 Yamaha will launch the new NMAX, an entry-level 125cc urban commuter model that offers a charismatic, sporty style together with lively engine performance, premium class comfort and remarkable fuel economy.
The Urban segment is one of Yamaha's core markets, and the company's success in this important part of the European scooter business can be attributed to our wide range of compact and practical scooters that deliver reliable and affordable transport solutions to many different types of customers.
The new NMAX: Everyday life included
Featuring dynamic new bodywork inspired by our high-end sport models, the new NMAX combines edgy styling with strong acceleration together with easy manoeuvrability and remarkable economy. This high-specification entry-level urban scooter brings a whole new level of performance and style to the urban commuter segment, as well as offering outstanding functionality, comfort and convenience.
Aimed at younger and active city commuters who want a new kind of affordable premium scooter that appeals to the head as well as the heart, the new NMAX widens the reach of the Urban segment by blending high-end design with day-to-day practicality.
Equipped with an aerodynamic cowl, distinctive "Boomerang" side motifs inspired by bigger MAX scooters, and short front and rear overhangs, the NMAX's sporty bodywork brings a fresh look to the urban entry-level 125cc scooter class, and offers a fashionable and convenient new solution to younger commuters.
By setting high standards for style, performance, practicality and value, this sporty and desirable new scooter is designed to offer a better solution to a generation of active and young commuters willing to enjoy metropolitan life in a smart and affordable way without compromising on quality, look and riding fun.
'Blue Core' 125cc liquid-cooled engine
The NMAX's 125cc liquid-cooled 4-stroke engine has been designed using our new 'Blue Core' approach towards small engine development. The aim of the company's 'Blue Core' design philosophy is to create a new generation of compact engines that maintain high levels of riding enjoyment while delivering good fuel economy and enhanced environmental performance.
In order to achieve these goals, Yamaha's engineers have focused on increasing combustion and cooling efficiency, while at the same time reducing power losses with the application of advanced new technologies.
Variable valve actuation (VVA) for linear acceleration feeling
The liquid-cooled, 4-stroke SOHC 125cc engine is the first Yamaha scooter engine to feature a 4-valve cylinder head with a newly developed variable valve actuation (VVA) that gives a strong and linear acceleration feeling.
As part of the new 'Blue Core' approach, this innovative technology delivers smooth and powerful acceleration, especially in the low to mid range, making the NMAX an exciting and sporty performer that's perfectly equipped for busy inner city riding with the typical urban stop-and-go situations.
The VVA system works via a mechanism that shifts between two different intake cam lobes depending on engine speed, and as well as contributing towards the NMAX's smooth, linear torque curve and bringing out good power output characteristics at different engine revs, the VVA system improves combustion efficiency for better fuel economy. In WMTC mode, fuel consumption figures of 45.7km/litre have been achieved, making the NMAX an extremely cost effective way to travel into and out of the city.
Optimized fuel injection settings
The newly developed engine is equipped with a fuel injection system that delivers the fuel/air mix via an elliptical port directly into the compact combustion chamber, giving high levels of combustion efficiency for excellent starting and good fuel economy. The compact and lightweight new SOHC 4- valve engine design also includes a large-capacity air cleaner and a high lift camshaft, and these features contribute towards high fuel efficiency as well as strong running performance.
Side mounted radiator for improved cooling performance
For optimum cooling performance, Yamaha's engineers mounted the radiator and cooling fan on the side of the engine, which also has the advantage of freeing up space in front of the engine and contributing towards a more spacious footboard area.
Reducing horsepower losses for increased fuel economy
Using the new 'Blue Core' philosophy, Yamaha's engineers focused closely on reducing horsepower losses during the development of the compact and lightweight new 125cc engine, and the NMAX features an offset cylinder design that helps to improve fuel economy by minimizing frictional losses between the piston and cylinder wall. In addition, the use of a low-friction DiASil coating on the cylinder also helps to increase engine efficiency by producing more power using less fuel.
Other measures to reduce horsepower losses include the adoption of a roller rocker arm, as well as the use of LED lights that consume less electrical power and enable the use of a more compact AC magneto.
Sporty new chassis for stability, agility and comfort
The sporty DNA is not just evident in the new NMAX's looks, but it can also be seen in the design of the new frame, whose layout benefits from the use of small-diameter steel tubing that achieves a light and strong structure with a good rigidity balance.
The lightweight tubular frame has been developed to give a comfortable ride and also provide an excellent feeling of front wheel road contact. The frame's high level of torsional rigidity ensures a comfortable ride with a feeling of stability, and the good rigidity balance of the chassis also means that the rider can make quick directional changes in traffic, and enjoy the NMAX's high levels of agility.
Like our high-end sport scooter models, the NMAX frame features a central 'tunnel' containing the fuel tank – and for added riding comfort the NMAX features linked type engine mounts using rubber bushes that absorb vibration for a smooth and comfortable ride.
ABS as standard, with 230mm disc brakes
An important and significant feature on the NMAX is that it is the first scooter in its class to be equipped with ABS as standard, making it an even more attractive proposition – particularly for new riders.
To underline its position as the premium entry-level city scooter, the new NMAX is equipped with 230mm front and rear discs that deliver strong and progressive braking performance.
Roomy riding position
Despite its compact chassis dimensions, the NMAX has been designed to offer premium class comfort for riders and passengers with small or large physiques. The roomy body design gives the rider plenty of foot space to stretch their legs out, and the spacious layout allows the rider to adopt a range of relaxed or sporty riding positions.
The stepped dual seat positions the passenger slightly higher than the rider to give good legroom and improved forward visibility – and for added passenger convenience there's a grab bar, while the flat side panels minimize interference with the passenger's legs.
Twin shock rear suspension and 13-inch wheels
For high levels of riding comfort – together with good chassis rigidity and high stability feeling – the NMAX is fitted with twin rear shock absorbers that are equipped with dual rate springs to give 90mm of smooth wheel movement.
The use of 13-inch wheels also contributes towards the feeling of comfort as well as ensuring high-speed stability. A 110/70-13 front tyre is fitted, with a wide 130/70-13 rear tyre in order to enhance the sporty handling performance and accentuate this entry-level scooter's premium specification.
Underseat helmet storage
Beneath the NMAX's seat is a large helmet storage compartment designed to take one large full-face helmet with space to spare, and the hinged dual seat also benefits from a spring mechanism that keeps the seat open when accessing the load space.
Triple-lamp LED headlights and full LCD instruments
Featuring an LED headlight, the modern design of the NMAX's front face also shows its sporty side. On low beam, this stylish and powerful LED headlight has a twin eye look, while on high beam a central LED light comes on to give a dynamic triple lamp appearance.
The rear light also adopts a LED brake light, and the use of these LEDs not only gives the NMAX a premium look, but also contributes towards increased fuel efficiency by enabling the use of a compact AC magneto.
The compact and easy to read instrument panel features a single pod containing a full LCD readout, with LED backlighting. This modern and minimalist design sits neatly behind the compact screen, and underlines the NMAX's full contemporary look.
NMAX Highlights
Premium specification entry-level urban commuter, inspired by Yamaha Sport scooters
Newly developed 'Blue Core' liquid-cooled 125cc 4-stroke engine with fuel injection
4-valve cylinder head with variable valve actuation (VVA) for better performance and excellent fuel economy of 7km/litre (WMTC mode)
Offset cylinder with forged piston and DiASil coating and side-mounted radiator
Newly designed lightweight frame with vibration-absorbing engine mounts
Large diameter 13-inch wheels with wide tyres for sporty handling
Twin shock rear suspension
Equipped with ABS as standard with 230mm front and rear disc brakes
Comfortable and spacious riding position
Underseat full face helmet storage space
LED headlight and brake light and full LCD instrumentation
Colours
Power Red (RM7)
Frozen Titanium (MYNM2) Milky White (WM6) Midnight Black (SMX)
Availability: June 2015