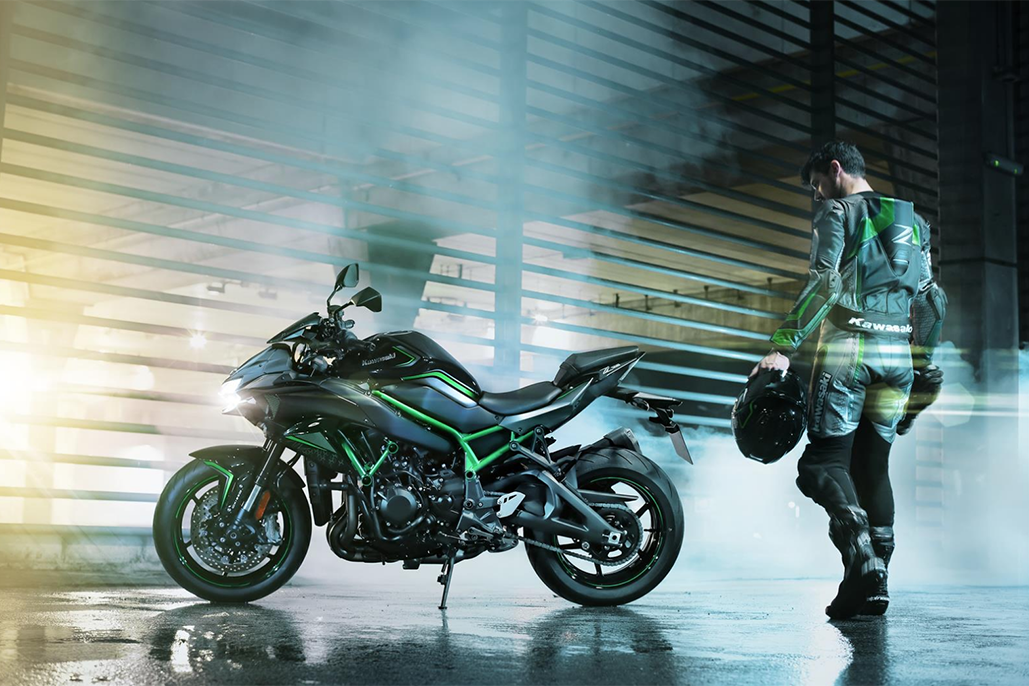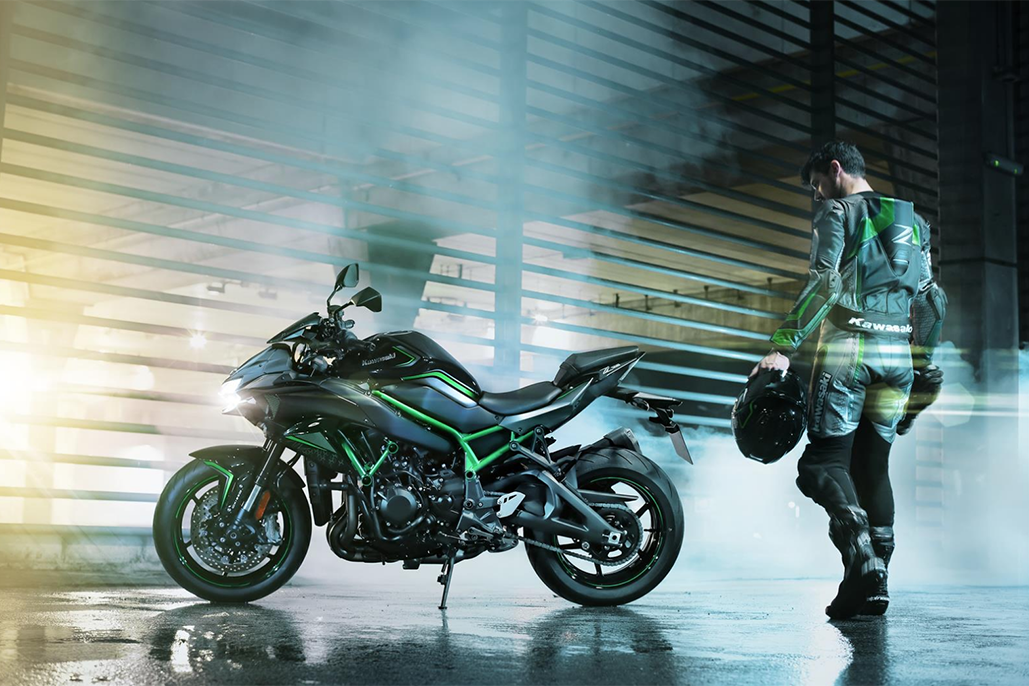 Stretching back in an unbroken series of models over nearly fifty years to the iconic and ground-breaking Super Four model Z1 of 1972, Kawasaki has an enviable Z heritage in the naked class.
Kawasaki is not looking back with its latest top level Z though. Instead, it encourages riders and fans to look to the future and anticipate meeting the most radical, most technically advanced and most powerful Z ever; the Z H2. Harnessing Kawasaki's considerable in-house experience with the Ninja H2 and Ninja H2R, the Z H2 forces the world of motorcycling in a new direction with the ultimate Hypernaked machine.
Being at the pinnacle of the 2020 Z family is a huge responsibility which calls for a machine with a feature list satisfying the wants and needs of even the most demanding rider, delivering a specification that exceeds those demands thus creating "The Ultimate Z". Echoing the core spirit of Kawasaki's unique "Sugomi" design philosophy – where each styling innovation is matched equally by an engineering feature – the Z H2 literally bristles with interesting rider focused facets.
Of course, most attention will initially be focused on the majestic 998cc four-cylinder engine equipped with Kawasaki's in-house developed and manufactured integrated balanced supercharger. With a targeted heady peak of 200PS, the virtues of the design are a controllable yet invigorating flow of power building to a satisfying Ram Air assisted crescendo matched to more down to earth subtleties such as a rider friendly character that results in an eminently manageable ride. So whilst the Z H2 will be attractive to highly experienced riders, its all-round manageability makes it accessible to the wide potential audience.
Exterior clues to the special nature of this "ultimate Z" abound with a new take on Sugomi styling and visual updates such as all LED lighting including indicators and licence plate illumination. The easy to read TFT meter panel is instantly recognisable and – upon closer inspection – the up/down quick shifter is apparent plus, on the left bar cluster, adjustment for the standard fit cruise control and a host of other rider-centric features. Kawasaki's much praised trellis type chassis as used on previous supercharged models is updated for the new Z while Brembo M4 calipers appear attached to the Showa BPF front forks attesting to the high quality specification of this class leading naked machine.
Deeper inside, Kawasaki engineers have worked hard to ensure a dynamic balance between performance and durability making a supercharged streetbike a practical yet exotic reality. With its assist and slipper clutch plus dog ring gearbox technology, clever use of oil as a coolant to eliminate the need for a bulky intercooler and manifest oil jets playing on key components, KHI engineers have married reliability to rideability in a way only they know how.
A large number of electronic rider aids via the Bosch IMU such as traction control, intelligent anti-lock braking, cornering management function, selectable rider and power modes, anti-wheelie control are matched in the tech league table by Bluetooth connectivity which – via the Kawasaki Rideology Smartphone app – allows riders to interface with their machine and discover more about their ride and machine status, all via the screen of their mobile phone. Allied to practical information such as fuel economy and journey facts, there are also features such as a lean angle meter recorder that are sure to be a popular function.
From its asymmetric supercharger air intake to one side of the menacing twin LED headlamps, via the reverse embossed "Supercharged" icon on the impeller unit to the aggressive Sugomi stance and dramatic colour coded trellis chassis with its imposing bodywork, the Z H2 is a symphony of sensation. Much anticipated, much talked about and perhaps most eagerly awaited of all 2020 Hypernaked machines, the Z H2 is here and ready to take its place at the head of the Z family and to take charge of the popular naked class.