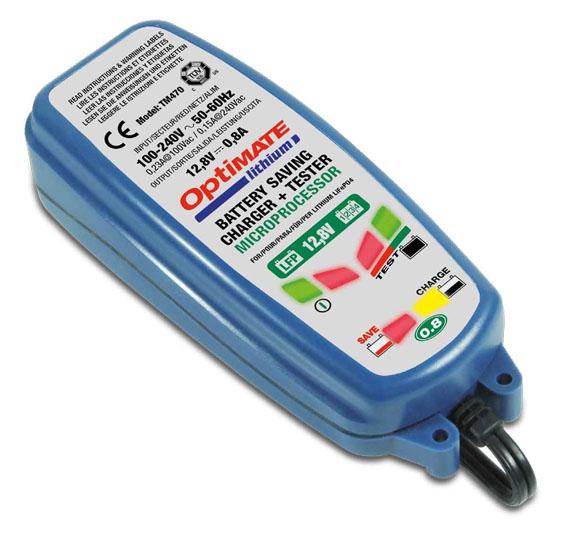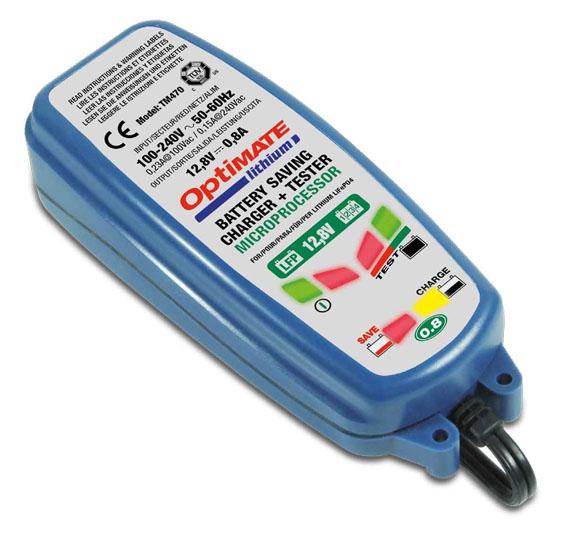 OptiMate – developers of the world's first Lithium-Ion battery optimiser – have introduced a cost-effective lithium-specific battery maintainer to their range.
Compact and lightweight, yet delivering high voltages, lithium batteries are an increasingly popular choice for motorcyclists on road & track, but are considerably more expensive* than lead acid units. They are particularly vulnerable to damage if left attached to a machine and unattended – Li-Ion batteries often have a lower Ah capacity, so can flatten quickly if left connected for long periods.
Maintaining lithium batteries is crucial, because once discharged they can be difficult to recover. However, regular 12-volt chargers for lead acid batteries should not be used, due to different charging curves and thresholds. Lithium (LiFePO4) batteries contain 4 x 3.2V cells, providing a total nominal voltage of 12.8V, compared to a 12V lead-acid battery, which has 6x 2V cells.
Totally automatic and with an intuitive LED display to keep the user informed throughout, the Lithium 0.8A assesses battery condition and selects the charge programme to suit: Bulk Charge for rapid recovery and Save mode to safely recover over-discharged batteries. The Lithium 0.8A is also designed to reset the internal BMS (Battery Management System) on batteries with a low voltage cut-out so that charging can begin.
Battery condition is continually monitored, to prevent unnecessary charging, and an alternating 'charge and rest' maintenance programme protects the battery against over-discharge.
Recommended by leading lithium battery manufacturers and safe to use with all LiFePO4/LFPs, the Lithium 0.8A comes with crocodile clips and a weatherproof lead that can be attached to the battery. Available from all authorised OptiMate suppliers for £54.99 including VAT. For more information visit www.optimate1.com.
* A Lead-Acid battery for a Honda CBR600F costs approx. £30-£50; the lithium equivalent is > £100