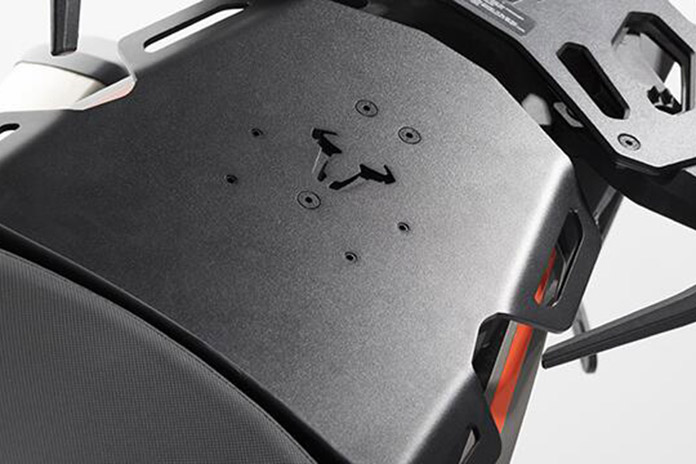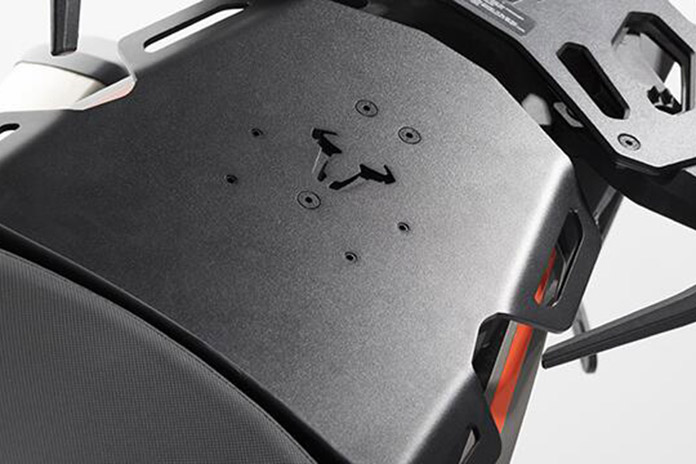 Seat Racks are a neat and flexible new way to fit a luggage rack, from the motorcycle engineers at SW-Motech in Germany.
Designed to replace the pillion seat, the Seat Rack uses the same fitting/locking mechanism, so it simply clicks in place to provide instant carrying capacity.
The CNC machined aluminium alloy rack is tough without adding excess weight. It has laser-cut slots for straps to secure luggage and is powder coated for corrosion resistance. Foam rubber seals are fitted to the underside of the rack, to help stop dirt/water from entering the underseat area while it is fitted.
An ingenious way to add extra capacity on adventure and naked bikes, the rack allows loads to be carried closer to the bikes centre of gravity, for better balance when riding trails or over long distances.
The Seat Rack is also a great solution for riders who don't wish to permanently attach a luggage rack to their machine: when not in use, the rack can be unclipped and replaced with the pillion seat pad.
SW Motech Seat Racks suit most machines with removable pillion seat pads and come complete with all fittings and full instructions. Seat Racks are available to fit a variety of makes and models, including the BMW R1200GS (2013-14), Kawasaki Z800 (2013-14) and KTM 1190 Adventure, with more versions in development. All sell for £126.42 including VAT. Call Motohaus Powersports on 01256 704909 or visit www.motohaus.com for details.