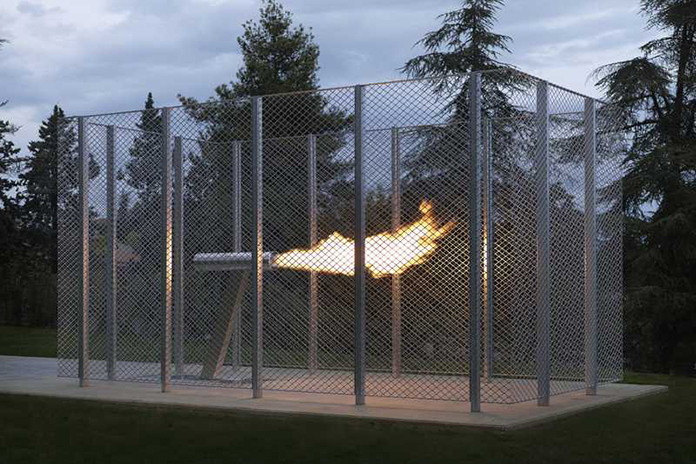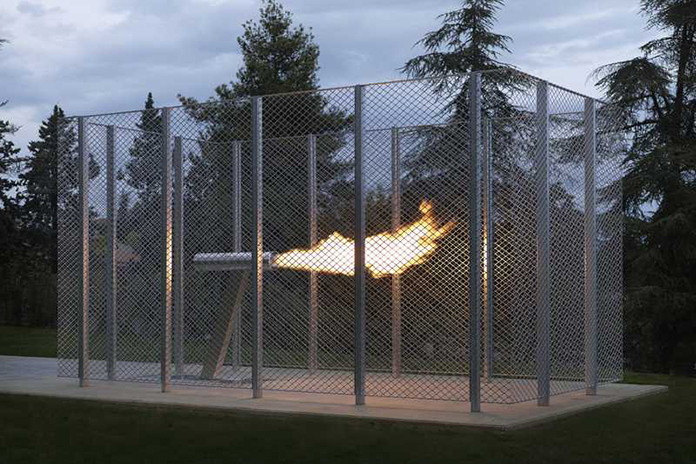 "Every Sunday, as night falls, for 58 seconds his light shines out again"
A flame three metres long shoots out parallel to the earth in a tumultuous rush, evoking the thrills of the race, the tensions of the starting grid and the passions of the duel, while bearing witness to the spirit of Marco Simoncelli.
The flame is a symbol of Marco's soul, which won over everyone with his openness and humanity whether they were motorcyclists or not, taking him to become a Champion while making all of us around him feel champions too.
The work, called OGNI DOMENICA (EVERY SUNDAY), sprung from a meeting of Paolo and Rossella Simoncelli with Lino Dainese, who commissioned the renowned artist Arcangelo Sassolino to create it with the support of Silvia Dainese, from the studio GRISDAINESE, for the architecture and landscaping.
An installation seated on a twenty-square-metre plinth generates the heart of the work – the flame – which evokes Marco and the passion he inspired better than any figurative representation could ever hope to.
OGNI DOMENICA is located in a green space set aside especially for the purpose by Coriano Town Council and transformed by the project.The aim was also to create a meeting place for all young people and motorcyclists to share their passion for motorcycling and for Marco.The mechanism that generates the flame was designed and built by Riello SpA, solving the complex technical challenges involved.
Lino Dainese: "Emotion… emotion is what Marco always inspired on the track. That's why I suggested a work of contemporary art to Paolo and Rossella, something by a young artist who works in speed, energy and primordial fire."
Arcangelo Sassolino: "… I immediately thought of fire. It had to be a primal element, full of mystery, beyond explanation. Alive, true. Meteoric, fleeting, elusive, enchanting, dangerous, like Marco's life.
No easy rising skywards to console, but in line with the earth's horizon…"
Silvia Dainese: "The cement plinth is an ideal launch pad and brings dynamism to the Cage. The Cage, which shimmers from its galvanised finish, simultaneously brings people together around the flame and protects them, while protecting the flame itself."
Domenica Spinelli: "Marco gave us a mission, to nurture the flame of interest that his life lit for Coriano. All of us together need to aim ever higher for Coriano, striving with the enthusiasm, determination and spontaneity of our Champion. Thank you Marco, thank you Paolo and Rossella, thank you Lino, thank you Silvia… Our thanks to the artist Sassolino, to our citizens and to everyone who made this project possible.
The first public lighting of the flame will take place at 7 in the evening on Sunday 15 September, the day of the San Marino Grand Prix at the Marco Simoncelli racetrack in Misano Adriatico.
The work will then light at nightfall EVERY SUNDAY