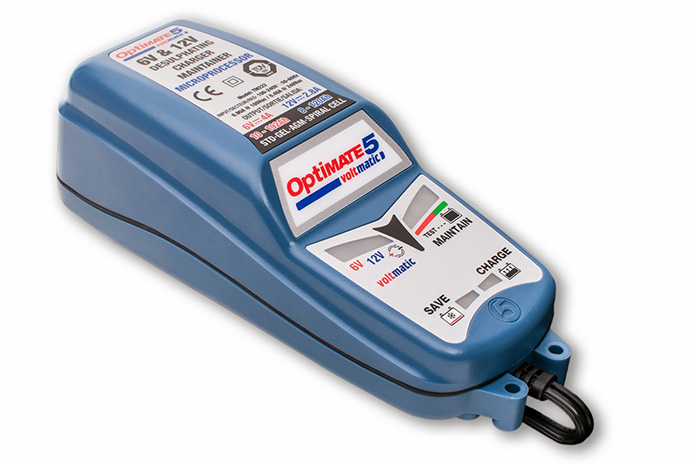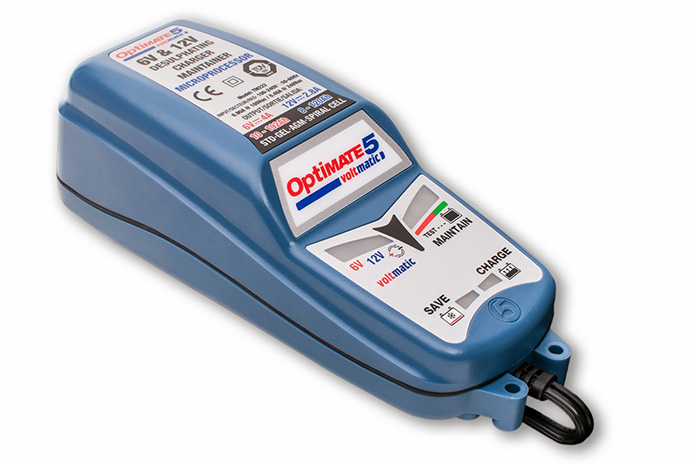 OptiMate™ 5 Voltmatic is the first ever charger capable of automatically recovering 6V lead-acid batteries from deep discharge.
Light [600 grammes] and compact, the OptiMate 5 VoltMatic will also charge and maintain medium to large 12V batteries [from 8Ah to 120Ah] making it suitable for motorcycles, motor boats and motor homes, as well as most cars and vans.
OptiMate 5 VoltMatic retains the fully automatic, 100% safe and easy-to-use characteristics of the 2 million OptiMates produced since 1995. Capable of recovering batteries retaining as little as 1 volt, OptiMate 5 identifies whether a battery is 6V or 12V and then runs a series of tests to see whether it requires desulphation or bulk charge. It then delivers charge in controlled pulses that equalise the voltage in each of the battery cells and checks that charge is being retained, before indicating that the battery has reached full charge.
Unlike other smart chargers, OptiMate has a unique 30 minute charge/30 minute rest cycle, during every hour of long-term maintenance charge, so it can be left connected to the battery while the vehicle is parked without any risk of overcharging or overheating.
In a weatherproof sealed enclosure with 2 metre long input and output cables, the OptiMate 5 is supplied with both a permanent ringlet connection lead that has a weatherproof cap and battery 'crocodile' clips for bench charging.
Compatible with STD lead-acid batteries (with removable filler caps), sealed AGM 'maintenance free', GEL and spiral cell types too, OptiMate 5 VoltMatic retails for £77.50 including VAT. For information on the complete range of OptiMate battery optimisers and accessories visit www.tecmate-int.com.