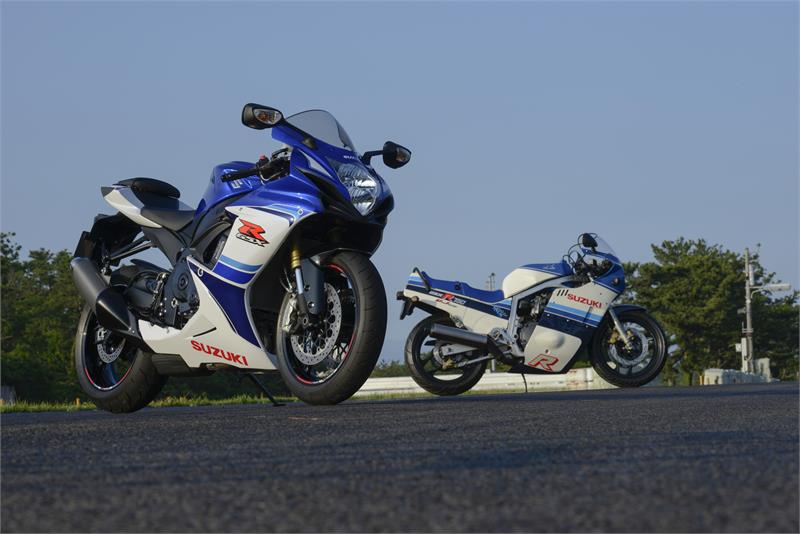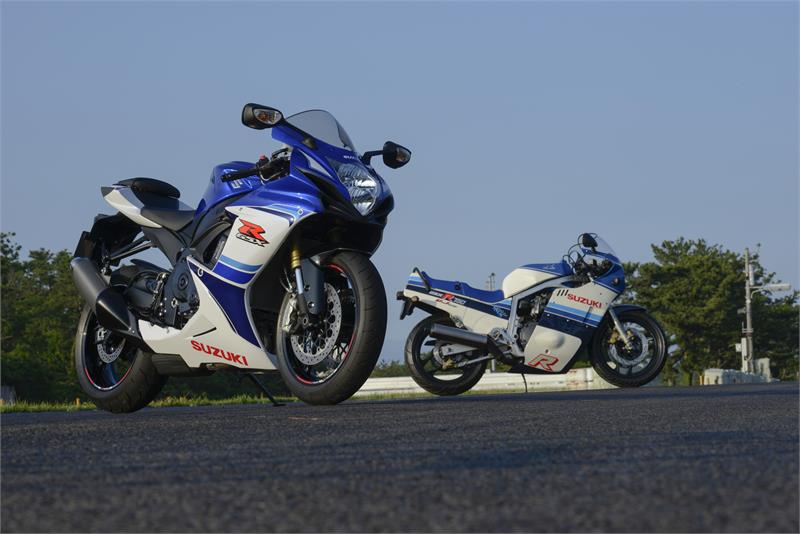 Suzuki Motor Corporation has today unveiled a 30th Anniversary production GSX-R1000 at Sachsenring in Germany that will be available soon from Suzuki dealerships globally. It is finished in the same striking limited-edition paint scheme that will be debuted on-track by Aleix Espargarò and Maverick Viñales at this weekend's MotoGP™ World Championship race.
Sporting the legendary blue and white livery pioneered by Kevin Schwantz in the 1980s, both Spaniards have matching leathers in celebration of the GSX-R range and its racing heritage.
Since its launch in 1985 as a ground-breaking 750cc Superbike, the GSX-R range of production motorcycles has regularly set new standards with cutting-edge design and class-leading innovation and performance; winning a huge following of more-than a million GSX-R customers worldwide.
The GSX-R has also dominated on the racetrack with a long history of success in world and domestic championships globally with new technology being directly employed in its production machines. In 2005, the Suzuki GSX-R1000 dominated the FIM World Superbike Championship with Australian Troy Corser recording eight race wins and a total of 18 podium appearances on his way to becoming World Champion.
Suzuki Endurance Racing Team (SERT) and the Suzuki GSX-R is the most successful team in the FIM Endurance World Championship with a total of 14 victories between 1983 and 2014; 13 of which were won with GSX-Rs (the other one in 1983 with a Suzuki GS1000).
Suzuki is also the most successful manufacturer in AMA Superbikes with Matt Mladin, Wes Cooley, Jamie James and Ben Spies collecting a total of 13 national titles aboard their Yoshimura-tuned GSX-Rs.
Also a young up-and-coming Texan by the name of Kevin Schwantz – who had previously been making a name for himself aboard the Suzuki GS750, switched to the GSX-R, winning many races and, although he just missed-out on the battle for the 1987 AMA Superbike crown, the GSX-R racing pedigree was born as a class-leading machine both on-track and on-the-road as a must-have and revered motorcycle.
The Suzuki GSX-R has also dominated domestic championships globally with nine Australian Superbike Championship titles between 1987 and 2013 in the hands of Tony Armstrong (1987), Peter Goddard (1996), Shawn Giles (2000, 2001, 2002), Craig Coxhell (2003), Josh Waters (2009, 2012) and Wayne Maxwell (2013). The GSX-R has also racked-up numerous race wins in British Superbikes and victory for Crescent Q8 Rizla Suzuki rider John Reynolds in 2004, along with multi-championship titles in the ultra-competitive All Japan Superbike Championship in the TTF1, S-NK, Superbike and JSB1000 classes with Satoshi Tsjujimoto, Yukiya Ohshima, Doug Polen, Manabu Kamada, Keiichi Kitagawa, Akira Ryo and Atsushi Watabe.
The evolution of the GSX-R lies with its predecessor, the GS, which started many riders and teams on the path to victory.
The Suzuki GS series was Suzuki Motor Corporation's first full range of 4-stroke road bikes, launched in 1976 in 750cc guise; which then expanded to include smaller GS550, GS1000, GS125 and GS1200SS models over the years. However, it was the 750 and 1000cc models that drove development on the race track and led-to the development of a new breed of motorcycle; the GSX-R.
The GS had a great handling chassis and a reliable engine that made Suzuki's four-cylinder GS machines ideal for road racing with the GS1000; and tuned by the legendary 'Pops' Yoshimura winning the 1978 Daytona Superbike race, the 1978 Suzuka 8-Hours in Japan and the AMA Superbike national championship in 1979 and 1980 with Wes Cooley, it set new standards. In Europe, Graeme Crosby won the Formula TT World Championship in 1980 and 1981 with his Yoshimura-powered GS1000 Suzuki. Similar success came with the GS for Schwantz and also SERT; both scoring major success with the 750 and 1000cc machines.
SERT, in its third year in the World Endurance Championship racing the GS-model Suzuki, clinched its first world title in 1983 with Richard Hubin and Herve Moineau in the saddle aboard the GS1000. Then in 1985, in America, Schwantz gave the GS its final race victories before moving to the GSX-R and then onwards to compete in the World 500cc Championship where he became World 500cc GP Champion in 1993 for Suzuki.
Today, as well as celebrating 30 years of the GSX-R, Suzuki Motor Corporation is proud to be once again part of the MotoGP™ paddock with a new team of exciting young riders and a brand-new machine in the GSX-RR. Suzuki's philosophy from development on the racetrack has, for 30+ years, led to improvements and developments in Suzuki's road-going production machinery that will include the next generation GSX-R and other models from Suzuki in the future.
Kevin Schwantz:
"I first rode the GSXR in 1985 at the Suzuka 8-Hour with Graeme Crosby. We didn't get the Suzuki GSX-Rs in the United States until '86 but raced them in American Superbikes in '86 and '87. I won the Daytona 200 on a Suzuki GSX-R in 1988 and continued to race the 8-Hour all the way through to the 1992 season.
"I've been involved with Suzuki and raced Suzukis my entire career and to have seen the GSX-R evolve. I like to think that some of the Grand Prix racing I did helped with some development of the GSX-R; maybe some of the technology they learned from GP racing is stuff that has evolved and gone into the production GSX-R motorcycles. Whether it's a 600, 750, 1000, or all the other different sizes that they have made, they're all just as much fun to ride.
"The GSX-R was ground-breaking technology, the latest, greatest thing when it came out and it has continued to be an awesome sports bike, a great handling motorcycle and it is still very, very competitive in the Suzuka 8-Hour. With over a million GSX-Rs made it is true to say that there are millions and millions of people who have bought them, ridden them and love them.
"The Suzuki GSX-R to me is the definition of a sport bike. When the GSX-R came out it completely changed the definition of a sports bike and it has continued to improve ever since."