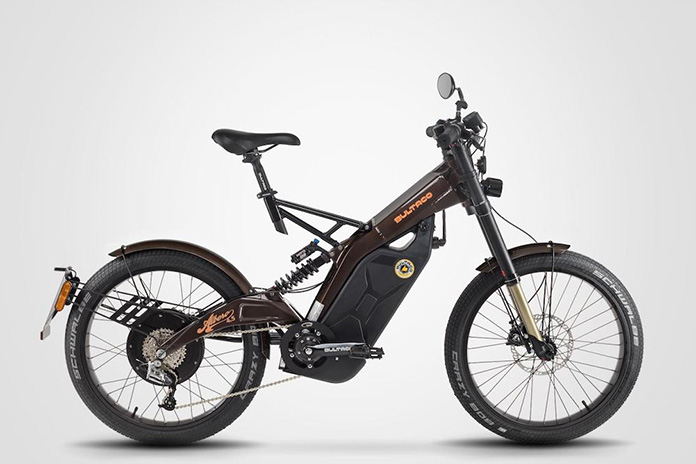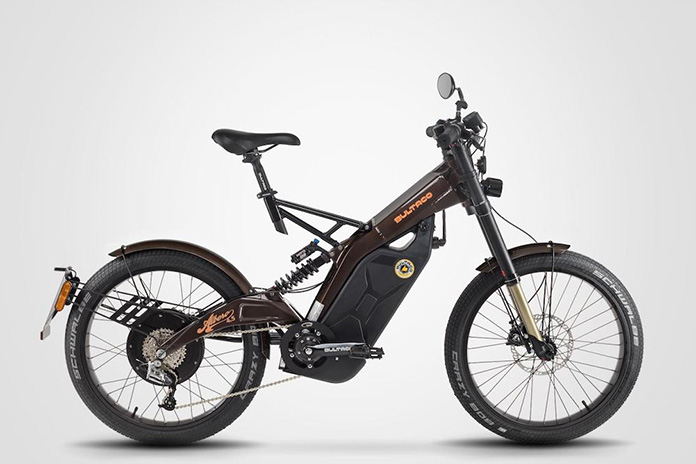 The Albero is all about fun and getting you places in the big city, and with zero emissions along the way. The new Bultaco Albero represents a novel concept in urban mobility, offering a unique, safe and fun experience, featuring electric drive and green riding, taking you anywhere in the city.
Since its return to the market Bultaco Motors has been strongly committed to presenting innovative products, in both their concepts and technology, but always guided by its founding principles, based on passion and fun. Its first product was the Brinco, which innovated the Moto-Bike concept: a cross between a motorcycle and a bicycle, with a combination of electric propulsion activated by a grip throttle, and independent pedalling, allowing the rider to adjust, at will, the level of effort he wishes to make.
The new Bultaco Albero shares Brinco's technical platform, but features a look and technical solutions adapted to the urban environment. The result is a model with a unique, very attractive design, characterised by a retro image, a bit reminiscent of a café racer. A new concept in urban mobility, with the manoeuvrability and lightness of a bicycle; the sturdiness and safety of a motorcycle, zero emissions and the outstanding performance (60 Nm maximum torque, 45 km/h maximum speed) of electric propulsion. A new concept in the city for a new type of rider: Moto-Bikers. Cosmopolitan urbanites who are looking for a different kind of transport. One that's on the cutting edge, and sustainable.
The international rollout of the new Bultaco Albero will be at the EICMA, a major event in the motorcycle world, to be held in Milan, Italy during the second week of November. Along with the new Albero, in its different versions, the entire Brinco line will also be on display, with the new Brinco R-B as a "special guest".
About Bultaco
Bultaco is the legendary motorcycle brand founded on May 17, 1958 by Don Paco Bultó. Over the course of its history it has marketed legendary models like the Sherpa, Matador, Metralla and Frontera, and won countless Spanish and international championships, with renowned racers like Ángel Nieto, Jorge Martínez Aspar, Sammy Miller and Barry Sheene. The Bultaco of the 21st century is banking on the most advanced technology: its very own electric propulsion system, energy regeneration and storage solutions to achieve hitherto unknown battery life, high-level components, and the use of ultra-lightweight materials. The new Bultaco Motors team continues to uphold the Thumb-up brand's spirit, true to the traditional values that made it legendary: passion, innovation and competition. It has drawn inspiration from the names of its legendary motorcycles, and is proud of its heritage, but does not dwell in the past, always looking ahead.