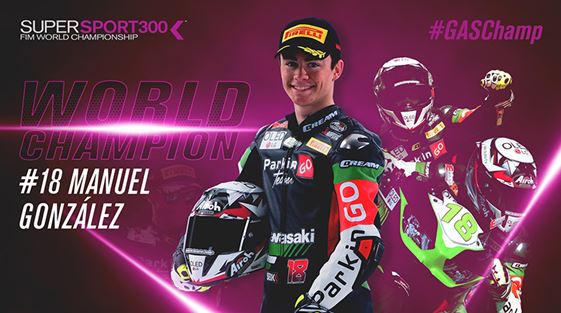 Manuel González (Kawasaki ParkinGO Team) has asserted himself as one of the most exciting young riders in motorcycling racing by winning the FIM Supersport 300 World Championship with one round to go, after taking 2nd place in Magny-Cours in a hair-raising battle throughout the race.
The ParkinGO Team rider follows in the footsteps of Marc García and Ana Carrasco, 2017 & 2018 champions respectively, and extends the Spanish domination of the feeder series. Unlike his compatriots, however, González has managed to avoid any last-second drama by securing the title with ease, in a season that has established the teenager as one to watch inside the WorldSBK paddock.
Turning seventeen just last August, González's staggering precocity has led him to shatter record after record on course to his maiden title win. His path to World Supersport 300 glory began in 2017 when he participated in the final race of the season as a wildcard, becoming the second youngest starter that season. The soon-to-be European Talent Cup champion qualified in a brilliant sixth and was amongst the leading riders when a technical issue forced him to enter pit-lane early on.
It was a first – if brief – glimpse into the teenager's talents. Many more examples were to follow in 2018 as González joined the series full-time on a Yamaha YZF-R3. After a somewhat troubled start, with three no-scores inside the opening five races and a best result of ninth, he sprang to life in the last three rounds with consecutive third-place finishes. The first of those, at Misano, made him the youngest rider to feature on a WorldSSP300 podium, one month before his 16th birthday.
González was recruited by Kawasaki ParkinGO for his sophomore season, switching machinery in the process. This proved to be a particularly inspired move: on his debut at MotorLand Aragon, he took his first pole position, before romping to a 0.058s win over Hugo De Cancellis and shattering García's record as the youngest WorldSSP300 race winner by a full ten months.
History repeated itself seven days later at Assen. Second on the grid, the teenager set himself up beautifully in the final lap, surging from the back of the leading group and beating homeboy Scott Deroue in another close finish to take win number two. One week, 50 points: perfection.
The cancellation of the Imola race led the WorldSSP300 grid into back-to-back races at Jerez, the same venue that witnessed González's first steps in the series less than two years before. Fourth at the flag in Race 1 behind previous champions Garcia and Carrasco as well as Deroue, the Spaniard was not going to take their challenge lying down. Smartening up for the final lap of Race 2, González bossed his way into the lead at the final turn and stole win number three. The higher the stakes rose, the more he upped his game.
Carrasco would win next time around in Misano, however a cool second from González ensured that he would make it to the summer break with a cozy double-digit buffer, even in the worst-case scenario that immediately followed. The championship leader damaged his shoulder on a wet track at Donington Park, falling awkwardly before his own Kawasaki dived on top of him. González suffered his first no-score of the season – yet it was one that barely rattled the Spaniard, as none of his three closest contenders managed to capitalise on his misfortune.
Two months down the line, González faced his first shot at world championship glory. It failed to materialise there, yet he left the Portuguese rollercoaster as champion in all but name, after picking up second behind Deroue. Twelve points over two rounds would be enough – González did it in one, at Magny-Cours.
Previous WorldSSP300 champions needed an eleventh-hour surge to write their names into WorldSBK history. Not 'Manugas'. He has passed every test with flying colours and can now sit back and enjoy the final event in Qatar devoid of any pressure, while he patiently awaits the new chapter of what promises to be an illustrious career.
Congratulate González on social media using the hashtag #GASChamp and relive every moment up to his title-winning race thanks to WorldSBK VideoPass.