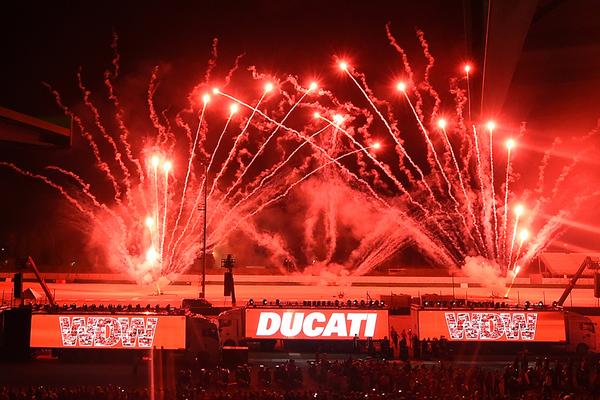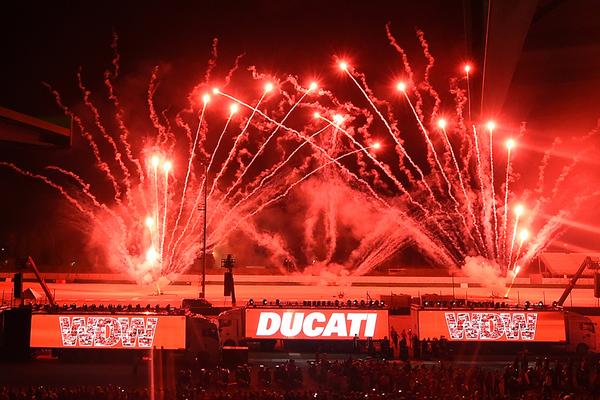 The eighth edition of World Ducati Week, the international, bi-annual Ducati gathering that attracts countless enthusiasts from the global Ducati community, has been an outstanding success, able to thrill the tens of thousands of motorcyclists who filled the "Marco Simoncelli" Misano World Circuit from Friday 18 to Sunday 20 July in a sign of loyalty, passion and love for Ducati and the legendary bikes built in Borgo Panigale, Bologna, Italy.
Their passion is best illustrated by the figures: some 65,000 people attended this 3-day edition, equalling the record set back in 2012 when WDW was a 4-day event. Participants arrived from five continents and 56 different countries. And that's not all: 60% of attendees at WDW2014 might have been Italian, but it's the other 40% who confirm Ducati's truly global appeal. Some Ducatisti had made their way here from the USA, Europe, Australia, Russia and India. Some had travelled from as far away as Brazil, China and Malaysia. Others, amazingly, came from Gabon, Iceland and Nepal, all united by a "Desmo" passion that, in an event of this magnitude, is off the scale.
Three great days, the most intense of which was Saturday 19 July, the day that drew in the biggest crowds. In addition to the wide variety of events, the highlight of the day was the final showdown of the Diavel Drag Race by Tudor which saw Ducati Corse riders (MotoGP and SBK) battle it out on the starting straight of the "Marco Simoncelli" Misano World Circuit on powerful Ducati Diavel Carbon bikes. Victory was claimed by Regis Laconi (former official Ducati SBK rider), with Matteo Baiocco (current Ducati SBK test rider) the runner-up. Third place went to Andrea Dovizioso (Ducati Team), fourth to Michele Pirro (test rider for Ducati Team in MotoGP). It was an exhilarating competition, placing pros of the highest calibre, past and present, head to head: Troy Bayliss, Carlos Checa, Andrea Iannone, Yonny Hernandez, Davide Giugliano and Chaz Davies together with "King" Carl Fogarty and Pierfrancesco Chili.
Immediately after the race, in front of a crowd estimated to be over 10,000 strong, all the riders, plus key management – led by Ducati Motor Holding CEO, Claudio Domenicali, and Audi CEO, Rupert Stadler – saluted the public in an impressive ride-past. Afterwards, this last amazing night on the circuit was brought to a close by a thrilling light and sound show.
The final day of this eighth WDW saw thousands of Ducatisti and their bikes once again flood into the paddock of the "Marco Simoncelli" Misano World Circuit, all eager to enjoy their last day before heading home in the comforting knowledge that they'll all be back together again in two years' time for WDW2016.
As expected, the Scrambler area was a huge success, arousing considerable interest. This gave enthusiasts attending WDW2014 an exclusive opportunity to enjoy a world premiere of the long-awaited Scrambler Ducati. This latest Ducati motorcycle, expected to arrive in stores early in 2015, attracted an uninterrupted procession of onlookers, with some Ducatisti waiting hours under the scorching sun to enter the famous "yellow container" and get a sneak preview (with a strictly no-photos, no-filming protocol) of the prototype.
Yet WDW2014 was much, much more. In addition to numerous events, the paddock area of the "Marco Simoncelli" World Misano Circuit also hosted the Superbike Celebration, a display of the bikes that have made Ducati history in the World Superbike Championship. There were stuntman shows, riding courses, a chance to road test the new Monster 821, autograph sessions with Ducati Corse champions (past and present) plus on-track tests with the fantastic Audi R8 V10 and the new Lamborghini Huracán, not to mention a lot of partying for everyone.
Yet the eighth edition of World Ducati Week was essentially a peaceful, vibrantly coloured "invasion" of both the "Marco Simoncelli" Misano World Circuit and the entire Romagnola Riviera, with the desmodromic roar of countless Ducati motorcycles providing the soundtrack to an exceptional international event.
These are the "figures" for which this excellent eighth edition of WDW will be remembered:
65,000 people attended the circuit over three days
A total of 10,192 laps were made by bikes and cars during WDW2014
72,000 photos were taken by staff photographers
WDW2014 attracted enthusiasts from 56 countries
 A 200-metre-long BBQ – the famous "Rustida" – was set up in the Misano World Circuit pit lane
60 lifeguards from the Romagnola Riviera and 25 Ducati Managers cooked the piadina and sausages consumed by the WDW2014 public at the "Rustida"
58 different on-track events and shows took place over the three days
18'20" was the time taken by the procession of Ducati bikes to exit the "Marco Simoncelli" Misano World Circuit and form the "parade" heading for Riccione
600 participants answered 13,000 quiz questions (with a Ducati theme, naturally) in the 3-day "WDW2014 Treasure Hunt"
7,000 digital contributions were posted on wdwlive.ducati.com during WDW2014
The competitors in the Drag Race by Tudor possessed no less than 11 world championship titles (4 WSBK, 2 Superstock, 2 Supersport, 2 World 125 Championships, 1 World 250 Championship) + 4 Italian titles (2 Superstock and 2 Superbike)
50 Monster 821 bikes were ridden by 50 employees during the Racetrack Show
Over 700 test rides of the new Monster 821 were completed during WDW2014
118 D.O.C. Presidents from 26 countries attended WDW2014
38 hours of live coverage was provided on WDW TV
There were 360 minutes of live streaming on the Ducati YouTube channel
The tread was taken off 16 Pirelli "Diablo Rosso II" tyres in the burn-out at the end of the Diavel Drag Race by Tudor
In 35 hours in the Scrambler area:

4,000 people saw the new Scrambler Ducati
3,500 games of ping-pong and billiards were played
20,000 Scrambler bracelets and 6,000 badges were given away
3,000 false moustaches and 3,000 flower necklaces were distributed at the "Scrambler beach party"
803 limited-edition T-Shirts were sold
20 hours of live music were played by "Recrive"

240 journalists (130 Italian and 110 foreign) were present
WDW2014 enjoyed outstanding support from its Main Partners, TUDOR, Termignoni and TIM, plus many other Official Partners, including top brands such as Pirelli, Bosch, Shell and Canon. There was also a long list of Technical Partners: Arai, Brembo, Cartorama, Dainese, Element Case, Garmin, Gates, Givi and Samauto.
Once again, WDW was able to count on the constructive help of the Town Councils of Misano, Cattolica Riccione and the administration of the Republic of San Marino, who organised essential local logistics and events for Ducatisti arriving from all over the planet. Last but certainly not least, a key role was played by the "Marco Simoncelli" Misano World Circuit, which has hosted every edition of WDW since the very first