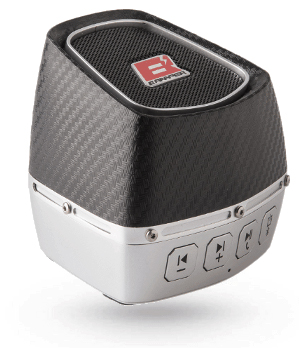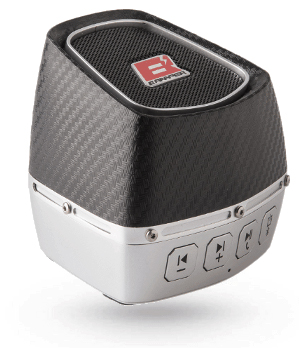 Braaper, the bluetooth speaker that merges the design of a motorcycle exhaust with technology and an excellent sound quality, was born from the idea of a motocross veteran and the vision of one of the most successful Italian designer
For motorcycling enthusiasts, the roar of an engine is like music. So, wouldn't it be fun to play the roar of the engine and its music through a speaker? Braaper is an idea born from this very association of ideas: it is a portable Bluetooth speaker, designed by one of the most renowned Italian designers, which recalls the shape of a motorcycle exhaust. When you turn it on, it reproduces the sound of the engine and you can use it to listen to music and as a speakerphone for your phone.
Braaper was conceived by Maurizio Di Mauro, an entrepreneur in the field of web technologies, mobile technologies and electronics related to Motocross who has over 30 years of experience as a pilot, and its design by one of the most successful Italian designer Paolo Di Mauro, owner of ' agency Warm-Up in Milan. Designed with care to resume the shape of a racing motorcycle exhaust system, Braaper allows motorcycling enthusiasts to enjoy whenever and wherever they want the thrill of a real motorcycle experience.
"As it happens in the racing world, we have designed two versions: a stock and a racing version. Both offer an outstanding sound quality: to achieve this, we collaborated with the R&D team of MotocrossLAB, giving birth to a high level product for the quality and the technology it employs and for its unusual design, "says Maurizio Di Mauro. " The racing version, in particular, is made of alluminium milled using CNC machinery and real carbon fiber. Shockproof and waterproof thanks to the special silicone cover, Braaper has been designed to be used in various situations: at home , in the car , outdoors … "
The crowdfunding campaign on Limoney for Braaper is essential for the completion of the vision of Di Mauro and to bring Braaper to the market throughout the world.
In fact Braaper will be available exclusively on the crowdfunding portal Limoney for a period of 30 days, at a special price. "Crowdfunding is a wonderful way to reach people who are interested in innovation and to see independent innovators realize their products and their ideas. In our particular case, we believe that Limoney is a unique way to raise awareness about the problems of the world seriously injured riders and to raise awareness of the association Riders for Riders. Limoney gives us the opportunity to encourage people to participate in our innovative crowdsponsoring campaign to support the riders and associations for injured riders. In other words , using only our traditional distribution network, we could never achieve this goal" says Maurizio Di Mauro.
Maurizio Di Mauro has been responsible for numerous inventions including a remote controlled wireless goggle system designed to push mud away from goggle lenses with the touch of a handlebar placed
button, a marketplace system for matching demand and offers for truck transport services, a Chat Bluetooth mobile application, game app, software tools for managing and tracking motorcycles maintenance and racing setup, Infrared and GPS Lap Timer Racing Chrono, up and more. Additionally, Di Mauro has won the Italian eCommerce Industrial Ministry Award, has served as an assistant professor at IULM University and served as director of the Master in Multimedia Communication program at the IED-ISC in Milan. His company MotocrossLAB.com designs, develops and distributes top PowerSport brands throughout Europe.
For more information , please visit this page or www.braaper.com Limoney on the campaign Braaper : http://bit.ly/Braaper