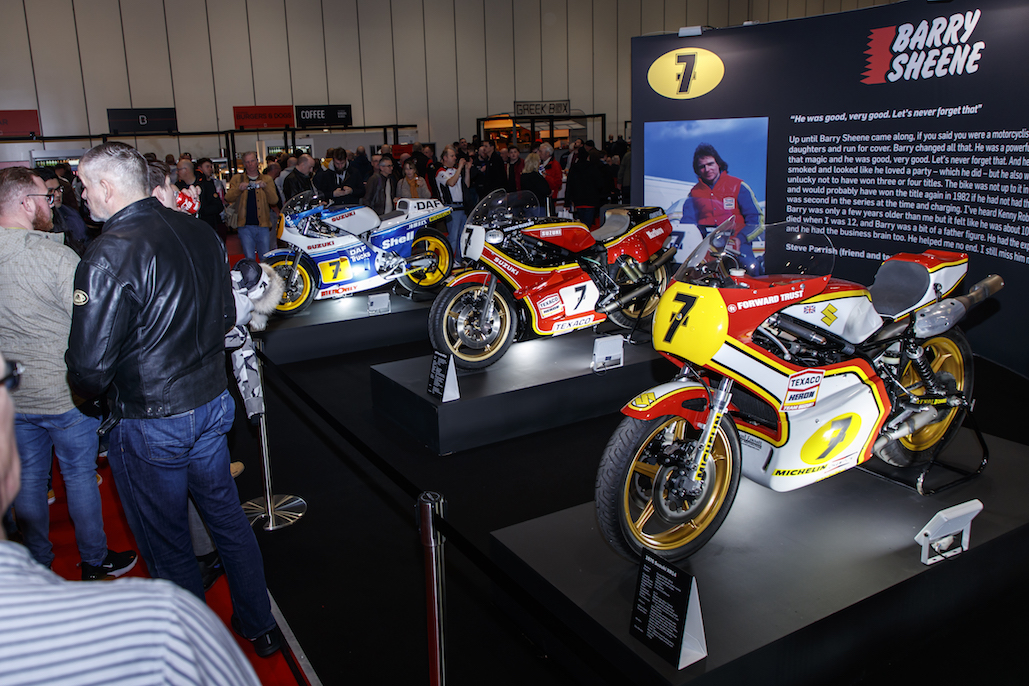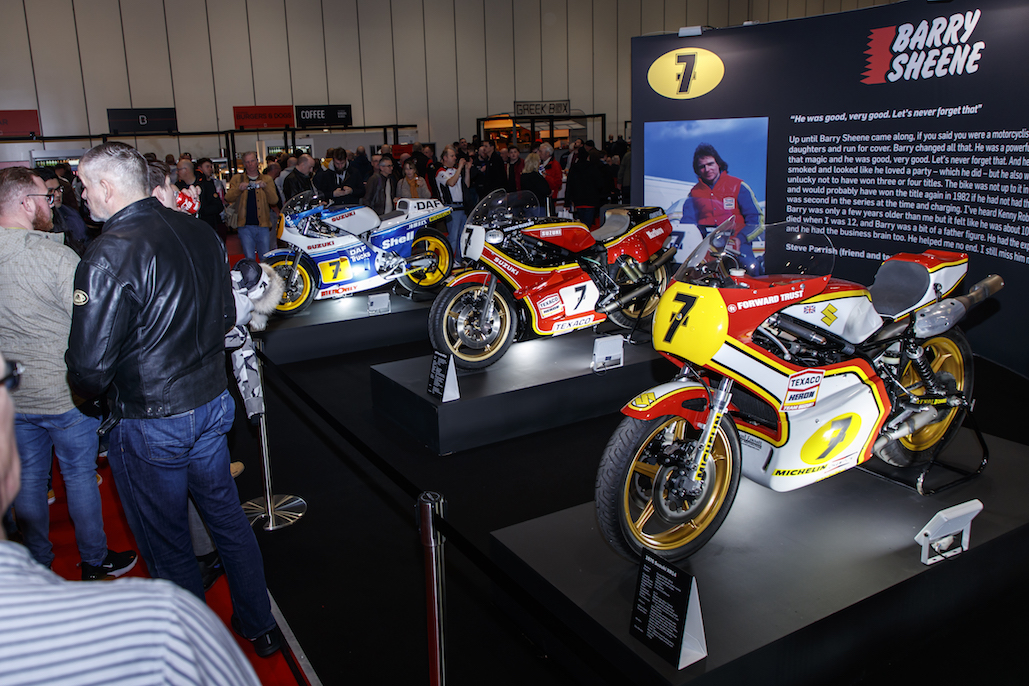 Despite Storm Dennis battering the UK, nearly 40,000 motorcycle fans defied the conditions and flocked to ExCeL for the annual Carole Nash MCN London Motorcycle Show. Two-wheel enthusiasts were able to get close to the latest 2020 motorcycles from the world's leading manufacturers, see exotic racing machines past and present, rub shoulders with a host of biking celebs and grab a bargain at one of the many retailers on display.
Valentine's weekend once again saw 39,276 motorcycle enthusiasts descend on the capital for the annual Carole Nash MCN London Motorcycle Show, with the three-day extravaganza celebrating the very best of motorcycling. For many visitors, the main attraction was being able to get up close and personal with the latest machines from AJS, BMW, CCM, CF Moto, Ducati, ECOOTER, Honda, Husqvarna, Indian, Kawasaki, KTM, Mutt Motorcycles, MV Agusta, Royal Enfield, Suzuki, Triumph, Yamaha and Zero. Visitors to the show were also able to see the UK debut of the AMB 001 motorcycle, a unique collaboration between Aston Martin and Brough Superior.
The exclusives continued with a special celebration feature of the UK's most famous motorcycle racer, Barry Sheene, proving a big hit with fans. Nine genuine race bikes from his incredible career were on show whilst former teammate Steve Parrish and Barry's former chief technician Martyn Ogborne shared tales live on stage. Freddie Sheene, Barry's son, also visited the show to see the display.
The Michelin Thunderdrome created a storm in the centre of the show, as TT legends Peter Hickman, John McGuinness, Michael Rutter, James Hillier, Dominic Herbertson, Craig Neve, Phil Crowe and Taylor Mackenzie went head-to-head in action-packed races every day. With nail-bitingly close finishes, hilarious antics and some dramatic spills, the family-friendly racing action proved to be a show highlight.
There was a lot more in store for race enthusiasts, with World Superbike star Leon Haslam meeting fans on the Honda stand and Carl Fogarty and Dougie Lampkinon the CCM stand. There were several livery unveilings as John McGuinness revealed the Quattro Plant Bournemouth Kawasaki he will use at the TT, Massingberd-Mundy Kawasaki and OMG Racing British Superbike teams also unveiled their 2020 liveries.
In keeping with the TT theme, the 2020 Isle of Man TT Classic races were officially launched at the show, with the organisers bringing along a host of star machines for fans to see. Based in the popular John McGuinness Bar sponsored by Shoei, the bikes on display included the 750cc Kawasaki that David Johnson rode in the RST Classic TT Superbike Race, Jamie Coward's race-winning 350cc Honda, Bruce Anstey's Padgetts Racing 250cc and McGuinness' 500cc Paton.
Alpinestars unveiled their 2020 spring range exclusively at the Carole Nash MCN Show and MCN used the event to launch their UK Helmet Amnesty, which encouraged hundreds of riders to dump their unsafe crash helmets and take advantage of the many deals retailers had on offer.
Elsewhere, the Bonhams Classic Zone took fans back in time with a host of rare classics, which included machines from the Morbidelli Collection and the National Motorcycle Museum. The Custom & Cafe Racer Zone – Styled by Spada showcased some incredible machines from Europe's best custom bike builders.
Visitors looking for inspiration for their next big trip found plenty of motivation in the Adventure and Travel Zone, which saw some of the world's most intrepid motorcycle explorers take to the stage to share tales from their incredible journeys. The Women Riders World Relay team, the world's largest motorcycle relay, also stopped by the show to check out the displays and meet fellow riders.
Rebecca Donohue, Head of Marketing at Carole Nash, commented: "The 2020 Carole Nash MCN London Motorcycle Show has been an incredible weekend and despite such severe weather conditions, it was fantastic to see so many bikers coming to see the latest machines and enjoy the thrilling live action on offer.
We are incredibly proud to be a sponsor of the show and our stand was packed throughout the weekend with existing customers and possible new policyholders stopping by to learn more about Carole Nash, grab a coffee on us and get our latest 2020 calendar. We can't wait to do it all again next year! Ride Safe everyone."
Michelin's Andy James, Operational Marketing Manager commented: "The show gives us a fantastic opportunity to offer customers and show-goers a unique experience and allow them to interact with the Michelin brand. Our stand has been packed all weekend but it is not just about having a busy stand, we have had meaningful interactions with visitors. Our bike simulator and having Dougie Lampkin greet visitors on the stand helped to create genuinely memorable experiences for those who stopped by."
Andrew Simpson, Indian Motorcycle National Sales Manager: "It's been a really great show for us. It is the right time of the year with the riding season just about to start and, customers are clearly ready to buy and take to the roads. We've tried to lay on a different sort of experience which has been well received and we had a real buzz when the Women Riders World Relay visited us as part of their global relay challenge."
Triumph Marketing Coordinator, Ruth Speller, added: "The show gave us the perfect stage for a first showing of our Tiger 900 machine which was the basis of our daily 'Tiger Talks' which were extremely popular. Our Guy Martin Great Escape display also really pulled in the crowds as something different."
MCN Editor, Richard Newland, commented: "It was fantastic to spend three days soaking up the atmosphere at the Carole Nash MCN London Show. There was a tangible feeling of excitement and optimism amongst showgoers, manufacturers and traders alike – and it was great to see so many bikers brave the weather, leaving with bags stuffed to the gunnels with new riding kit to help make their 2020 season even more enjoyable. From the 300+ new bikes on show to the Michelin Thunderdrome action arena, bike start-ups and the highly emotive Sheene display, it was wall-to-wall entertainment and temptation – and a fantastic way to kick-start the new season."
The 2021 Carole Nash MCN London Motorcycle Show will be held on the 12-14 February and more information can be found at
www.mcnmotorcycleshow.com
.