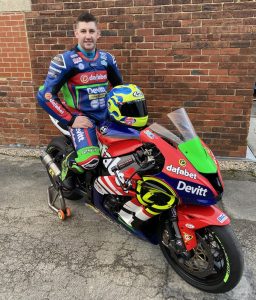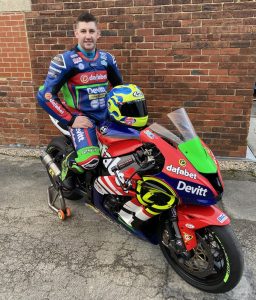 Dafabet Devitt Racing have today (Friday) announced the signing of Rob Hodson for the 2020 International road racing season.  
The 30-year old will contest all of the International road races and will compete in the Superbike, Superstock, Supersport and Lightweight classes with the Isle of Man TT Races and Southern 100 being the main focus for the season, plus the possibility of the Northwest 200 and Ulster GP, should it run. As in previous years the team will also run a number of BSB rounds.
Operated by RC Express Racing, 2020 sees the Bristol-based squad extend their successful partnership with both Dafabet, one of the world's leading online betting platforms and Devitt Insurance, one of the UK's leading specialist motorcycle insurers, for the fourth and fifth years respectively.
That support has seen the team at the forefront of international road racing with previous riders including Isle of Man TT winners Dean Harrison and Ivan Lintin as well as Steve Mercer, Jamie Coward, Dominic Herbertson and Paul Jordan, the latter giving the team an excellent fourth place finish in last year's Lightweight TT.
Son of renowned road racer and former Isle of Man TT podium finisher Jim, Hodson has carved out his own successful career where he was initially successful at the Manx Grand Prix, winning the 2015 Super Twin race as well as taking four more podiums at the event. 
He moved up to the TT in 2016 and has since gone on to win 11 bronze replicas with his best finish coming in 2018 when he placed 14th in the Senior race. That race also saw him post his quickest lap to date of the 37.73-mile Mountain Course with a speed of 126.274mph. 
The Wigan rider has also been a consistent front runner at the Southern 100 with a close second place finish taken in the opening Super Twin race at last year's meeting whilst he's also been a regular top six finisher in the 1000cc and 600cc categories. He's currently the 10th quickest rider around the Billown course having lapped at 112.545mph in 2018.
Speaking about the deal, Hodson said: "An opportunity like this doesn't come along every day so it goes without saying that I'm over the moon to have joined the Dafabet Devitt Racing team for 2020 and I'm really grateful for the faith they've shown in me. I'd like to think I've had some strong results so far in my career and believe the team can help me make further progress and improve both my results and speeds at all of the meetings. They have a history of doing similar with other riders so I'm more than hopeful of continuing that trend in 2020." 
"I've been running my own team for the last few years so it will be a different experience for me to concentrate solely on my riding but one I'm really looking forward to with good results at the TT and Southern 100 both mine, and the team's, main aim. It's easy to see why the team have been successful as their preparation is second to none with all of the bikes immaculately turned out and there are so many positives about joining them. We're looking to have a strong and enjoyable year and I'd also like to express my gratitude to my loyal sponsors who have been with me the last few years and fully support my plans for 2020."  
Team co-owner Roy Constable added: "We're delighted to welcome Rob to the team and we're confident we can help him move to the next level on the road racing ladder, particularly in the Lightweight class where we know he'll go well on our Kawasaki. He's achieved plenty already with strong results at both the TT and Southern 100 and he's shown plenty of potential to move even further up the leaderboard given the right opportunity." 
"He'll be able to concentrate solely on his riding this year which should help him tremendously whilst he has a really good family behind him which fits in well with the ethos of our team. It promises to be a busy season and we're heading to Spain next week to begin our testing campaign which will ensure we're fully prepared for when the season gets underway. I'd also like to thank Dafabet and Devitt Insurance for their continued support along with all our other loyal sponsors."
John Cruces, Head of Sports Marketing and Sponsorships at Dafabet added:"We're very proud to continue our partnership with the team for a fourth year. Having seen firsthand the work that gets done both behind the scenes and on track, we're very happy to add our name to the team. A warm welcome to Rob Hodson and the best of luck for a successful season."
Head of Marketing at Devitt Insurance Services Tom Warsop said:" We're thrilled to be on-board with the Dafabet Devitt Racing team for our fifth year; we've built great relationships with everyone involved over that time and we're looking forward to seeing what Rob can do with the RC Express guys behind him."  The team are also planning on announcing more exciting news in the coming weeks.