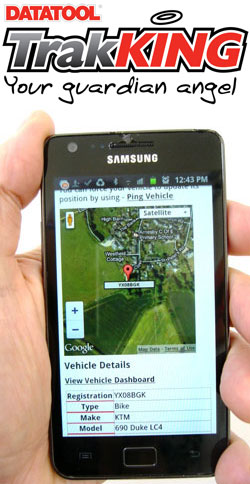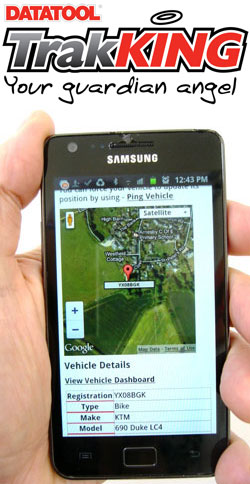 Everyone who buys a new or used motorcycle, scooter or quad now has easier access to the peace of mind provided by the Datatool TrakKING GPS/GSM tracking system.
Datatool used the recent Motorcycle Trade Expo to announce a recommended retail price realignment to just £179.00 + installation, making Datatool TrakKING the most cost-effective tracking system on the market.
Datatool TrakKING constantly monitors your bike for unauthorised movement, alerting you initially by (optional) SMS text message and then alerting our 24/7/365 staffed call centre who will contact you to advise that a potential theft is in progress.
The annual subscription, now reduced to just £99.00 per year, includes an initial quantity of text alerts per month as well the access to our highly trained staff at our Secure Operating Centre, who will work directly with the Police to assist in recovering your vehicle should the worst happen. If you choose the 3 year subscription option, you can be protecting your transport for as little as 26p per day.
Datatool TrakKING is approved by the Thatcham Research Centre, the UK insurance industry approvals body, which means you should qualify for an insurance discount (subject to insurers' terms and conditions) for having the unit installed at one of our authorised installers.
Datatool TrakKING is available to use on any motorcycle, quad or scooter fitted with a battery, whether road or off-road, yet has a virtually zero current draw so won't drain the battery.
Datatool also recommends the use of visual physical security deterrents such as the Datatool Python lock & chain and a Datatool Fortress ground anchor for added home security or the Datatool Croc Lock when on the move.
The feature set includes:
– Full 24/7 Monitoring & Recovery Assistance via the Scorpion Monitoring Centre
– No Speed History Data Logging
– Virtually Zero Current Draw
– Early Warning Feature
– Pinpoint Locate Feature
– Greater Reliability
– Thatcham Cat 6 (TQA) approved
– Easy User Interface
– Waterproof to IPX56 standard
– Text early warning system
– Straight Forward Pricing
– British Designed and Manufactured
– Automatic movement without ignition text alerts
– Battery tamper alarm included
– Low battery text alert
– Location on demand via website
– Online paperless registration
– 3 Year Warranty
– European coverage included
– 24Hr Monitoring by our Stolen Bike Monitoring Team
– Optional Keyguard Service – receive text messages every time ignition is switched on
RRP of £179.99 + installation
www.datatool.co.uk
t: 01257 249 928