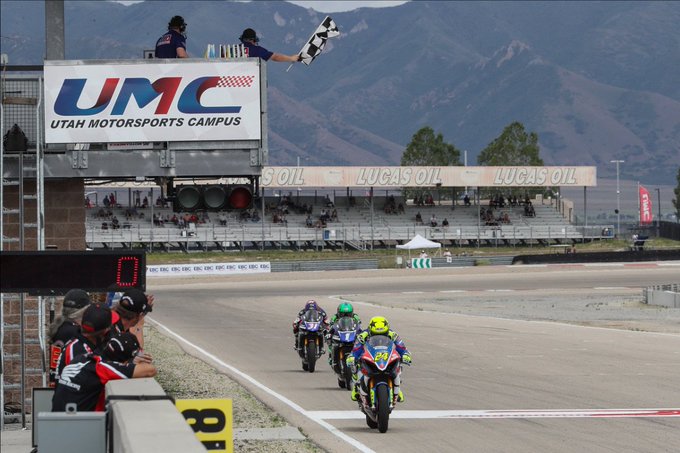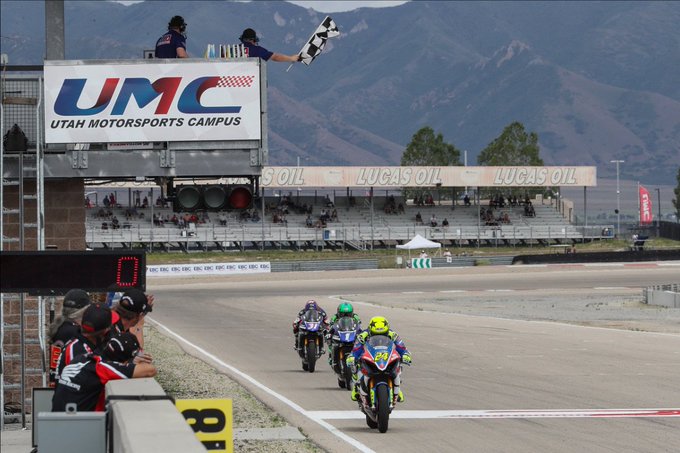 Daniels Wins His First Liqui Moly Junior Cup, Fong Takes Supersport Thriller
Yoshimura Suzuki's Toni Elias knew he was beaten by Monster Energy/Yamalube/Yamaha Factory Racing's Cameron Beaubier in the first half of the EBC Brakes Superbike race in the Championship of Utah at Utah Motorsports Campus and he was just about to do the unheard of – settle for second place. But things changed when the red flag came out on the 13thlap, giving new life to the Spaniard who took full advantage to hold off Beaubier in a thrilling 10-lap sprint race to the finish.
The win gave Elias a clean sweep of the two EBC Brakes Superbike races at UMC, the 2017 MotoAmerica Superbike Champion extending his championship points lead to 26 points on Beaubier, 201-175.
Elias ended up just .303 of a second ahead of Beaubier at the finish with Beaubier's teammate Garrett Gerloff just as close in third – .502 of a second behind Elias after those three scrapped for the entire 10-lap restart.
"Of course, it's been a big help," Elias said of the restart. "I don't want to see that, but unfortunately it happened. When we saw the red flag, I start to be more comfortable like yesterday. Same thing I had to wait 12, 13 laps, 14 laps to start to be there. When I enter in my feeling, in my place, we could start to produce something every lap. I didn't know if I was able to catch him or not because he was so strong. He did an amazing job from yesterday. The flag helped us. Then we played our cards. Then we start the battle with Gerloff and Cam. Was really difficult because in this situation like today anything can happen. Could be good, could be bad, could be the worst case like I had in Road America. But today it works. He (Beaubier) did an amazing job. He gives me a lot of difficulties I never seen. Today is one of the days when I saw him (Beaubier) really strong. There are other times, but today was maybe one of the strongest days. It's really difficult. It's good for the show, but he (Gerloff) was there too. He's there and all three can make a good show today. Luck fell on my side with increasing the gap in the championship. But it is long. Anything can happen. I'm not going to think about the championship because I was leading with 29 and in one race, I lose everything. So, let's be focused, let's work good. This is for myself, for my dad, for my family who is supporting me every day and for my best days and my bad moods also. Thanks to my team."
Beaubier knew he had the race in the bag before the red flag came out, the Californian holding a three-second lead at the time.
"I felt great as soon as the lights went out," Beaubier said. "I just put my head down and pushed there at the beginning. I had a two and a half second gap and I was pretty comfortable at that pace. I was really comfortable. My R1 was just hooking up everywhere. So that was pretty frustrating to see the red flag come out. I knew it was just going to be a dog fight until the end with these two guys, and I knew (Josh) Herrin was back there too. Like I said, it's frustrating coming in second, but that was an amazing battle. Obviously, I wanted to win, but that was one I'll definitely look back on. I'm just happy that we were in contention today and we had good pace. I think we had a little pace on everyone. So, I'm really happy going into the rest of the season, especially after yesterday. I led the majority of the race, but for whatever reason the rear tire that I had yesterday… I felt like I had no grip from the beginning. I was just trying to ride kind of point-and-shoot because I felt like that's what I had. That's what I had on my bike. I was just trying to stop the bike and get it up on the meat of the tire and drive it out, because I had no edge grip. That was pretty frustrating yesterday, to not even finish on the podium. Today we were going in the right direction, and onto Laguna."
Gerloff keeps chipping away in his second season of Superbike racing and he's now running at the front consistently.
"It was good," Gerloff said. "I felt like I had a decent jump and was right there. I took the lead in the first couple laps for just a split second, but it was nice to be right there. Then we all kind of settled into a pace, but then Josh (Herrin) kind of got in there and started trying to dice it up a little bit. I just didn't want to lose that front group, so I had to get by him fast and was able to. Kind of made a mistake in the process and they got away a little bit. I was able to come back within a few laps. I was there. I felt like I had a good shot, but these guys went just a touch faster on the last lap. Where I felt like I was strong compared to them, they stepped it up on that last lap in those areas and I just wasn't able to just put a wheel in there. I gave it everything I had. The Dunlops were working awesome. I just had a little bit less edge grip, I felt like that yesterday, which kind of held back my corner speed compared to Cameron. We're close. We're there, but I just want to be able to put in a wheel on the last lap on these guys. It was nice to just be able to see them, to be right there and smell it."
Herrin held on to finish fourth on the second Yoshimura Suzuki, dropping over nine seconds off the pace after an off-track excursion. He finished a second clear of Attack Performance Estenson Racing's JD Beach, who in turn was just a tick in front of his Kentucky neighbor Jake Lewis on the M4 ECSTAR Suzuki.
Scheibe Racing BMW's Jake Gagne, Uribe Racing Honda's Jason Uribe, Maximum Effort Racing's Mathew Orange and Thrashed Bike Racing's Max Flinders rounded out the top 10.
Supersport – Fong By .003 Of A Second
In the hotly contested Supersport class, Sunday's race was a story of the hunter and the hunted. M4 ECSTAR Suzuki's Bobby Fong got the jump on polesitter and Rickdiculous Racing Yamaha rider Hayden Gillim in the beginning of the 19-lap race, but Gillim managed to get past Fong in fairly short fashion. Fong stalked Gillim until the final turn on the final lap and drafted past him to snatch the victory by .003 of second.
It was Fong's third Supersport race win of the season. Celtic HSBK Racing's PJ Jacobsen finished third when Fong's teammate Sean Dylan Kelly, who looked to have the final spot on the podium clinched, experienced a mechanical issue on the final lap.
When asked about his race strategy, Fong responded, "I knew for sure I did not want to lead. I knew he hasn't seen my cards yet. I did not want to lead. I knew where he was a lot faster than me and I knew where I was strong. I knew for sure that I was going to show him a wheel and stuff, but I definitely didn't want to lead. I could tell that his pace was dropping at the end of the race. We definitely had a little bit more pace, but I just wanted to stick to the game plan. I knew as soon as I passed him, he's such a demon on the brakes. We have been figuring stuff out on the Suzuki to brake a little bit deeper out there. I knew for sure if I would have passed him, he would have countered and taken me on the inside on the hard brakes. The plan, it did definitely change but I was sizing it up at least going out of the corner onto the start/finish line. That's kind of all she wrote. But I'm definitely thankful to put the Suzuki on top of the box. I didn't know how the last lap was going to go. I kind of just winged it on the last lap. If there was nobody, I was going to take it. I knew for sure that if I could get a good drive, I could get him closer to the start/finish line. Thank God it paid off, but it's going to be a long season."
Liqui Moly Junior Cup – Daniels, Finally
Sunday's Liqui Moly Junior Cup race featured the same riders at the front who have been consistent protagonists throughout the season, but Quarterley Racing/On Track Development Kawasaki rider Dallas Daniels, who started from the pole, successfully held off Ninja400R.com/Norton Motorsports/Dr Farr Kawasaki's Rocco Landers and notched his first win of the season. Landers, who was Saturday's winner and the victor in six of the seven races prior to Sunday, finished second after nearly beating Daniels to the finish line. Meanwhile, Altus Motorsports Kawasaki rider Kevin Olmedo matched his Saturday third-place finish with another third-place finish on Sunday.
"The last section was definitely, I think, where I was the best," Daniels said. "I was just kind of watching all race because I knew right from really the first sector, I was really losing time. He would get away from me just enough to where once we'd get to where I was good, I was just too far back to make something happen. So, I kind of dialed in where I was slow. Once I got in the lead, I didn't really care what was going on. I just wanted to stay up there. I led the last four laps and when we got to the last lap, I knew he was right there because on the Jumbotron you could see him going into the left before the last two corners. So, I just tried to cut the best last two corners of the whole race. I was actually having some tire issues, kind of slipping a little bit. I was able to get the win and 'finally' is pretty much the way to put it. It feels really good."
Stock 1000 – Lee Takes Over
Defending Stock 1000 Champion Andrew Lee showed why he has the big number one on his Franklin Armory/Graves Kawasaki as he bided his time after the start of Sunday's race, passed polesitter Geoff May aboard his Ameris Bank Kawasaki and pulled a healthy gap at the front, which he was able to maintain all the way to the finish line. May finished second and Stefano Mesa was third aboard his MESA37 Racing Kawasaki. The win vaulted Lee into the points lead, and Mesa is now two points adrift in second place.
"I kind of knew where (May) was a little bit stronger," Lee said. "He had my number on the last part of the track, so I knew if I was going to make a move that would stick, I had to do it in the first four corners. That first section, it's a pretty hairy section. It's pretty quick. After some qualifying issues I'm just happy that my team got us back together. The Franklin Armory/Graves Kawasaki was really handling really well in the race. So, I'm just happy to be back in that first spot. Hopefully, we can continue the momentum."
Twins Cup – Dumas' First
The MotoAmerica Championship of Utah proved to be a pivotal round for Alex Dumas, who moved up to the Twins Cup class after winning the 2018 Liqui Moly Junior Cup Championship. The Roadracing World Young Guns Suzuki rider not only earned both the provisional and final pole position, but he made the most of his number-one starting position, got a great start of the line, and pulled a gap, which he stretched out to more than 14 seconds by the time he crossed the finish line.
Quarterley Racing Ducati rider Michael Barnes finished second, which enabled him to take over the lead in the championship, and Cooper McDonald notched a breakthrough third-place finish aboard his Team AP MotoArts Yamaha in only his fourth professional motorcycle road race.
"The M4 guys put me on a nice bike," Dumas said. "We've been improving the bike a lot since the last couple of weekends. I had a lot of fun at this race to just be in front. I'm excited for the next race and the rest of the season. I really want to thank everybody from M4 and Roadracing World. I'm really excited."
EBC Brakes Superbike
Toni Elias (Suzuki)
Cameron Beaubier (Yamaha)
Garrett Gerloff (Yamaha)
Josh Herrin (Suzuki)
JD Beach (Yamaha)
Supersport
Bobby Fong (Suzuki)
Hayden Gillim (Yamaha)
PJ Jacobsen (Yamaha)
Bryce Prince (Yamaha)
Sean Dylan Kelly (Suzuki)
Liqui Moly Junior Cup
Dallas Daniels (Kawasaki)
Rocco Landers (Kawasaki)
Kevin Olmedo (Kawasaki)
Marc Edwards (Kawasaki)
Benjamin Goody (Kawasaki)
Stock 1000
Andrew Lee (Kawasaki)
Geoff May (Kawasaki)
Stefano Mesa (Kawasaki)
Travis Wyman (BMW)
Michael Gilbert (Kawasaki)
Twins Cup
Alex Dumas (Suzuki)
Michael Barnes (Ducati)
Cooper McDonald (Yamaha)
Joseph Blasius (Suzuki)
Draik Beauchamp (Yamaha)
For ticket information on the MotoAmerica Series, click HERE
For How To Watch information on the MotoAmerica Series, click HERE