Round 9th of the FIM Motocross World Championship provided unpredictable racing actions combined with electric crowd attendance and incredible weather conditions that was a cherry on the cake of an epic MXGP of Latvia.
The MXGP of Latvia proved a tough round of the MXGP and MX2 championships though. It was Team HRC's Tim Gajser and Red Bull KTM Factory Racing's Jorge Prado who walked away from the white sand of Kegums in Latvia with the Grand Prix victories. The two red plate owners continue to build their GP win list, Gajser scoring his 20thand Prado his 24th GP victory. They also extended their lead in the MXGP and MX2 championship points race indeed.
Second overall in MXGP was Monster Energy Yamaha Factory MXGP's Romain Febvre and third Monster Energy Wilvo Yamaha Official MXGP's Arnaud Tonus. In MX2 second overall was Monster Energy Kemea Yamaha Official MX2's Jago Geert and third Rockstar Energy Husqvarna Factory Racing's Thomas Kjer Olsen.
With a mix of sunshine and overcast skies, a large crowd and the always beautiful Kegums circuit made sure there was more than enough positives to leave the circuit satisfied with the racing and results.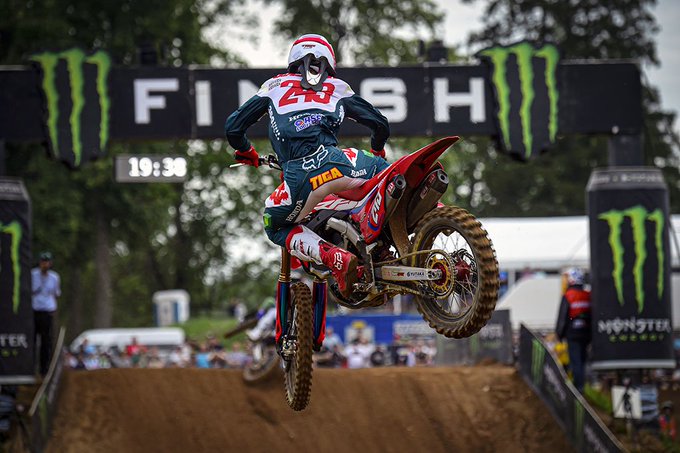 MXGP
Amazingly the winner of the MXGP qualification race on Saturday, Red Bull KTM Factory Racing's Jeffrey Herlings crashed in the warm-up lap and his injured foot was run over by Rockstar Energy Husqvarna Factory's Arminas Jasikonis, causing the Dutchman a lot of pain prior and during the opening MXGP race. It was later learnt that Herlings had broken his ankle, that injury obviously saw him pull out of the second MXGP race.
Red Bull KTM Factory racing's Jeffrey Herlings took the FOX Holeshot in the opening MXGP race but got past straight away from Red Bull KTM Factory Racing's Antonio Cairoli. The pair of Red Bull KTM riders were followed by Monster Energy Wilvo Yamaha Official MXGP's Arnaud Tonus, Monster Energy Yamaha Factory Racing's Romain Febvre and Team HRC's Tim Gajser who got past by Febvre at lap 2.
Tonus moves past both Herlings and Cairoli and Herlings then also went past Cairoli for second and was looking stronger as the race moved into the second half.
Tonus had extended his lead to more than three seconds over Herlings, but then Herlings started closing ground on Tonus for the lead and it was clear the Dutchman wanted to take the win. Cairoli had also pushed harder to get away from Febvre.
It was a brilliant battle the one Tonus and Herlings put on a show for the Latvian crowd, then he swept up the inside of Tonus and then around the outside for the race lead. Herlings won Race 1 from Tonus and Cairoli.
As the gate dropped at the second MXGP Race Monster Energy Yamaha Factory MXGP's Jeremy Seewer led the second MXGP race from Tonus and Gajser, but then the race lost yet another rider with Cairoli crashing out hard and injured his shoulder, he could not continue the race, luckily no major issues are reported for the moment and more details on his injury conditions will be communicated shortly.
Seewer continued to lead with Tonus and Gajser battling for second just behind and close enough to the leader, the three of them think about the race win. Gajser managed to move into second place and started to push Seewer and look for a way into the lead. It seemed just a matter of time before the HRC rider would take the lead and on lap 12 he did just that. Seewer though was not about to hand the race win to the red plate owner.
Febvre moved past Tonus and the chance for a GP victory for the time being was gone for the Swiss rider. Gajser, Seewer and Febvre were all close together in the final lap of the race, Febvre blasted past Seewer for second, but it was Gajser who won the race and the overall followed by Febvre and Tonus, all of them with 40 points
Local hero Rockstar Energy Husqvarna Factory Racing's Pauls Jonass experienced a though Latvian GP as did his teammate Arminas Jasikonis. Jonass fell down in race 1 dropping to 28th but managing to finish 17th while Jasikonis was forced to finish the race earlier due to a technical issue.
Tim Gajser: "I am so happy about today. First race I was struggling, but the second one I found a good rhythm and I had a good battle with Jeremy. I am so happy for the team. Yesterday I had good speed but at the qualification race I had a big crash and I was a little sore today with some pain in my neck, but I got enough for sixth in the first race. Second race I tried to ride my race and I didn't know I had won the overall. This is everything we work for and I am happy for the team."
Romain Febvre: "Today was okay, much better than yesterday. I made some mistakes with bike set-up yesterday. We changed it a lot for today and I felt better. My start was not there, and I struggled a bit. I could have finished fourth but I got really bad arm pump. Tony was in front of me and I couldn't catch him. The second race I had a good first lap and kept my moment. Middle of the race I struggled in the wave but I could catch the guys in front. Maybe I needed two or three extra laps to catch Tim. I thought I won the overall, but I am happy even if a bit disappointed. It isn't so long after I came back from my injury, so I feel satisfied."
Arnaud Tonus: "I had a good feeling, at the beginning I got passed by Jeffrey and I followed him, then I found some good lines and it was great to lead. I had a good lead, but Jeffrey passed me, and he got the win. I will take every race to learn and just get better. I have to be happy. Sure, a bit frustrated, coming so close to the win, I will keep working and it is great to be on the podium, I enjoy this a lot. The way I was riding today, it's maybe the best I have ridden in these types of conditions. It's been years that I am trying to work on myself to compete at this level and if you look at the last few GPs, I am super happy. My mechanic told me if I could pass Romain, I could win the GP, but the track was sketchy, and I tried to keep it on two wheels.
MXGP Race 1 Top Ten:1. Jeffrey Herlings (NED, KTM), 34:02.925; 2. Arnaud Tonus (SUI, Yamaha), +0:01.599; 3. Antonio Cairoli (ITA, KTM), +0:12.059; 4. Romain Febvre (FRA, Yamaha), +0:14.205; 5. Jeremy Seewer (SUI, Yamaha), +0:15.980; 6. Tim Gajser (SLO, Honda), +0:17.943; 7. Jeremy Van Horebeek (BEL, Honda), +0:24.661; 8. Gautier Paulin (FRA, Yamaha), +0:26.842; 9. Max Anstie (GBR, KTM), +0:27.942; 10. Ivo Monticelli (ITA, KTM), +0:34.864.
MXGP Race 2 Top Ten:1. Tim Gajser (SLO, Honda), 35:56.037; 2. Romain Febvre (FRA, Yamaha), +0:02.189; 3. Jeremy Seewer (SUI, Yamaha), +0:02.738; 4. Arnaud Tonus (SUI, Yamaha), +0:15.871; 5. Jeremy Van Horebeek (BEL, Honda), +0:22.078; 6. Pauls Jonass (LAT, Husqvarna), +0:26.723; 7. Arminas Jasikonis (LTU, Husqvarna), +0:30.127; 8. Glenn Coldenhoff (NED, KTM), +0:32.947; 9. Julien Lieber (BEL, Kawasaki), +0:39.120; 10. Ivo Monticelli (ITA, KTM), +0:46.611.
MXGP Overall Classification Top 10: 1. Tim Gajser (SLO, HON), 40 points; 2. Romain Febvre (FRA, YAM), 40 p.; 3. Arnaud Tonus (SUI, YAM), 40 p.; 4. Jeremy Seewer (SUI, YAM), 36 p.; 5. Jeremy Van Horebeek (BEL, HON), 30 p.; 6. Jeffrey Herlings (NED, KTM), 25 p.; 7. Gautier Paulin (FRA, YAM), 23 p.; 8. Glenn Coldenhoff (NED, KTM), 22 p.; 9. Ivo Monticelli (ITA, KTM), 22 p.; 10. Max Anstie (GBR, KTM), 20 p.
MXGP – World Championship Classification Top 10:1. Tim Gajser (SLO, HON), 391 points; 2. Antonio Cairoli (ITA, KTM), 358 p.; 3. Jeremy Seewer (SUI, YAM), 256 p.; 4. Gautier Paulin (FRA, YAM), 254 p.; 5. Arnaud Tonus (SUI, YAM), 246 p.; 6. Arminas Jasikonis (LTU, HUS), 226 p.; 7. Clement Desalle (BEL, KAW), 208 p.; 8. Jeremy Van Horebeek (BEL, HON), 200 p.; 9. Glenn Coldenhoff (NED, KTM), 190 p.; 10. Pauls Jonass (LAT, HUS), 186 p.
MXGP – Manufacturers Classification: 1. Honda, 400 points; 2. KTM, 395 p.; 3. Yamaha, 356 p.; 4. Kawasaki, 281 p.; 5. Husqvarna, 265 p.;
MX2
In the opening MX2 race of the day it was pole setter Red Bull KTM Factory Racing's Jorge Prado who led from Rockstar Energy Husqvarna Factory Racing's Thomas Kjer Olsen and Monster Energy Kemea Yamaha Official MX2's Ben Watson.
Monster Energy Kemea Yamaha Official MX2's Jago Geerts who was looking for a way to past his teammate did it for third place and after five laps the lead was three seconds between Prado and Olsen, and
Prado held a four second lead on lap seven, and Honda 114 Motorsports' Mitch Evans moved past Rockstar Energy Husqvarna Factory Racing's Jed Beaton for ninth spot on the same lap. Soon after Hitachi KTM fuelled by Milwaukee's Bas Vaessen also went past Beaton, but Beaton wasn't about to give up and passed the Dutchman back. Eventually Vaessen did pass for 10th.
Geerts was all over Olsen on lap 12 and looked for a way into second place, but Prado was long gone, nearly eight seconds ahead of the two fighting for second.
On the 17thlap Prado was five seconds ahead of Geerts, who had passed Olsen, then Watson and Maxime Renaux filled out the top five. While Vaessen made charge when he passed Evans, Tom Vialle and Michele Cervellin to move into sixth position Prado won his 14th MX2 heat in 2019.
Prado crossed the white line of Race 2 for first taking the second FOX Holeshot of the day with Olsen and Vialle in second and third. Well back in the pack were Evans in 19th place, F&H Kawasaki's Henry Jacobi 26th and BIKE IT Yamaha rider Darian Sanayei in 28th.
Great riding by Mitchell Harrison from BUD Racing Kawasaki as he moved into 12th place, but not so good from Evans as he crashed and dropped out of the top 20. After five laps Prado held a five second lead from Olsen, with Vialle third.
A massive lead after 11 laps and Prado was as smooth as silk in first place, while Olsen fought hard to keep Geerts off his back wheel, the Belgian looking quicker.
Geerts passed Olsen with two laps to go and Vaessen again moved up to seventh place. Prado eventually won from Geerts and Olsen.
Jorge Prado: "It is my first time to win here, I was fourth two times here. I won the qualification race and two races today, so that makes me happy. Another great weekend going 1-1 and making the gap bigger in the points. I felt comfortable and I want to thank the team, my family and my girlfriend. It is making me stay in the top level like I am doing now."
Jago Geerts: "Pretty good start, but the first three corners I messed up a little, I tried everything I could do to pass Thomas and I am really happy with the weekend."
Thomas Kjer Olsen: "I am finally getting good starts and being up there I learn a lot. The speed is high from the beginning and it is a bummer I couldn't stay there, but I gave my all and I want to thank everyone behind me."
MX2 Race 1 Top Ten:1. Jorge Prado (ESP, KTM), 34:06.293; 2. Jago Geerts (BEL, Yamaha), +0:04.953; 3. Thomas Kjer Olsen (DEN, Husqvarna), +0:09.229; 4. Ben Watson (GBR, Yamaha), +0:28.798; 5. Maxime Renaux (FRA, Yamaha), +1:01.552; 6. Bas Vaessen (NED, KTM), +1:02.074; 7. Tom Vialle (FRA, KTM), +1:05.903; 8. Michele Cervellin (ITA, Yamaha), +1:09.602; 9. Mitchell Evans (AUS, Honda), +1:11.443; 10. Jed Beaton (AUS, Husqvarna), +1:12.339;
MX2 Race 2 Top Ten:1. Jorge Prado (ESP, KTM), 35:45.289; 2. Jago Geerts (BEL, Yamaha), +0:16.407; 3. Thomas Kjer Olsen (DEN, Husqvarna), +0:17.948; 4. Ben Watson (GBR, Yamaha), +0:34.377; 5. Adam Sterry (GBR, Kawasaki), +0:51.633; 6. Henry Jacobi (GER, Kawasaki), +0:55.760; 7. Bas Vaessen (NED, KTM), +1:00.908; 8. Maxime Renaux (FRA, Yamaha), +1:03.748; 9. Tom Vialle (FRA, KTM), +1:04.762; 10. Michele Cervellin (ITA, Yamaha), +1:06.145;
MX2 Overall Top Ten:1. Jorge Prado (ESP, KTM), 50 points; 2. Jago Geerts (BEL, YAM), 44 p.; 3. Thomas Kjer Olsen (DEN, HUS), 40 p.; 4. Ben Watson (GBR, YAM), 36 p.; 5. Bas Vaessen (NED, KTM), 29 p.; 6. Maxime Renaux (FRA, YAM), 29 p.; 7. Tom Vialle (FRA, KTM), 26 p.; 8. Michele Cervellin (ITA, YAM), 24 p.; 9. Adam Sterry (GBR, KAW), 22 p.; 10. Jed Beaton (AUS, HUS), 19 p.;
MX2 Championship Top Ten:1. Jorge Prado (ESP, KTM), 397 points; 2. Thomas Kjer Olsen (DEN, HUS), 367 p.; 3. Jago Geerts (BEL, YAM), 301 p.; 4. Henry Jacobi (GER, KAW), 251 p.; 5. Ben Watson (GBR, YAM), 246 p.; 6. Tom Vialle (FRA, KTM), 242 p.; 7. Mitchell Evans (AUS, HON), 226 p.; 8. Adam Sterry (GBR, KAW), 191 p.; 9. Davy Pootjes (NED, HUS), 157 p.; 10. Michele Cervellin (ITA, YAM), 156 p.;
MX2 – Manufacturers Classification :1. KTM, 435 points; 2. Husqvarna, 372 p.; 3. Yamaha, 346 p.; 4. Honda, 285 p.; 5. Kawasaki, 283 p.;