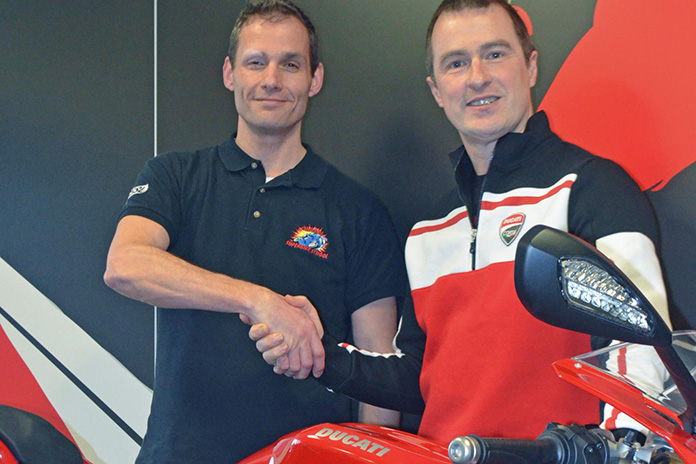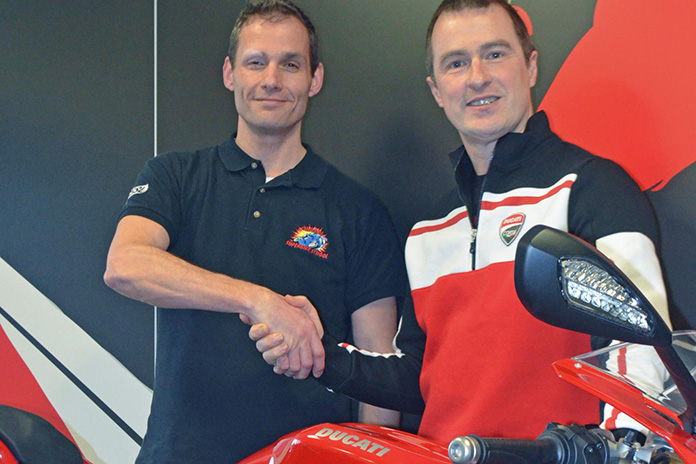 Ducati UK has come to an agreement to supply the UK branch of the California Superbike School with Ducati Motorcycles. The two companies have long been associated with each other through Superbike School Limited (SSL) the event division of California Superbike School. SSL has over a number of years been responsible for operating the Ducati UK Roadshow throughout the UK as well as a number of successful track events.
The Silverstone circuit neighbours will begin their partnership immediately and Ducati UK will supply the school with the flagship 1199 Panigale, the new and highly acclaimed 899 Panigale and the soon to be launched Monster 1200. The bikes will be available to hire for students preferring not to use their own bikes and wishing to experience a Ducati on track and will also be used by the school instructors.
The first opportunity for students to experience a Ducati on a California Superbike School day will be 27 April at the Stowe Circuit, Silverstone. The agreement is for the UK specifically and there will be a total of 15 California Superbike School dates in the UK this year to choose from.
"We have worked with Superbike School Limited for a number of years and I have always been impressed with their professionalism and passion for what they do. Ducati considers rider training to be very important and in the UK we have supported the road based Bike Safe programme for some time and so it is a natural progression to support one of the leading exponents of track based advanced training. I am sure using a Ducati on the school will prove very popular amongst students and will expose many people to the thrill of riding a Ducati. We are certainly looking forward to this new venture."
Tim Maccabee, Managing Director, Ducati UK
"I am very excited to have the opportunity to work with Ducati on the California Superbike School. I have been involved with Ducati for over 3 years with their Roadshows and I have become a big fan of the brand. Their range is one of the most technologically advanced on the market and the traction control and riding modes add an important element of safety to the school. Welcoming a premium brand such as Ducati to the California Superbike School can only encourage more people to join us in honing their skills."
Richard (Badger) Brown, Executive Director and Rider Coach, California Superbike School
For information on the California Superbike School or to book online visit www.superbikeschool.co.uk/ and to view the Ducati model range visit www.ducatiuk.com
California Superbike School – Superbike School Limited
Founded by the legendary Keith Code in 1980, the California Superbike School offers a step-by-step method of technique oriented rider training in the art of cornering motorcycles. The California Superbike School operates in the USA, Australia and the UK. The UK branch was founded in 1999 and has since gone on to teach many thousands of pupils including regional, national and World Champions.
Ducati UK Limited – Ducati Motor Holding S.p.A – An Audi Group Company
Ducati UK Limited is a fully owned subsidiary of Ducati Motor Holding. Founded in 1926, Ducati has been producing sport-inspired motorcycles since 1946. Their motorcycles are characterised by "Desmodromic" performance engines, innovative design and avant-garde technology. Covering several market segments, Ducati's range of motorcycles are divided into model families which include: Diavel, Hypermotard, Monster, Multistrada, Streetfighter and Superbike.
These authentic icons of "made in Italy" are sold in over 80 countries around the world, with concentration on the European, North-American and Asia Pacific markets. Ducati competes in both the World Superbike Championship and, with an official team, the World MotoGP Championship. In Superbike Ducati has won 17 Manufacturers' titles and 14 Riders' titles and in 2011 passed the historic milestone of 300 race victories. Ducati have participated in MotoGP since 2003, and took both the Manufacturers' and Riders' titles in 2007.