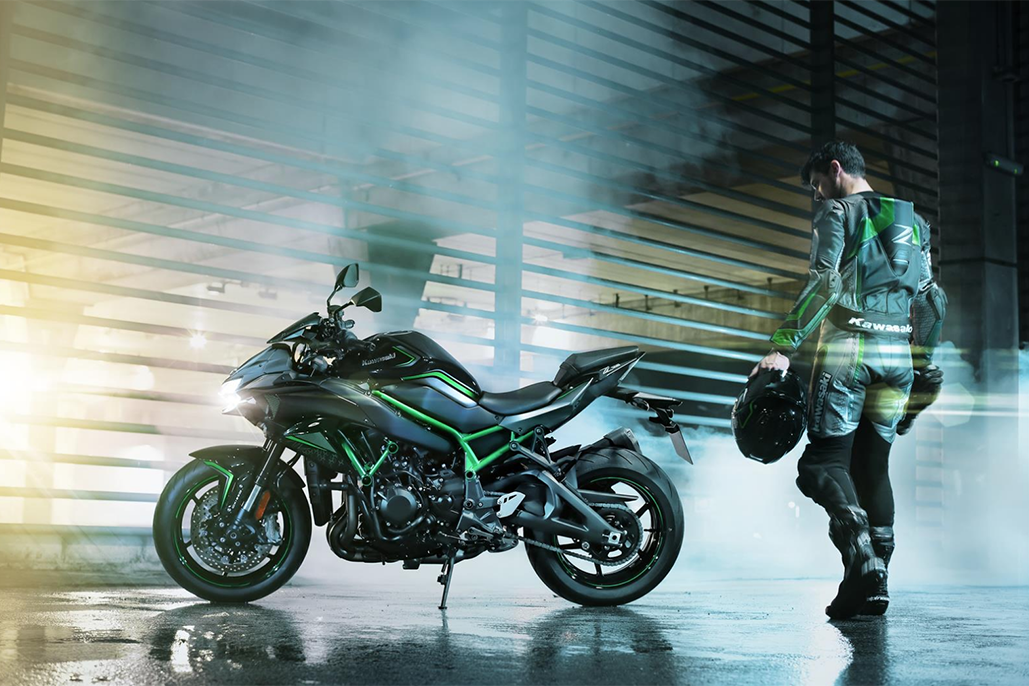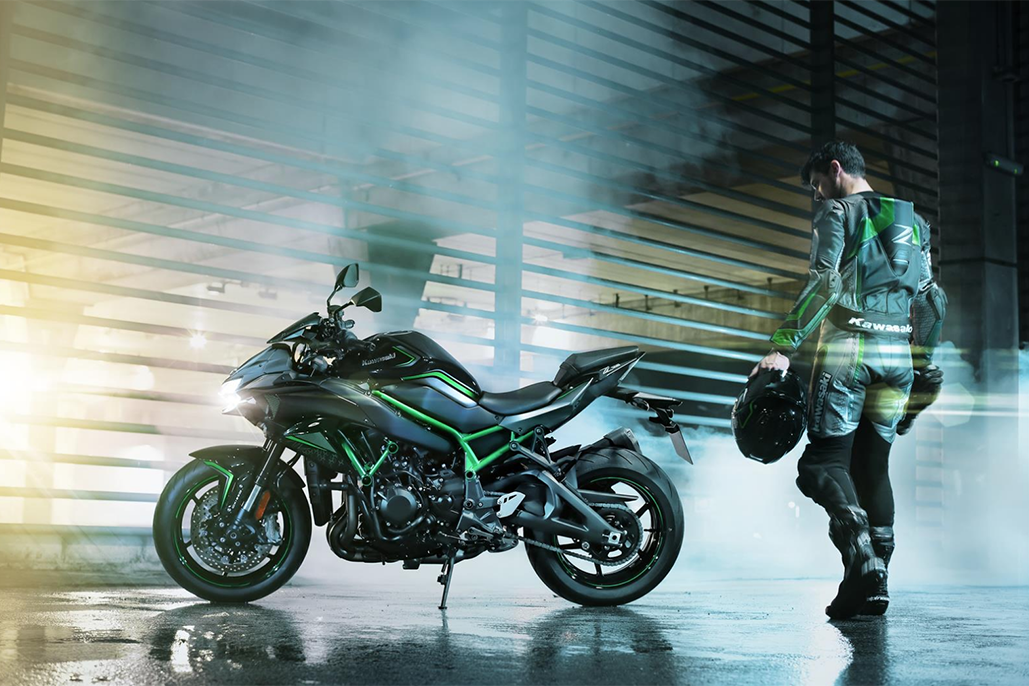 Year upon year, Kawasaki Motors UK have attended Motorcycle Live with something new to grab the undivided attention of visitors. This year will be no different with a new show stopping stand design that will highlight the latest Kawasaki motorcycle range for 2020, including the all-new supercharged Kawasaki Z H2.
Taking inspiration from the Kawasaki Motors Europe stand that graces the likes of international motorcycle shows such as EICMA and INTERMOT, the all-new Kawasaki Motors UK stand will be a marvel to witness in itself! Delve into the futuristic Kawasaki arena where cutting edge motorcycle technology and raw off-road machines will be the focal point throughout the show.
*** New Models Unveiled ***
Kawasaki has unveiled new and updated metal at the 2019 EICMA show! We are glad to confirm that we will be using Motorcycle Live as a platform to showcase these models for the first time to the UK public! New and updated models include:
Z H2
Ninja 1000SX
Z900
Z650
Ninja 650
W800
Regular crowd favourites will be available at the Kawasaki stand including interviews and signing sessions with the stars. This year Jonathan Rea claimed his 5th consecutive World Superbike Championship title with his Ninja ZX-10RR, elevating the record breaker to legendary status in the world of motorcycle racing. Danny Buchan has been announced as the No. 1 rider for the official FS3 Racing Kawasaki team in the British Superbike Championship next year and Kawasaki are pleased to have him at the stand for meet and greet sessions alongside other Kawasaki motorcycle racers.
Both road and off-road racing motorcycles will take pride of place in a dedicated area during the show. Visitors will be able to get up close and personal with the likes of Jonathan Rea's championship winning Ninja ZX-10RR, Dean Harrison's IOMTT Superbike winning Ninja ZX-10RR, James Hillier's Superstock winning North West 200 Ninja ZX-10RR and the British Superbike podium finishing Gearlink Kawasaki Ninja ZX-6R!
Speaking of racing, on day 1 of the show Kawasaki will be making a big announcement about the UK Team Green racing programme and structure in 2020 and beyond. Don't miss out!
A new addition to the Kawasaki stand this year will be The Ultimate Z Test Ride competition video booth. Kawasaki Motors UK are giving two lucky customers the chance to win a trip to Las Vegas to try out the all-new supercharged Kawasaki Z H2 at the Las Vegas Speedway! Competition entrants are being asked to post a video of themselves online, telling us why they should be chosen to win this prize. The Ultimate Z Test Ride video booth at the Kawasaki stand will be the perfect place to record your video! For more details and to enter the competition, simply follow the instructions at kawasakinewmodel.co.uk.
New to motorcycling? A dedicated team member from our Kawasaki Rider Training Services (KRTS), will be on hand to provide guidance and answer all of your questions about learning to ride.
Club Kawasaki members will be welcomed into our dedicated seating area with free refreshments for you and your guests where you can rest your legs after all the time spent admiring the merchandise in the Kawasaki shop, and making the most of your 10% club member discount. From here, you will have the best views of the Kawasaki stage and you might just get the chance to meet the Kawasaki celebrities as well.
Kawasaki Motors UK cannot wait to open the doors at 2019 Motorcycle Live to share all of these attractions and more with you!
(Note – stand features subject to change).
*** RIDER INTERVIEWS AND ANNOUNCEMENTS (at the stage located within the Kawasaki stand)***
Saturday 16th / Sunday 17th – 11am
SPECIAL TEAM GREEN ANNOUNCEMENT
Saturday 16th – 12.30pm / Sunday 17th – 1.30pm
James Hillier – Quattro Plant Kawasaki – Road Racing
Saturday 16th / Sunday 17th – 11am
Ricky Stevens & Ryan Charlwood / Ben Holland & Jed Pilmoor-Brady – Savage Spanner Racing – Sidecars – BSB
Kade Verwey / Luke Verwey / Eugene McManus / Owen Jenner / Ash Barnes / James McManus – Affinity Sports Academy – Jnr stock and Jnr Supersport – BSB
Ben Currie / James Westmoreland – Gearlink Kawasaki – Supersport – BSB
Chrissy Rouse / Tom Ward – Superstock 1000 – BSB
Saturday 16th / Sunday 17th / Saturday 23rd – 11am
Danny Buchan / Lee Jackson – FS-3 Racing – BSB
Saturday 23rd – 12.15pm
Jonathan Rea / Alex Lowes – Kawasaki Racing Team – WorldSBK
Saturday 23rd – 11.30am / Sunday 24th – 2.15pm
Dean Harrison – Silicone Engineering Kawasaki – UK Road Racing
*** WE WILL BE UPDATING THIS WEB PAGE WITH BREAKING NEWS ***
So stay tuned and visit this page again for more info about what will be happening at our stand as it arises.