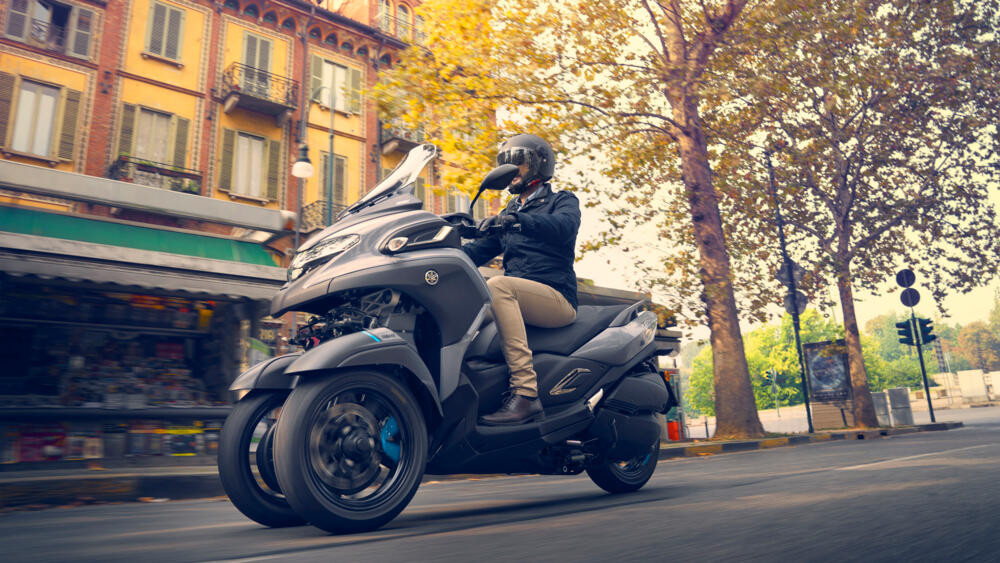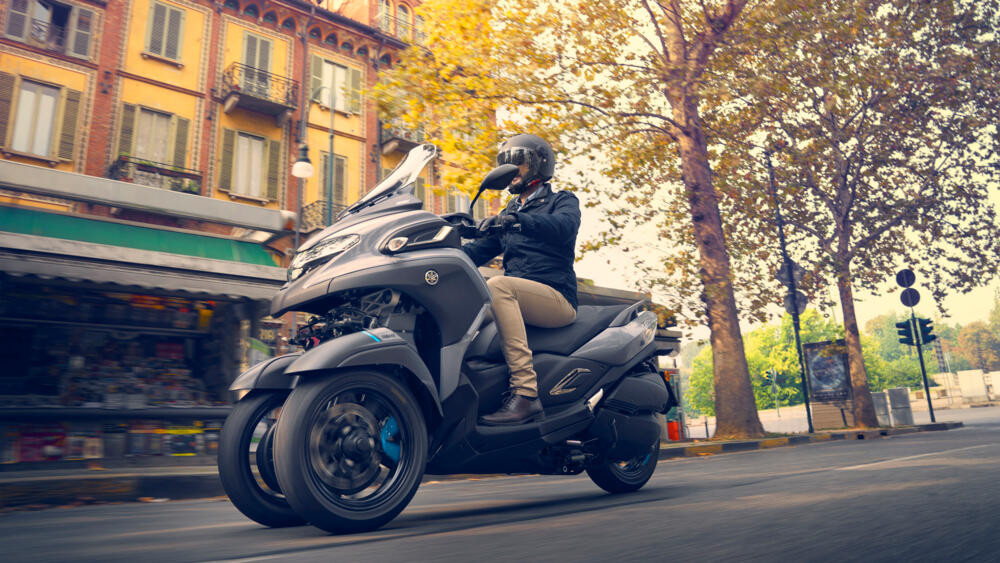 Urban Mobility the smartest choice
Yamaha is one of the leading brands in the world of Urban Mobility, with a range of lightweight models aimed at a broad spectrum of customers. Introduced in 2014, the Tricity 125 was Yamaha's first Leaning Multi-Wheel (LMW) vehicle, and during the past 4 years it has become established as an important member of the company's Urban Mobility line, with over 15,000 sold in Europe.
Yamaha is taking the Urban Mobility segment to the next level with the all new Tricity 300 – a smart and modern 3-wheel model designed to attract many new customers who are looking for a premium urban commuter with its own distinctive style. Applying the in-depth Leaning Multi Wheel (LMW) knowledge gained from the development and production of the Tricity 125 and NIKEN, Yamaha's designers have created a fashionable and dynamic 3-wheel scooter that is ready to make a great impression in 2020 with its best-in-class specification, competitive price and unrivalled quality.
Easy to ride and accessible to 'B' licence car drivers*
With worsening traffic congestion, high transport costs, expensive parking and the introduction of additional driving charges in many cities, commuting by car is becoming less attractive by the day. Going into the city in a private vehicle is no longer a realistic option for most people – and on top of the high costs, commuting by car also wastes a lot of precious time.
With the new Tricity 300, Yamaha offers customers with a full 'B' car licence* the opportunity to discover real freedom, reduce their stress levels and benefit from a healthier work/life balance. The barriers that once restricted entry to Yamaha's Urban Mobility world have been taken down forever. Urban Mobility has come of age.
* Limitations and restrictions may apply per country under applicable local laws.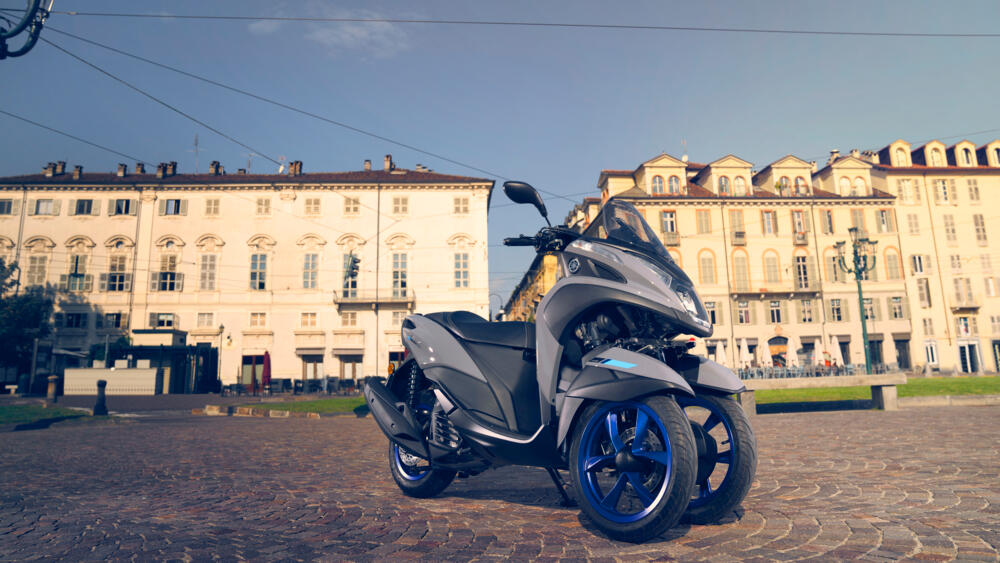 Leaning Multi Wheel (LMW) technology for enhanced feelings of stability
Not all 3-wheelers are the same, and the new Tricity 300 is equipped with one of the industry's most sophisticated front-end designs. The Yamaha-exclusive Leaning Multi Wheel (LMW) technology featured on the new Tricity 300 has been proven on the Tricity 125 and then on the remarkable NIKEN Sport Tourer motorcycle, and is now adapted to meet the requirements of the Urban Mobility segment.
This highly advanced LMW Ackerman suspension/steering system features a parallelogram link and cantilevered front suspension with the dual fork tubes mounted on the inner face of the front wheels. This layout gives sporty, agile and confident handling together with enhanced feelings of stability when riding on slippery or uneven surfaces.
The advanced LMW steering mechanism also contributes towards the machine's easy and user friendly character by giving a full 72º of steering angle, making the Tricity 300 extremely manoeuvrable in congested streets – and with a full 130mm of ground clearance, this versatile machine is built to handle uneven surfaces and avoid being grounded out when being pushed over curbs while parking.
Having two front wheels means that the rider benefits from additional front-end traction and plenty of braking power from two front discs, and this reinforces the feelings of security, stability and confidence associated with the 3-wheel layout.
The wide 470mm track adds to the balanced and planted character when steering and cornering, making this new urban mobility model ideally suited to new riders – and the Tricity 300's lightweight handling will also appeal to those customers coming over to 3-wheels from a 2-wheeled scooter.
Front end confidence and lightweight agility
This all-new high specification 3-wheel vehicle is designed to attract a new generation of riders, many of whom will have little or no experience on 2 or 3 wheels. To cater for these new customers Yamaha's designers have concentrated on creating a lightweight chassis that inspires confidence and also offers exceptional agility.
In order to achieve easy manoeuvrability together with natural steering and excellent stability, the Tricity 300 features a 1,590mm wheelbase combined with optimised steering geometry and a 470mm track. These dimensions – combined with a front-rear weight distribution of around 50:50 with a rider on board – ensure an idealised chassis balance that contributes towards the Tricity 300's user-friendly handling properties and lightweight feeling.
The newly designed frame is constructed with small-diameter tubing that offers a good balance of strength and rigidity – while plates are used around the head pipe area to give a precise and confident feel when steering and cornering. In order to reduce any feelings of vibration to a minimum, the engine is mounted to the new lightweight frame using a linked type system, giving a smooth and comfortable ride.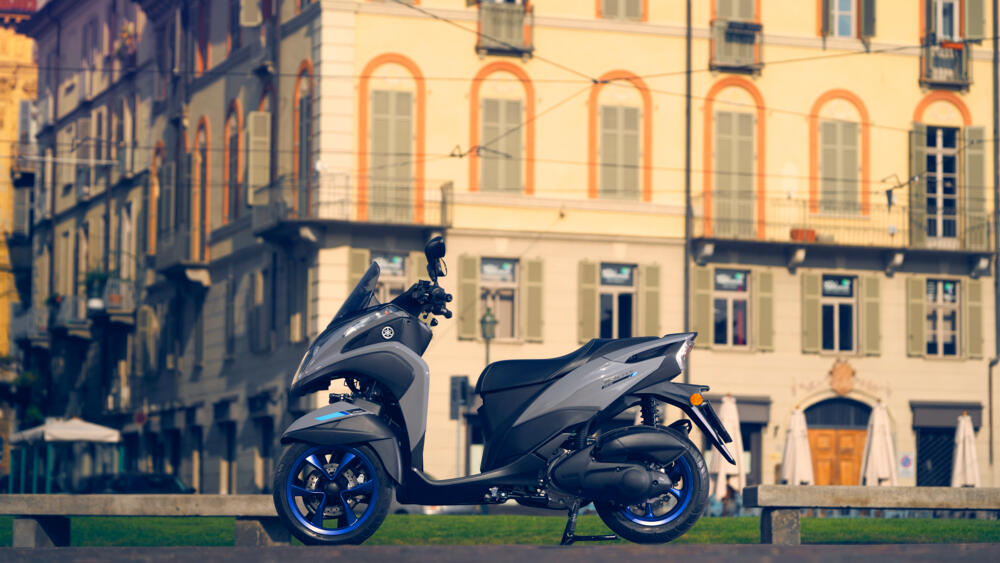 Active, smart and modern styling
Yamaha has developed the new Tricity 300 as a premium urban mobility vehicle that not only delivers an unrivalled riding experience, but also offers best-in-class specifications together with the most active, smart and modern styling.
The dynamic appearance represents the further evolution of Tricity design to the next level, and also incorporates styling cues from Yamaha's best-selling MAX Sport Scooters – as well as a touch of DNA from the NIKEN, Yamaha's prestigious 3-wheel Sport Tourer motorcycle.
One of the most significant stylistic features on this state-of-art urban mobility vehicle is its compact and aerodynamic front cowl that is slimmer and higher than other designs in the category. With no overhang, the Tricity 300's short and relatively narrow nose leaves an open space between the twin front wheels to emphasise the agile, light and sporty character of this model.
Viewed from the front, the finely chiselled features of the layered fairing project a cool and composed expression – and the colour co-ordinated front fenders hug the large diameter front wheels and wide 120-section tyres to convey a feeling of front-end stability and traction.
Specially developed 14-inch tyres
Unlike many other 3-wheelers in the 300cc+ class which feature smaller front wheels, the Tricity 300 is equipped with matching 14-inch wheels at both the front and rear, and this balanced layout conveys a planted and confident look that is in keeping with the machine's rider-friendly character.
New 14-inch tyres have been jointly developed with Bridgestone, and while they share the same tread pattern as the Battlax scooter tyre, they feature an optimised balance of stiffness together with a new compound that have been designed to meet the specific requirements of the Tricity 300.
These lightweight larger diameter wheels and specially developed wide-section tyres offer a number of advantages, including high levels of traction, durability and wet weather performance, together with a smooth ride and confident roadholding.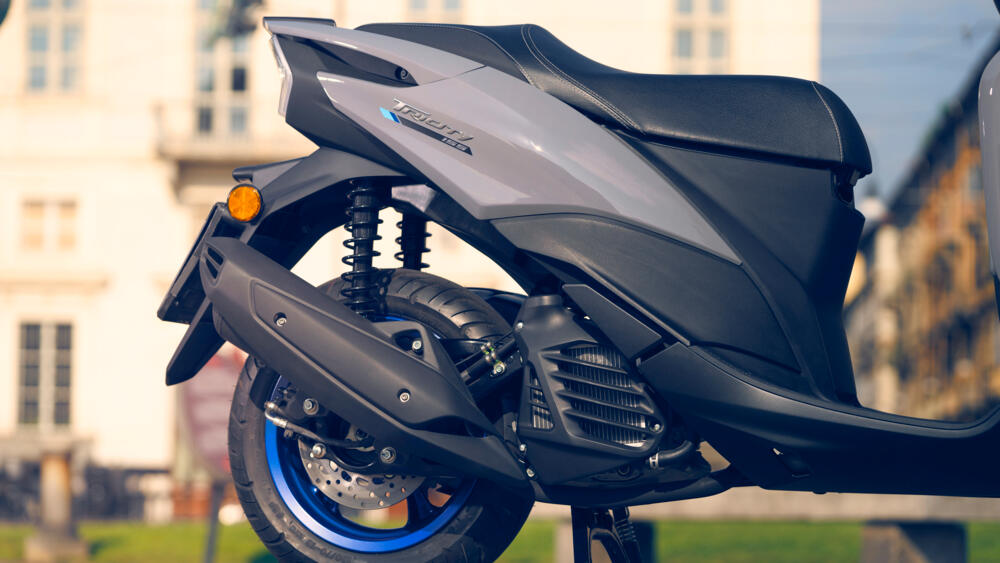 Smooth and balanced braking
Every feature on the Tricity 300 has been developed with the new and inexperienced rider in mind, including the best-in-class braking system. The adoption of 14-inch wheels at both the front and rear has enabled the use of large diameter 267mm discs on all three wheels, giving greater braking controllability on a wide variety of road surfaces.
A typical commuter riding into any European city can encounter everything from tram lines and cobbles through to poorly maintained roads and diesel spills, but with its stable 3-wheel configuration and high-specification brakes, the Tricity 300 provides the rider with added feelings of stability and confidence.
As well as being equipped with ABS to prevent accidental wheel lock ups on loose or slippery surfaces, the Tricity 300 also features Yamaha's Unified Braking System that provides a balanced braking force to all three wheels to give enhanced control.
When the rider applies only the rear brake – either through the left handlebar lever or via the footbrake – the input passes through an equalizer that applies the braking force to the front and rear wheels. When both the front and rear brakes are applied at the same time the braking force applied to the front wheels is a combination of input from both levers; and when the front brake lever is applied on its own, only the front brakes are activated.
By equalizing braking forces to all three brakes and preventing too much force being applied to the rear brake alone, the Unified Braking System ensures that Tricity 300 owners can enjoy a smooth and gentle ride.
Standing Assist system for extra convenience
A key feature on the new Tricity 300 is its Standing Assist system that provides extra convenience by helping the machine to remain upright when stopped.
This system features a caliper and brake disc that are mounted onto the LMW mechanism's upper parallelogram arm. When the Standing Assist system is activated, the caliper's compact electric actuator pushes the pads onto the disc and locks the parallelogram linkage in place.
As soon as the Tricity 300 throttle is opened the Standing Assist system disengages automatically, enabling the rider to pull away smoothly and effortlessly.
The Tricity 300's Standing Assist system is completely separated from the suspension functions, making it easier and more comfortable when pushing the Tricity 300 forwards or backwards when parking. By helping to keep the Tricity 300 temporarily in an upright position, the Standing Assist system also makes it easier when placing the vehicle on its main stand.
Powerful, smooth and economical BLUE CORE engine
The new Tricity 300 is driven by Yamaha's latest BLUE CORE engine – one of the most sophisticated designs in the category that offers an ideal balance of performance, economy and versatility. The liquid-cooled 4-stroke SOHC 300cc 4-valve single-cylinder engine is based on the advanced design used by the best-selling XMAX 300 Sport Scooter and incorporates a number of key features to suit the unique requirements of the new Tricity 300.
To achieve a high level of combustion efficiency the shape of the combustion chamber and intake port is optimized and the lightweight DiASil offset cylinder is equipped with a durable forged piston.
For strong acceleration together with good fuel efficiency and eco-friendliness, the Tricity 300 runs with revised fuel injector mapping settings, and the 12-hole injector features an optimized spray angle that increases combustion efficiency for strong low to mid-range torque.
Horsepower losses are reduced by the use of a semi-dry sump lubrication system – a design also that's also used on Yamaha's MotoGP bikes – and the Tricity 300 is equipped with a one-piece forged crankshaft that is both lighter and more compact than conventional designs. Other notable features on this sophisticated new model include a bypass-type thermostat for the cooling system that contributes to faster engine warm-ups and greater fuel efficiency.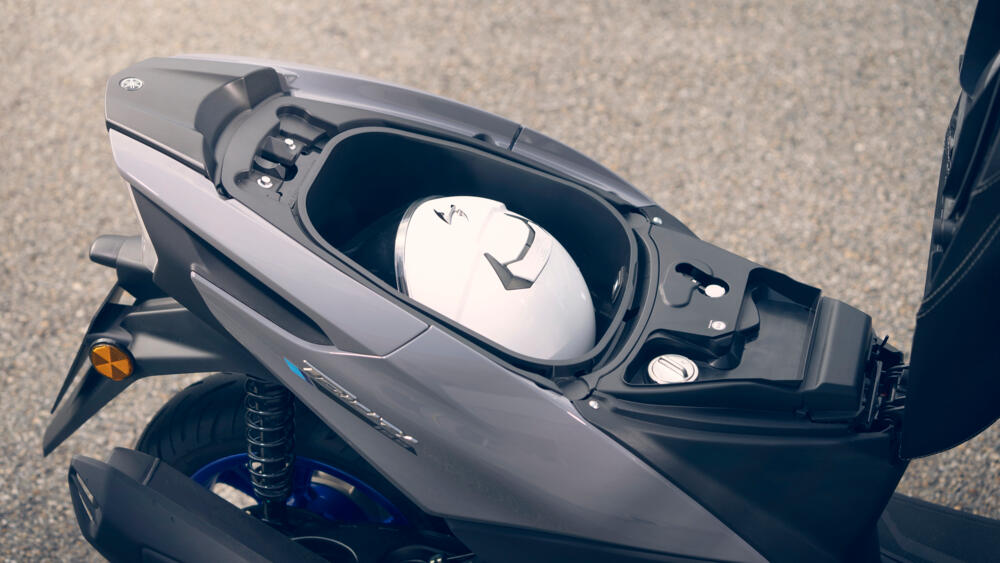 Practical and functional
As well as being one of the most dynamic looking models in the 3-wheel category, the new Tricity is also one of the most practical. There's a large storage space under the seat that can accommodate two full-face helmets or one full-face helmet and an A4-sized briefcase, and the compartment is fitted with internal LED lighting.
A parking brake secures the machine when not being ridden, while the fuel tank and seat locks can be easily released with the push of a button – and there's also a DC outlet in the front panel for charging and powering various devices.
Convenient Smart Key operation
Using the new Tricity 300 is more convenient than ever thanks to its Smart Key system. As long as the rider has the Smart Key with them, they can carry out all of the main operations via the main switch. This includes turning the power on or off, starting and stopping the engine, and releasing the locks for the handlebars, seat and fuel tank lid.
Traction Control System
Along with the added feelings of confidence and stability associated with the 3-wheel layout and the enhanced control offered by the ABS and Unified Braking system, the Traction Control System (TCS) adds another layer of control to the Tricity 300.
Easy to read LCD instruments
The Tricity 300's LCD instruments are designed to provide all the relevant information in a clear and easy to understand display. There's a large digital speedometer as well as a bar-type tachometer, clock, odometer, tripmeter and more – and ln the outer edges of the panel the rider can see the indicator lights showing ABS, Standing Assist system status, TCS and ambient air temperature – with a warning light coming on at 3ºC and lower.
Tricity 300 Key Features
Dynamic new 3-wheel Urban Mobility model
3-wheel design gives enhanced feelings of stability
Friendly and easy to ride for first-time customers
Accessible to full 'B' car licence holders*
Yamaha-exclusive Leaning Multi-Wheel (LMW) technology
Modern, smart and active style with premium quality
Standing Assist system for increased convenience
Economical, powerful and quiet-running 300cc BLUE CORE engine
Maximum comfort, control and convenience in the city
Lowest weight in class for lightweight agility and easy parking
Storage for 2 full-face helmets – or 1 full-face helmet and an A4 briefcase
LED lights and large LCD instruments
Convenient Smart Key operation
TCS, ABS and Unified Brake System
Parking brake
Body designed to accommodate apron and handlebar covers
* Limitations and restrictions may apply per country under applicable local laws.
Price and Availability
Please contact your national Yamaha press officer for more specific information and the local retail price.
Colours
The Tricity 300 will be available in a choice of three colours.
Tech Kamo
Icon Grey
Gunmetal Grey
2020 Yamaha Urban Mobility Model Overview
Tricity 125/155 Key Features
Light, compact and easy to handle
3 wheels for enhanced feeling of stability
Closely spaced twin front wheels for easy steering
ABS and Unified Brake System (UBS)
Exclusive Leaning Multi Wheel (LMW) technology
EU4-compliant 125cc/155cc liquid-cooled engine
Tricity 125/155 colours
Milky White
Matt Grey
Icon Grey (new colour)
NMAX 125/155 Key Features
Compact and sporty city scooter
13-inch wheels with 130-section tyres
230mm front and rear discs with ABS
Strong acceleration and excellent economy
Generous underseat helmet storage space
Spacious interior with plenty of legroom
NMAX 125/155 colours
Milky White
Matt Grey
Phantom Blue (new colour)
D'elight Key Features
Compact and lightweight urban runabout
12-inch front wheel, 10-inch rear wheel
Plenty of underseat storage for a full-face helmet and more
Sleek and agile urban body design
Powerful and efficient 125cc BLUE CORE engine
Front disc brake with rear drum brake and UBS
D'elight colours
Diamond Black
Milky Way
Velvet Green
Xenter 125 Key Features
Economical EU4-compliant 125cc 4-stroke engine
Smooth-action telescopic front forks
Comfortable and ultra-spacious flat footboard
Dual headlights and LED taillight
267mm front disc brake and 150mm rear drum brake
Lightweight alloy 16-inch 5-spoke wheels
Xenter 125 colours
Hunter Green
Competition White
Silky Grey
YS125 Key Features
Lightweight commuter motorcycle
Smooth running 125cc 4-stroke engine
Outstanding economy with Yamaha reliability
14-litre fuel tank, average consumption 2.0l/100km
Natural and comfortable riding position
Plush suspension for premium comfort
YS125 colours
Power Red
Competition White
Midnight Black
Yamaha Genuine Accessories
Yamaha has developed a wide range of Genuine Accessories for the Urban Mobility models including the new Tricity 300. The constantly evolving line-up consists of comfort related items such as grip heaters, passenger backrests and aprons, as well as accessories aimed at enhancing functionality and practicality – including luggage, high screens, and GPS stays.
There's also a range of Yamaha branded apparel including urban riding jackets, riding gloves, T shirts, caps, hoodies and more. The Genuine Accessory and apparel range is constantly evolving, and full information can be seen at www.yamaha-motor.eu
MyGarage app
The new Tricity 300 is aimed at the premium end of the Urban Mobility market, and many owners will want to personalise their vehicle with a range of stylistic, comfort and functional parts. MyGarage is the quick and easy way to build a unique Yamaha, and it enables customers to experiment with and compare different combinations of Genuine Accessories and see which components work best for them.
Using the MyGarage app anyone can instantly create their dream version of the Tricity 300 and view it in from any angle in high definition. This app takes the guesswork out of choosing the right parts, and the final list can be emailed to a Yamaha dealer who will supply and fit the selected Genuine Accessories.
MyRide 
The MyRide app enables Yamaha riders to track every ride and record a variety of data including lean angle, acceleration, top speed, elevation changes and distance covered. Tricity 300 riders can compare journey times for each trip and see which is the quickest, shortest or most efficient route into the city.
Data can be saved and stored under the customer's own account – and photos can be added to the trip data and shared on social media. It's the best way to add another dimension to every ride and allows riders to analyse each journey and see which route is best for them.