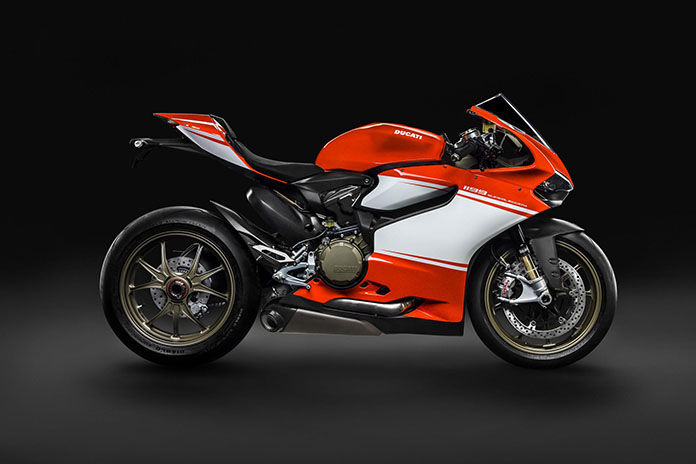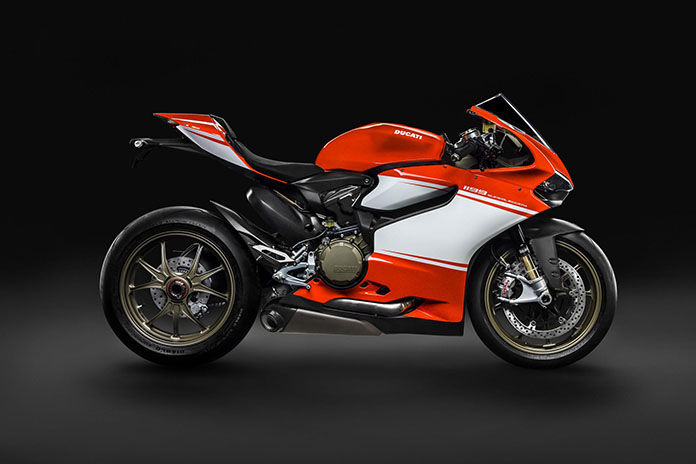 Ducati headline this year's Motorcycle Live with an array of new models and updates to their range. Model year 2014 again sees a line-up that is exciting, innovative and continues to push the boundaries of technology and performance.
None more so than the stunning 1199 Superleggera, a bike designed with no limits, a machine combining  an opulent cocktail of  materials  such  as  titanium, magnesium and carbon fibre to set the highest power-to-weight ratio of any production motorcycle in history. Producing more than 200hp  and  weighing-in  at  just 155kg*  (341.7lb*),  Ducati  showcase  their  innovative engineering and stylish approach to design, while affirming the maxim: "Authentic Italian Performance".
Whilst the Superleggera showcases Ducati's commitment to performance technology and lightweight construction, the 899 Panigale provides a more accessible entry into the world of Ducati Superbikes with this "Supermid" version. The 148hp superquadro powered 899 with a torque of 73lb-ft (10.1kgm) achieves both an outstanding power-to-weight ratio and ride-enhancing agility with a dry weight of 169kg* (372.5lb*). The 899 Panigale priced at £12,495 joins the 1199, 1199 S, 1199 Panigale R and the exclusive Superleggera on the stand to complete the 2014 Superbike family.
Although the Superbikes may grab some of the headlines, arguably the biggest news is that there is a new Monster in town. More than two decades on from the Monster's first unveiling, Ducati now introduce the iconic model's latest generation with the 2014 Monster 1200 and 1200 S. Powered by the formidable, Superbike-derived 1198 Testastretta 11° DS engine with an enhanced set-up for mid-range power delivery and rideability, the brand new flagship of the family presents an entirely new chassis and muscular design fully integrated with Ducati's latest technologies. High-spec brakes, suspension, single-sided swingarm and lightweight wheels combine with Ducati's best-yet ergonomics to offer the Italian manufacturer's most attractive Monster ever. Super comfortable and introducing an innovative adjustable seat height, the model also combines 8-level traction control, 3-level ABS and 3-level Ride-by-Wire into Ducati's user-friendly, press-button Riding Modes.
Evoking the exciting memories of past models such as the powerhouse S4R and S4RS, the 2014 Monster 1200 also boasts an exclusive S model with 145hp and a ride-enhancing 92ft-lb of high-accelerating torque, wrapped beautifully in a spec-impressive chassis that tips the scales at 182kg (401lb) dry weight.
While the Monster 1200 is presented in Ducati red with red frame and black wheels, the Monster 1200 S offers Ducati red with red frame and glossy black wheels in addition to the striking scheme of white with bronze-coloured frame and glossy black wheels. The Monster 1200 will be available in the UK at £10,695 and the Monster 1200 S at £12,995.
A bike not to be missed is the Diavel, a bike that has grin factor in abundance due to its stunning engine and rideability. The new generation Hypermotard range will also be exhibited including the touring inspired Hyperstrada and the extreme Hypermotard SP. There is also the Monster 696 and 796 as well as the popular Streetfighter 848 to explore.
A number of accessorised bikes will be on display as well as the latest 2014 range of Ducati Apparel. Ducati Finance staff will be in attendance to explain the Ducati TriOptions finance deals available throughout the range.
The newly designed Ducati stand incorporating a Ducati Apparel retail store can be found in Hall 3 (stand 30).
Motorcycle Live takes place at the National Exhibition Centre in Birmingham from November 23 – December 1. For ticket information visit www.motorcyclelive.co.uk
*dry weight