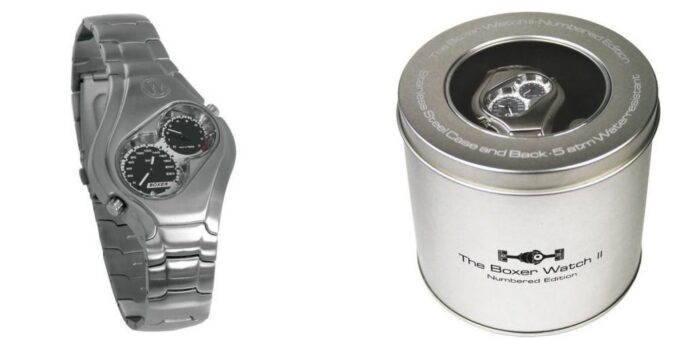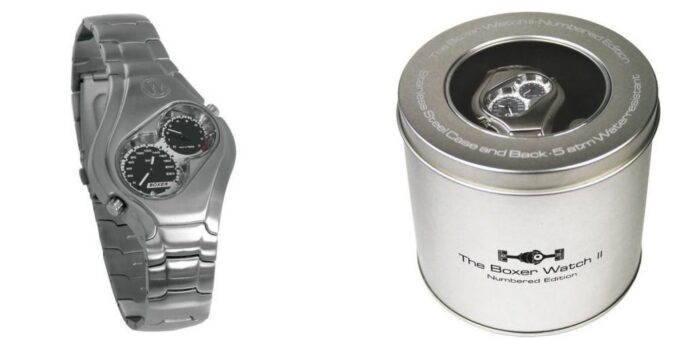 An ideal Christmas gift for BMW fans, the limited edition Wunderlich Boxer Watch II celebrates the 16-year history of the latest Boxer twins.
Designed to mimic the R series' instruments, the watch features a double movement and off-set faces – one for hours/minutes and one for seconds – set into a solid stainless steel casing, behind an optically clear, polished crystal.
Each watch is individually numbered, with a unique serial number engraved in the polished stainless back and is supplied with a certificate of authenticity. A subtle Wunderlich 'W' logo is embossed on the face.
The watch is waterproof (up to 50 metres) and is designed with a slim profile and folding buckle fixing, so it can be worn comfortably under riding jackets.
The stainless steel wristband is fully adjustable using a specially designed tool, which comes with the watch. Both are presented in a plated aluminium display/storage box.
For a limited time the Boxer Watch II is available from Wunderlich's exclusive UK distributor Nippy Normans, for a reduced price of £118* including VAT.
Visit www.nippynormans.com for details of this and thousands of other BMW accessories.
*normally £129.99
Wunderlich have specialised in individually-tailored BMW motorcycle accessories for almost 30 years. The majority of Wunderlich's 3000 products are designed and made in-house, using the latest 3-D prototyping printers, laser scanning for precision and accuracy, and manufactured on their own CNC milling machines