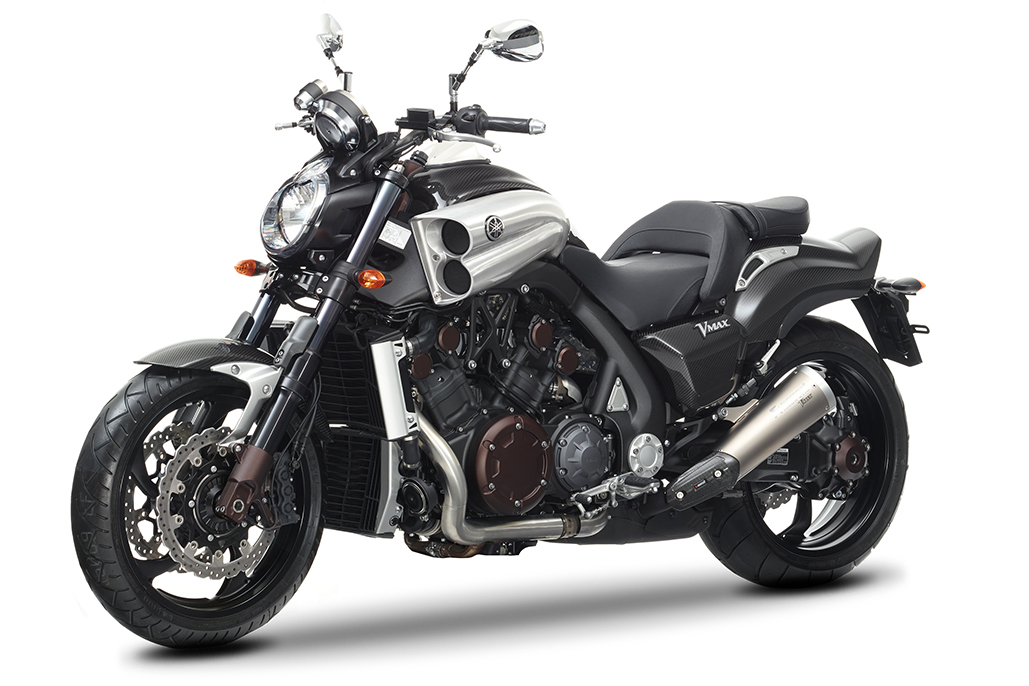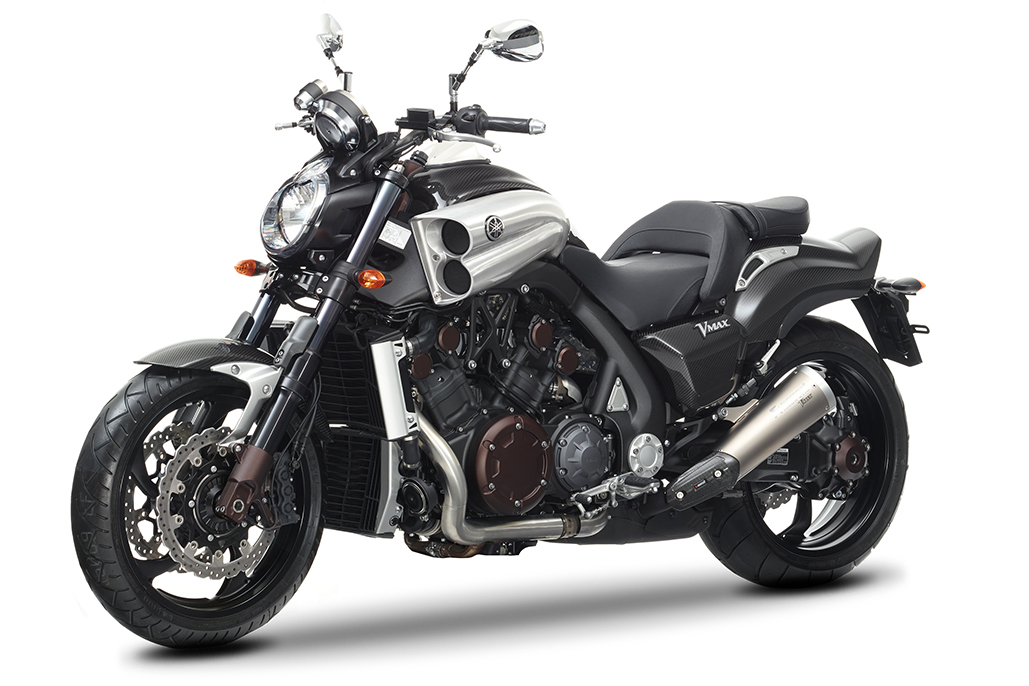 Back in 1985, the launch of the original Yamaha VMAX added a whole new dimension to the motorcycle marketplace. With its brutal drag-bike inspired styling and awesome acceleration, it offered customers the chance to experience a new level of performance. Not only that, but the VMAX was also instrumental in firing the imagination of a new generation of custom builders all over the world.
New VMAX Carbon
To mark 30 years since the arrival of the original VMAX, Yamaha's Sport Heritage range is strengthened with the introduction of the exclusive VMAX Carbon. Based on the current 1,679cc 200PS V4 model, this iconic special edition combines outstanding musclebike performance with cutting edge style.
The VMAX Carbon's tank cover, front and rear fenders and side covers are all manufactured from lightweight carbon fibre – and for an even more evocative V4 growl this special edition comes equipped with upswept Akrapovic slip-on mufflers. Available from February onwards, this high-specification VMAX Carbon offers exceptional value to those customers who want to own the most iconic musclebike ever built.
New Yard Built VMAX by JvB-moto
Yamaha is gearing up to celebrate the 30th anniversary of the original VMAX with the unveiling of a number of exotic new Yard Built specials. The first of these is being created by German builder Jens vom Brauck, who is working on his first ever Yard Built project – and Yamaha have commissioned other custom builders to create two more Yard Built specials for delivery around June and September 2015.
Better known as JvB-moto, Jens is already well into the build at his workshops near Cologne, transforming the VMAX into something worthy of its iconic status. Yard Built fans can expect to see a stripped back creation combining modern materials with a custom twist, that also pays homage to all that was good about design in the 80's – the birthplace of the original VMAX monster muscle machine.
New Matt Grey VMAX with realigned price
To underline Yamaha's ongoing commitment towards creative motorcyclists, the standard VMAX will be offered in a new Matt Grey version whose pure and neutral paint finish offers the ideal starting point for those customers wishing to create their own Yard Built special. From February 2015 the standard VMAX becomes available with a significantly reduced price.
VMAX Carbon Highlights
The ultimate drag racer inspired musclebike
200PS 1,679cc V4 liquid-cooled engine
Massive power with raw torque output
Exclusive carbon bodywork and Akrapovic mufflers
Built to customize and make it your own
Aluminium diamond-type twin spar frame
Dual 320mm front discs with radial 6-pot callipers
Large diameter 298mm rear disc
Efficient shaft drive system
5-spoke alloy wheels with wide 200/50-18 rear tyre
Compact and natural riding position
The timeless motorcycling icon
VMAX Matt Grey Highlights
Super-powerful 1,679cc 4-stroke V4 engine
Low profile aluminium frame
Big, muscular design
Hearty exhaust growl
Great performance through rpm range
Short powerplant centres mass for better handling
For full information, please go to: www.yamaha-motor.eu