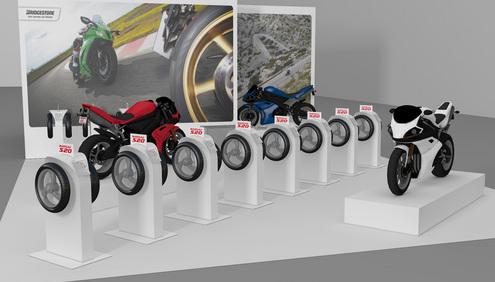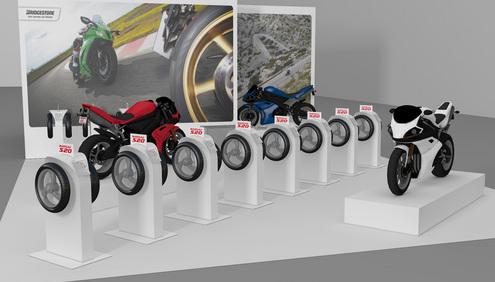 At the International Motorcycle, Scooter and E-Bike Fair – held on October 1-5, 2014 in Cologne, Germany – the world's largest tyre manufacturer will be presenting a full range of products, including three brand new additions to Bridgestone's motorcycle family.
A tyre for every rider
Bridgestone will be presenting the full extent of its motorcycle ranges showcasing the variety of riding styles it caters to.
The test-winning(1) Battlax Hypersport S20 EVO will be presented, whose extended rear tyre wear life and improving handling and cornering grip at high camber angles makes it one of the top products on the market. The Battlax Racing V02 will also be shown on the booth. This tyre gives superbike riders faster lap times and longer tyre life thanks to Bridgestone's latest MotoGP construction and compound technology. Also presented will be the Battlax BT45 touring bias, the low rolling resistance Battlax SC Ecopia for radial scooters, the Exedra Max for custom and the Battlecross X30 for motocross bikes.
New products
INTERMOT will also be the occasion for Bridgestone to showcase three brand new products. Indeed, on the stand you will be able to discover the latest additions to the Battlax range in the touring, racing and adventure segments. Make sure you don't miss out on them!
Exceptional bikes
The booth will not only put the focus on tyres. Two exceptional bikes will also be displayed.
Proving that green doesn't mean slow, the Saroléa SP7 electric superbike will be put forward on the Bridgestone booth. The agile electric machine shifts from 0 to 100 kph in 2.8 seconds, on its way to 250 kph at full throttle. To harness this power, Battlax V02 racing slicks were fitted to the bike and a technical partnership was struck up. The Saroléa superbike participated in the Isle of Man Tourist Trophy (IOM TT) in the electric race coming in 4th – a great feat considering it was the first time this bike was ridden to such an event!
The legendary Suzuki GSX-R Special edition will also be presented on the booth fitted with Battlax S20 EVO tyres).
Become a Bridgestone rider
Coming over to Bridgestone's booth could also give you a chance to be selected as a test rider for Bridgestone and win a VR46 hoody!
So come on over to our booth (Hall 7.1, stand E030 F031), discover our range and enjoy the show